You're Welcome, Bengals, I Pulled Out The Oldest Trick In The Book To Help You Beat The Chiefs
The Bengals are playing in their first Super Bowl since before Taylor Swift was born. And sure, you can credit this win to Joe Burrow, their insanely confident rookie kicker, or Patrick Mahomes failing to come back out after that sick Walker Hayes halftime concert, but let's be honest. The true hero for Cincinnati is the man writing this blog.
Just ask Kevin Durant.
Thanks, KD.
He's right. I am da real MVP. You might be wondering why. Let me show you.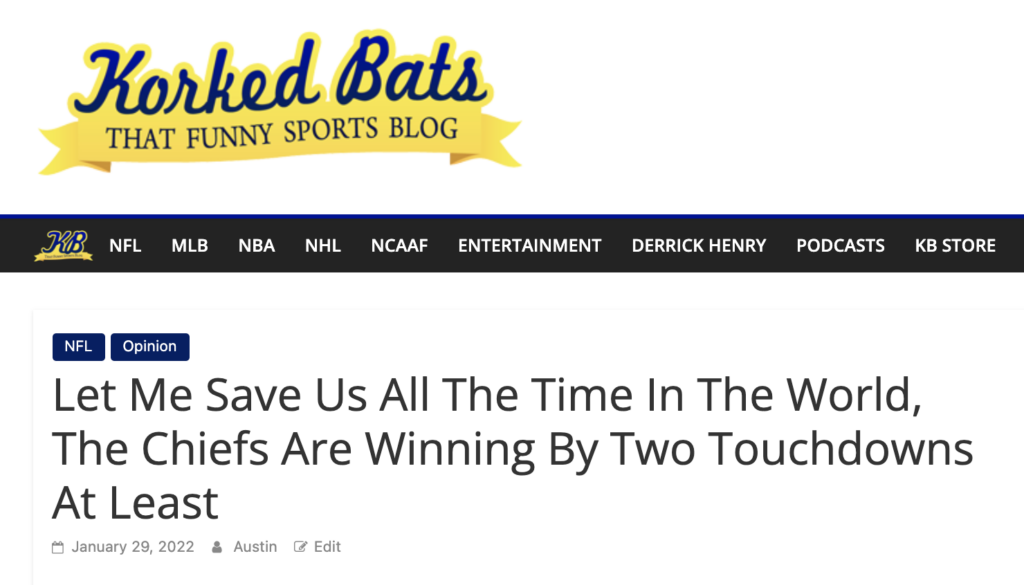 AT LEAST!
Now you might be sitting there wondering how the epitome of a Freezing Cold Take could be to thank for the Bengals going out and taking care of business. Well, that's because this wasn't a wrong take. I'm not Colin Cowherd. This was actually what we call a REVERSE JINX.
I mean, you actually think I thought that the 7-point favorite Kansas City Chiefs were actually going to win by two touchdowns? A team that was apparently against all odds all season? Good! It's exactly what I wanted you to think, because it only made the reverse jinx work even better. Some are even saying I reverse jinxed this game to perfection.
If you're wondering what the reverse jinx is, it's one of the oldest tricks in the book and a move that's quickly becoming a Korked Bats staple over the last few weeks. Among the guys on our team, we have 5 Chiefs fans, 2.5 Titans fans and 1 Steelers fan (sup, A.D.?). The reverse jinxing started during the Chiefs-Steelers game. A.D. and myself were working to reverse-jinx the Chiefs. A.D. so he could get another game out of Big Ben's career, and me, because I wanted to see the Titans play the Steelers in the Divisional Round. However, this led to the Chiefs fans in the KB group text to reverse jinx the Steelers and it ended up just being one of the kinded group texts in the history of trash talk.
Naturally the Steelers were outnumbered in the reverse jinx department and won soundly. It's science. So for this week, I decided to take the jinx to a blog. And well, I don't want to toot my own horn, but it worked to perfection.
So if you wanna call me "incredibly wrong" for my "extremely stupid take" then you clearly "don't get it" because it was "most obviously" a "reverse jinx."