Usain Bolt To Retire in 2016, Focus On Becoming A Horse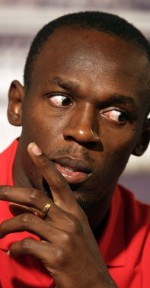 KINGSTON, JAMAICA- 100-meter sprinting legend Usain Bolt announced yesterday that following the 2016 Olympics, he will legally become a horse so he can become the first human Kentucky Derby winner.
Bolt, holder of various world records including the 100-meter record of 9.58 seconds, made his decision after realizing no human could ever beat him in a race.
"Horses are fast, so I chose to become a horse. Cheetahs are fast too but they have no sense of organization as far as racing is concerned, plus they might decide to eat me. I don't like getting eaten," said Bolt, sounding like one of the guys from Cool Runnings.
Bolt, whom burst onto the world stage at the 2008 Beijing Olympic Games, has been a mainstay in the racing community as well as the gold standard in which other racers are compared. "I'm not shocked, he has nothing left to prove racing as a human anymore," stated Team USA sprinter Tyson Gay. "The thought that there is someone out there right now that could beat Usain in a straight up race is laughable."
"I've been preparing for my switch by hiring the great horse trainer Bob Baffert to guide me to what I hope to be a Triple Crown championship," added Bolt. "I've even gone so far as to audition people to serve as my jockey. So far actor Verne Troyer is in the lead for that role."
Bolt isn't the first athlete to switch career paths, both Brian Jordan and Deion Sanders played in both the NFL and MLB, Charlie Ward won the Heisman Trophy at Florida State before becoming a starter in the NBA for the New York Knicks, and Mike Tyson gave up boxing to become a cannibal.
When asked if he would become complacent with any success he achieves in horse racing as he has in sprinting, Bolt replied "Nay".
Usain Bolt's final Olympic races will take place in Rio de Janeiro, Brazil.
• • •
This post was created by Joe. You can follow him and his jokes on Twitter: @JoeShowShow
Also, for up-to-the-minute sports jokes, follow Korked Bats on Twitter: @KorkedBats