Calipari, Pitino Fight For Pre-School Recruit
KENTUCKY- The Bluegrass State has long been considered the home of college basketball. Schools such as Murray State, Western Kentucky, and Eastern Kentucky all do well respectively, but it's the two heavyweights, the Kentucky Wildcats and Louisville Cardinals, that rule the roost around The Commonwealth.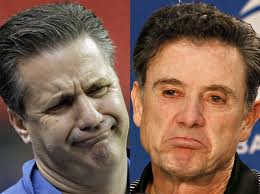 The two schools have won the past two NCAA titles, Kentucky in 2012 and Louisville in 2013, and their head coaches appear to be in another tight battle that has nothing to do an upcoming game or hair gel. It's a recruiting battle.
"Recruiting has become such a year round thing that it literally wears you down," stated Kentucky Head Coach John Calipari. "Thats why when a kid like Billy comes along you need to grab him, because he is a foundation player. Someone you can build your team around."
The recruit, Billy Miller of Nashville, isn't your typical recruit, in fact he has played only one game of basketball in his life. He's 3-years-old.
Miller is listed as a 4-star recruit, based on the number of stickers he got in his pre-school coloring class.
"I was shown a YouTube video of this church league basketball game and this 2'7″ little boy made a shot. That impressed me. And then as soon as I found out Coach Cal wanted him, I went after him and it's been neck and neck between us," said Louisville Head Coach and mob boss look alike Rick Pitino.
"We appreciate the attention, but Billy isn't ready for college just yet. He's barely ready for a big boy bed," stated Billy's father Rick Miller. "I'm starting to regret putting that video on YouTube, but if it gets Billy a free college education in the future I'm all for it I guess."
Coach Calipari added that with a kid like Billy you need to handle the situation differently. "I can't go in there talking about school and playing time because he doesn't understand that, but he does understand dinosaurs and graham crackers, and we can offer that to him at UK."
Kentucky is historically known as having some of the best graham crackers in the country, year after year.
Calipari added, "Plus, little kids HATE school. So it will be to our advantage when I tell him that he'll only have one semester of classes at Kentucky."
Not to be outdone, Coach Pitino said Louisville can offer Billy something Kentucky might not be able to. "KFC headquarters is here in Louisville, so that's an awful lot of great chicken nuggets for our lil' buddy Billy. I also heard that Spongebob [Squarepants] likes KFC, so he might eat lunch with him from time to time." However, NCAA rules strictly state that cartoon characters can only eat with recruits off campus.
Billy's father Rick went on to add that when the time comes for his son to make a school decision it will be Billy's and Billy's alone, unless his mom has her say. "Billy's mom is a Vanderbilt graduate. So, I guess we will have to see what snacks they can offer and/or what games they have on their iPhone."
Calipari and Pitino also confirm their pursuit of a fresh young talent, growing fetus Bradley (or Samantha, if it's a girl) Thompson, who is currently growing inside mother Katherine Thompson's stomach. More to come on that as the story, and fetus, develops.
• • •
This post was created by Joe. You can follow him and his jokes on Twitter: @JoeShowShow
Also, for up-to-the-minute sports jokes, follow Korked Bats on Twitter: @KorkedBats