Who Won The CineBoiz Nicolas Cage Draft?
RENFIELD came out in theaters this past weekend. If you read our review you know that we aren't that big on it, but it does feature an unhinged Nick Cage which we always welcome with open arms.
So us at The CineBoiz Podcast decided it is WAAAAY past due that we had an Official Nicolas Cage Movie Draft. The rules were simple: Four Boiz, Four Rounds, Four Movies per Boi. Here were the results: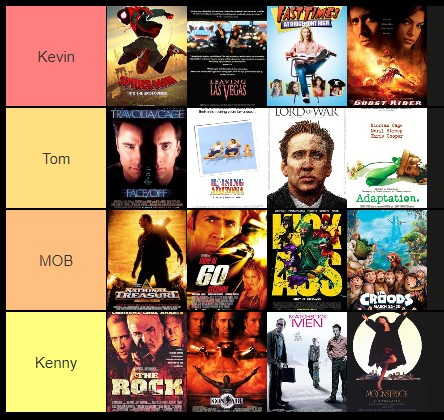 Kevin: SPIDER-MAN INTO THE SPIDERVERSE; LEAVING LAS VEGAS; FAST TIMES AT RIDGEMONT HIGH; GHOST RIDER
Tom: FACE/OFF; RAISING ARIZONA; LORD OF WAR; ADAPTATION
Mob: NATIONAL TREASURE; GONE IN 60 SECONDS; KICK-ASS; THE CROODS
Kenny: THE ROCK; CON-AIR; MATCHSTICK MEN; MOONSTRUCK
So who do you think won the draft? It's a tough call but you can vote HERE or on our Twitter or Instagram pages:
Oh you don't follow us? Shame on you. Follow, vote, and share with your friends and family. Each of us is desperate for bragging rights!
You can also check out this week's episode here: