The Top 25 Drunkest Fan Bases In College Football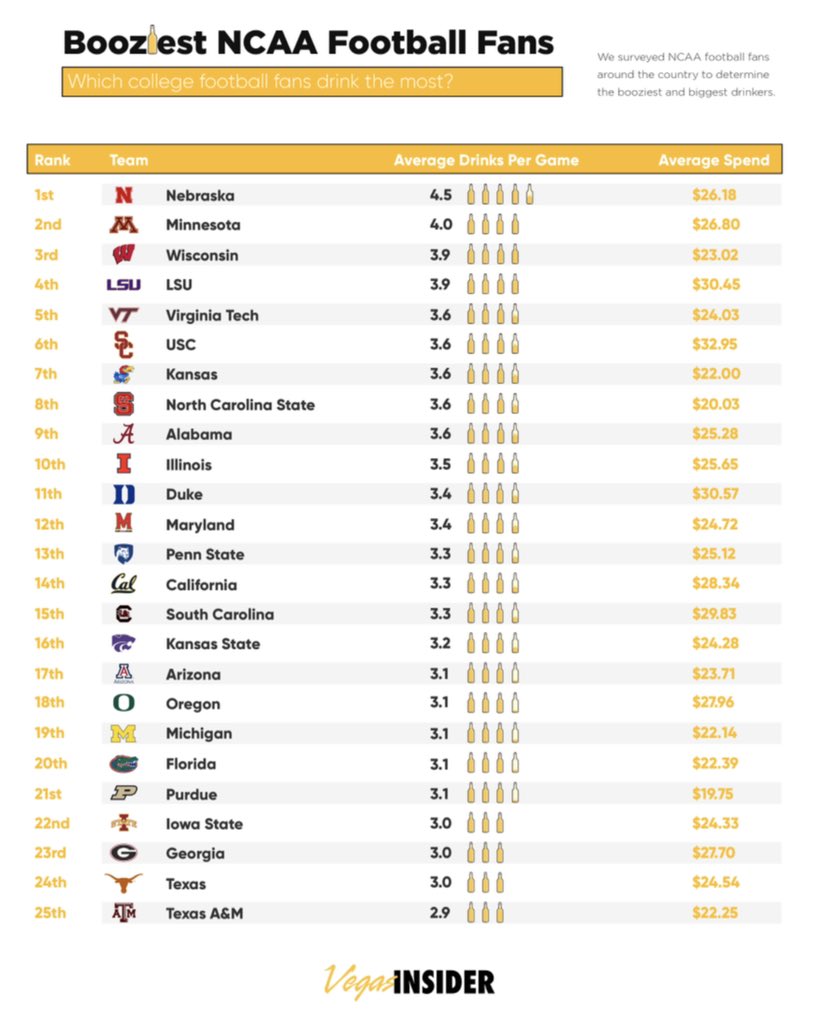 College football playoff, schmollege football schmlayoff. Who cares about that dumb ass tournament? These right here are the most important rankings. Mainly because it didn't require a bunch of stiffs on a selection committee to choose these rankings. All it took was some beers, some whiskeys, and maybe some Zimas. (Are Zima's still around?) Anyway, these rankings come via Vegas Insider and you can't argue with this. It's science. Here are a few observations:
I'm actually not surprised Nebraska tops this list. If your college football team lost 8 conference games by one score and finished with a score differential of 0, you'd probably drink 4.5 drinks per game too. Go Big Red (Stripe).
Wisconsin coming in at #3 feels like the biggest upset here. Wisco perpetually being one of the top party schools in America paired with the fact that it's always cold paired with the fact that their team was kind of a buzzkill this year (pun only slightly intended) just makes it feel like they should've been ranked higher. This would be like Bama not making the playoff. Just feels weird.
USC earned that #6 ranking based solely on their consumption of boxed wine.
Kansas football fans coming in at 7th is a shocker, just solely based on the fact that I'm surprised three people could drink that much.
Alabama sits at ninth which is nice to not see them at the top of a ranking for once.
Also, Duke? Really? 11th? In the entire country? Does their library serve booze?
I have to imagine Michigan was originally unranked, but after the champagne showers from beating Ohio State upped their average.
I don't know what the rankings were in previous years, but I have to imagine Texas rose in the rankings after hiring Steve Sarkisian. Which will probably be the only rankings he helps Texas climb.
A few notable omissions: Where the hell are our Tennessee Vols fans? A lot of Korked Bats cool kids are VFL's and we know damn well they drink more than most in the country. Unless they're only counting this year, in which case, I guess it makes sense, considering most of the drinks were thrown onto the field of play. But the Vols still lead the country in mustard consumption.
How is Ohio State not listed? Cold weather fan base, just lost to Michigan, could potentially drink with their former head coach and sit on his lap.
Maybe I'm just assuming that the biggest party schools would all be listed here, but where the hell is Arizona State? Pretty sure those people have more alcohol in their bodies than blood.