Urban Outfitters Unveils New Offensive Notre Dame Vintage Sweatshirt
URBAN AMERICA — Shortly after catching backlash for their controversial vintage Kent State sweatshirt, Urban Outfitters continued their trend of offensive college sweatshirts.
Urban Outfitters posted a vintage Notre Dame girlfriend sweatshirt to their website for a whopping $129. Many speculate this sweatshirt is in reference to former Notre Dame linebacker Manti Te'o's ex-non-existent-girlfriend, Lennay Kekua.
"I love Urban Outfitters, but this is all still too soon," said Jimmer Anderson, a frequent Urban Outfitters shopper (read: hipster). "I know this hits close to home for many." Anderson continued, "My best friend's ex-fake-girlfriend passed away just six months ago… I mean, it turned out that it was actually just his Uncle Frank on a fake Facebook account, but still. It hurts."
Urban Outfitters released a statement that this sweatshirt was "by no means intended to insult any Notre Dame students or alumni who, at one time, had a fake girlfriend." The statement concluded by saying that they were "just looking to use their brand new comfortable invisible polyester-cotton blend," that is "definitely real" and "not at all fake."
"Yes, Urban Outfitters' vintage college sweatshirts have been extremely offensive," Greg Anderson, Jimmer Anderson's father, said. "But their prices are even more offensive. Why does it keep showing up on our credit card bill? …JIMMER! GET DOWN HERE, NOW!"
You can see the offensive sweatshirt below: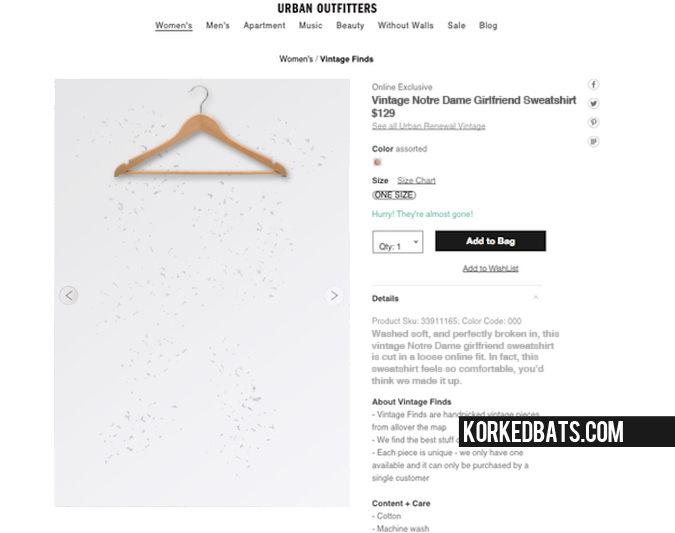 • • •
This post was created by Austin. You can follow him and his jokes on Twitter: @TheAHuff
Also, for up-to-the-minute sports jokes, follow Korked Bats on Twitter: @KorkedBats