Three Things To Get You Through Thursday.
There are three things that I think are important for you to know to get you through the last "real" day of work during the work week.
1.  Kerry Collins is coming out of retirement. Yes. First, Kerry is a man. He used to play for the Tennessee Titans (and just about every other team in the NFL), but then he thought, "Maybe I'm getting too old for these crazy games.  Maybe I have enough money to ration out for the rest of my life." Then he realized that he was really bad at math and started doing lots of push-ups. Now he's back. And he will be playing for the Indianapolis Colts. Or at least that's what they are telling me. ("They" are my sources.)
Here is a picture of Kerry Collins since he probably doesn't register on anyone's richter scale. (Timely earthquake joke.)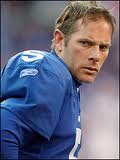 2.  Don't trust a man with just a mustache.
3.  If you don't watch this video,you will miss out on a great opportunity to see story-telling at it's finest and you will also miss out on the chance to make this noise… ohhhhhhhhhhhhhooooooowwwwwwcccuuuuuutttttttteeeeeeeeeeee.  I mean, seriously.
P.S.  Ladies, do any of you understand Fantasy Football?  Do they let anyone in?  Do you have a salary cap?  What happens if you pick Kerry Grant instead of Kerry Collins?  What happens if you win?  What happens if you are a really good football coach and a professional team asks you to be the first woman football coach ever?  What happens if you lose?  What will the fans think?  Help a girl out. Thanks.
• • •
Erin McGown is the only Korked Bats writer without a Y chromosome. She is the author of the bi-weekly posts entitled The Ladies Room. You can follow @LadiesRoomKB on Twitter or just follow Erin's personal Twiter account: @ErinMcGown. As always, you can "like" Korked Bats on Facebook atFacebook.com/KorkedBats