This Week's NFL Primetime Games – And I Cannot Stress This Enough – SUUUUUUUCK!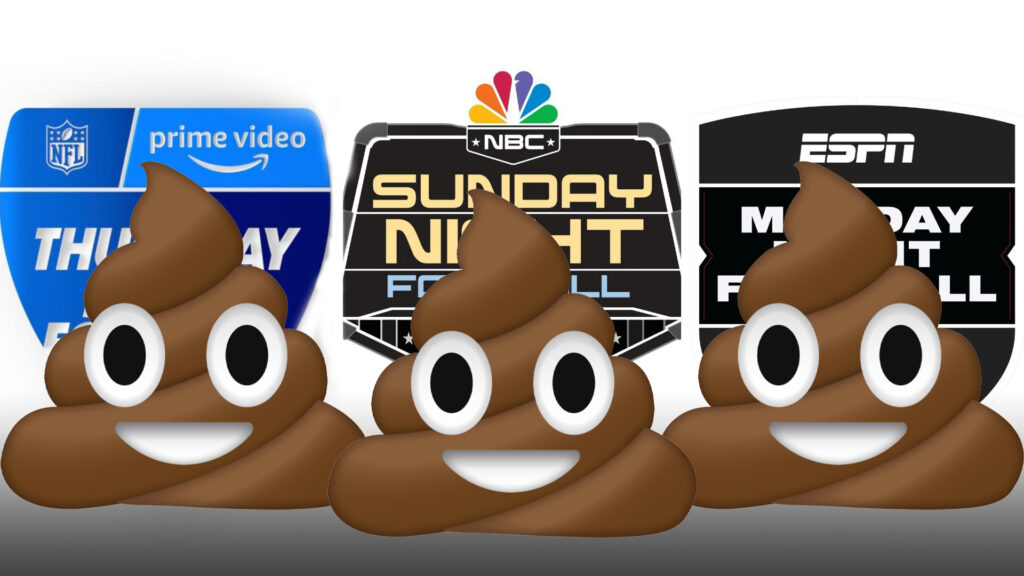 If there was ever a week to settle in for some family time or maybe pop on a movie during football season with your girl to earn some serious brownie points, this is the week. I'm not sure what the NFL was thinking before the season when they scheduled Week 10, but damn, they medically evaluated. Let's kick things off on Thursday night with the Carolina Panthers and Chicago Bears. The only thing up grabs in this tank-fest is draft positioning, right? Well, except that the Bears own the Panthers' first-round pick next year too. So even that doesn't really matter. Even the pointlessness of this game is pointless. Now look, I get it. Thursday night games, by definition, are supposed to be sucky so we can all make fun of them. Thursday Night Football is essentially the Titans vs. Jaguars Invitational. But I was hoping that Amazon Prime would deliver better games, since you know, we essentially have to pay for them now and delivering is sort of their thing. But apparently, they're giving us nothing more than the piss bottles Bezos gives his employees on bathroom breaks. Then Sunday night, you've got the Jets traveling to Vegas to play the Raiders. Is it just me or has every other primetime game been in Vegas this year? Is P.F. Chang's suddenly a league-wide sponsor? Why else is the world's worst bowl cut getting his team in primetime so much this year? I'm as happy as anyone for Antonio Pierce and the boys for finally slaying that Josh McDragon, but this doesn't mean they're worthy of our primetime viewing eyes. And lastly, just when you thought your Mondays couldn't get any Mondays-ier, you get Broncos vs. Bills. Personally, I believe there are certain teams in the NFL who should be banned from primetime until they prove they can be good for an entire season. And the Broncos are one of those teams. Every year they get a set number of primtime games as if Peyton Manning was still under center. We need to treat the Broncos like a misbehaving child. Until they prove to us they can be responsible, we're going to put them in timeout. No primetime and no ice cream.
All in all, this is a week we can all maybe take our nights off from football. Guess the NFL is giving us fans a BYE week for a change. Guess it allows me more time to catch up on The Boys.
UPDATE: I almost forgot the international game taking place in Germany this week. Colts and Patriots? Woof. We're literally going from giving Germany the best of our best last week to the best of our best… from 15 years ago… this week. But then again, I'm all for it. Not only do I think we've sent too many good games to Europe as it is, but we still need to payback Germany for World War II and for bombing Pearl Harbor.