The X Factor: 2011 NBA Playoffs Predictions
Today is the start of the NBA Playoffs, also known as the time that 99% of people start paying attention to the NBA.  In past years, I would've been the same way.  A casual fan that looked up YouTube clips for several months and started to follow a team in April.  But this season is different.  This was the season of LeBron to the Heat.  This was the year Blake Griffin dunked his way into our hearts.  This was the year that new stars (Derrick Rose, Kevin Durant) took their teams to new heights.  This was Tim Duncan's last hoorah.
Going into this season, it was perfectly set up for the rubber match, Lakers vs. Celtics.  Everything lended to this happening, and here's why:
The Spurs dominated in the West, making the Lakers fly under the radar, if possible.  Everyone knows their age can't hold up in a playoff series thought. مراهنات رياضية
The Bulls are frisky enough to garner attention, but are still too young.  First year head coach, young leader… it's just not the Bulls' year (look out next year).
The Heat get WAY too much attention.  After all they've been through, they won't be able to get past the much smarter Celtics team. قوانين البوكر بالصور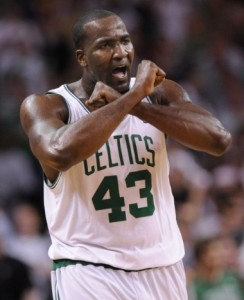 This was supposed to be perfect.  Things were set up so well.  The Celtics core five guys (Garnett, Pierce, Rondo, Allen, and Perkins) had never been beat in a 7-game series when they were all healthy.  They were operating with more confidence than this kid.  But then something catastrophic happened.  Celtics GM Danny Ainge decided to throw away three years worth of chemistry.  He decided that playing together and confidence wasn't worth the risk of injury.  He decided that Shaquille O'Neal and Jermaine O'Neil could be trusted with big minutes in the playoffs.  In short, he decided to trade Kendrick Perkins.  By now you've probably heard of the aftermath.  Rondo cried for hours.  Perkins refused to leave the facility.  The whole mojo of the Celtics was thrown off.  They went just 13-11 down the stretch.
Toss in last week's knee injury to Lakers' Center Andrew Bynum and the NBA Playoffs just got a LOT more win-able for several teams.  Below are my picks with some not-so-conventional reasoning behind them.
Round 1
Western Conference
Spurs over Grizzlies (5 games)
Instead of trying to play every night and contribute 20 points and 8 rebounds, Tim Duncan will discover he can play every other game and will average 40 points and 16 rebounds in this series.  Also, Tony Parker will single-handedly sabotage the Grizzlies' team by taking all Memphis wives out to dinner.  The collective confidence in the Grizzlies' locker room will be shattered by the Fornicating Frenchman.
Blazers over Mavericks (6 games)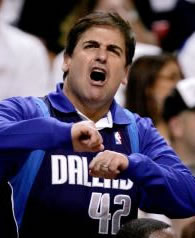 I still find it poetic that the NBA team in Portland is named the Blazers.  The Blazed Blazers fans will come out in full force against the perennially under-achieving Mavericks.  I estimate the cameras will show at least 314 clips of Mark Cuban being frustrated (and he'll be wearing a t-shirt or jersey while looking like Joaquin Pheonix in all of them).
Thunder over Nuggets (5 games)
Kevin Durant and Russell Westbrook will use their first round game to try and one-up each other.  I would guess Westbrook will score 35 points in the first game.  Durant will not be ok with that and will throw up 41 points in game 2.  By the time this series gets to Denver, all bets are off.
Lakers over Hornets (4 games)
I was going to give the Hornets a mercy game and claim they could pull one out in game 3, but I just can't see that happening.  However, Kobe has just created the next niche of individuals who have nothing to do with sports but will root vehemently against a certain sports star for their actions (like Michael Vick and PETA, although on a smaller scale).
Eastern Conference
Bulls over Pacers (4 games)
Derrick Rose.  That's all I'm going to say.  Derrick. Rose.
Magic over Hawks (7 games)
Both teams are chronic under-achievers.  One team has a player that should use these playoffs to prove he's one of the elite centers of all-time and will be around for a while (Dwight Howard).  The other team has a player that needs to prove he doesn't have the most ridiculously over-paid contract since Travis Outlaw (Joe Johnson).  I think this first round match up should be as un-entertaining as a PBS telethon.
Celtics over Knicks (6 games)
Basketball will be alive again at Madison Square Garden.  As excited as I am for this series, I just don't think the Knicks can put it together against a veteran squad, no matter how demoralized they are.  Although, if it was a fight at mid-court between Spike Lee and Ben Affleck, I'd take the Knicks. Unless Spike Lee decided to Do The Right Thing.
Heat over 76ers (5 games)
The most-hyped team in my lifetime will come out with something to prove.  They match up beautifully against Philadelphia.  To steal a prediction from a good friend and fellow blogger, "The Heat won't be crying in the locker room after this series."
Round 2
Western Conference
Thunder over Spurs (6 games)
I see this match up as a battle of the coaches.  Newcomer and visionary Scottie Brooks against the great Gregg Popovich (or Old Gregg).  I'm going to pick the coach that relies on athleticism and energy over a coach that is just plain smarter than the rest of us.
Lakers over Blazers (6 games)
Portland's lack of strength in their back court will come back to haunt them.  Phil Jackson will most likely be making out with his boo Jeanie Buss while Kobe puts his minions… I mean… teammates on auto-pilot.
Eastern Conference
Bulls over Magic (5 games)
Again… Derrick Rose.
Heat over Celtics (7 games)
If you had asked me a month ago, I'd tell you the Celtics would win this series in 5 games.  But the tables have turned. It was the Heat crying in the locker room earlier in the season.  Now it's the Celtics.  I can't pick an emotionally unstable team.  Before now, I don't think you could have convinced me that the Heat were even remotely stable.  But I think the Celtics are demoralized.  I think Danny Ainge will be run out of town, Steve Bartman style, before this is all over…
Conference Finals
Western Conference
Thunder over Lakers (7 games)
It was apparent last year that it is only a matter of time before the Thunder cracks the code to beating the Lakers.  Even without the addition of Perkins, they had a shot this year.  Adding one of the most feared men in the paint to their lineup doesn't hurt. bet365 arab  Neither does the Andrew Bynum injury.  Don't expect Kobe to go down without a fight though.
Eastern Conference
Bulls over Heat (6 games)
With home court advantage, the league's MVP, and a legion of rebounders, it's hard not to pick the Bulls in this series.  If these playoffs are like previous years, where the game slows down and half-court offense and rebounding are paramount, I don't think the Heat stand a chance.
NBA Finals
Bulls over Thunder (7 games)
One last time… Derrick Rose.