The Weirdest Instagram Ad Is An Ad To Buy Buffalo Bills Field Turf
This past weekend, I found myself in a very familiar position: sitting on the couch, legs kicked up on the coffee table and scrolling Instagram, with an episode of Chopped playing in the background.
It can feel almost like Groundhog Day (the 1993 movie, not the holiday) on the mornings I find myself in that position – especially when I remember sports aren't on TV.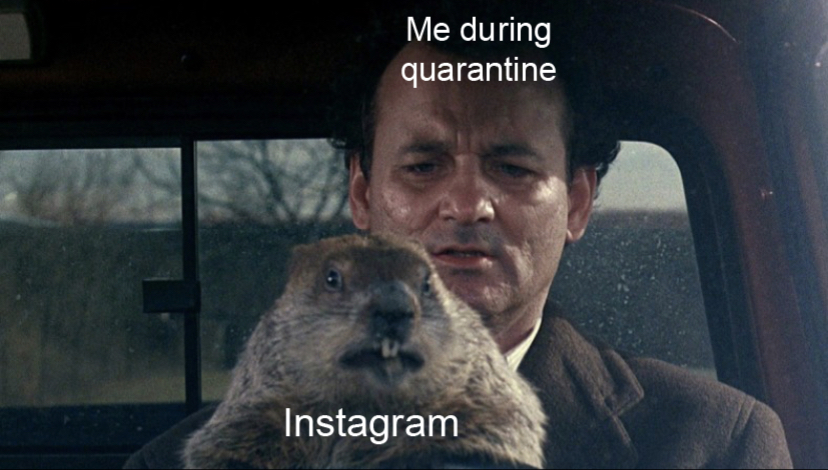 Instagram's repetitive content, since we've all been stuck inside, only exacerbates the situation. Every day, it's more of the same: a picture of someone's Zoom meeting, the latest TikTok dance, or another #challenge to tag your 17 closest friends in.
Basically, what I'm saying is it takes a special post to really CAPTURE my attention.
So you'd imagine the shock to my system when I came across this wholly unique and eye-catching ad: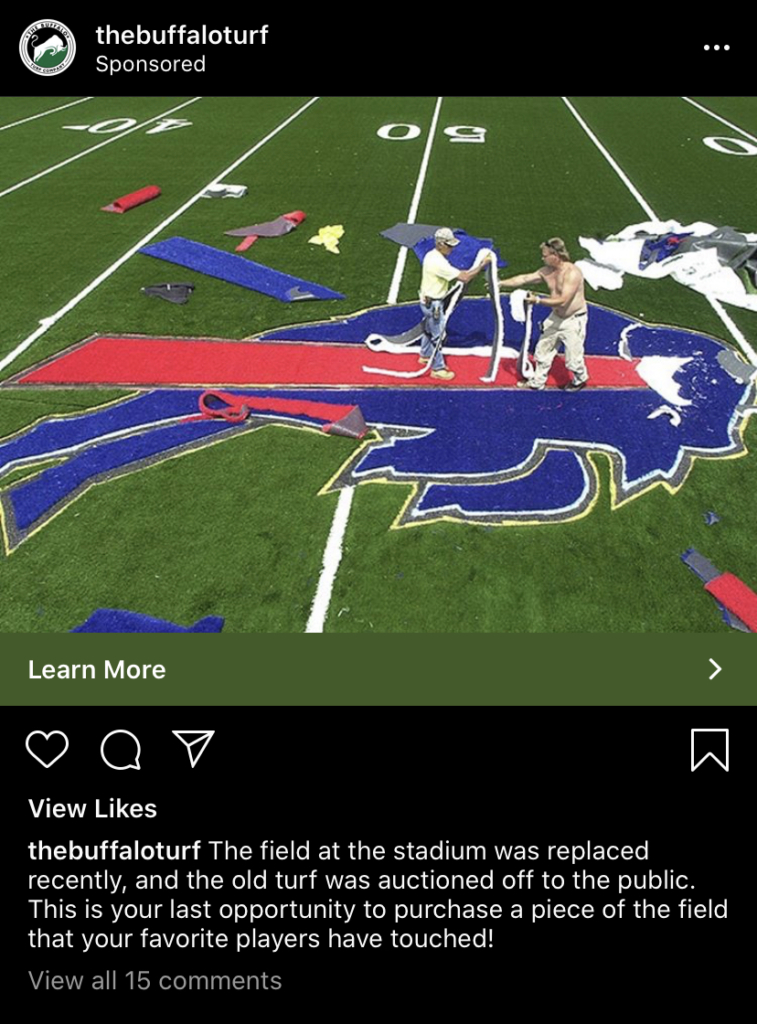 I, for sure, didn't wake up that morning thinking I would have the opportunity to literally OWN a piece of BUFFALO BILLS HISTORY!!!!
The guys down at @TheBuffaloTurf are giving Bills Mafia the opportunity to, sort of, own a piece of the team. Here are a couple of 'fast facts' pulled directly from the @TheBuffaloTurf's website:
• Green turf from the field surface of New Era Field in Orchard Park, NY

• Markings such as yard lines, or hash marks may be in your cut. If you are looking for this specifically, please check other cuts in the store that guarantee markings.

• Cuts are measured in feet, not inches

• Fibers of the turf are 2 inches long

• This turf was in use during games and events from 2011 to 2018
Let's break down some of those "fast facts."
New Era Field is located in Orchard Park, NY
The turf is most assuredly green (…what other color did they think we'd expect?)
The cuts are measured in feet (not inches), BUT the fibers of the turf (located on the cut) are measured in inches (not feet!!!)
But honestly, I think the biggest selling point, for me at least, is knowing that my "cut" was cut by this guy: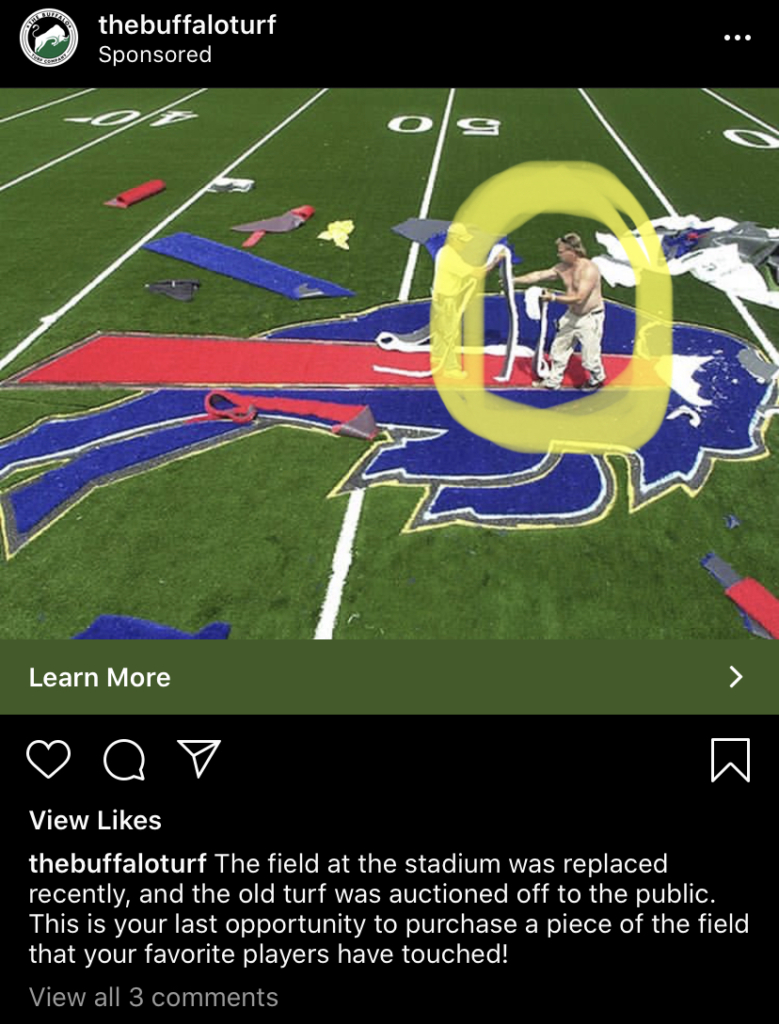 I am truly fascinated by this man. He looks like what I imagine most people from Buffalo look like. This man most assuredly has to be the Al Capone of the Bills Mafia – otherwise, who at @TheBuffaloTurf decided it was a good idea to feature this shirtless man cutting up New Era Field as their product cover star?
I'm also trying to imagine the weather in this picture – it's clearly too cold to wearing shorts, but too hot to be wearing pants. And another thing, why is Mr. Billy Buffalo starting his turf-ripping job at the 50-yard line? No rhyme or reason as to what they are doing, just ripping up pieces at will – which I guess is on brand for the Bills?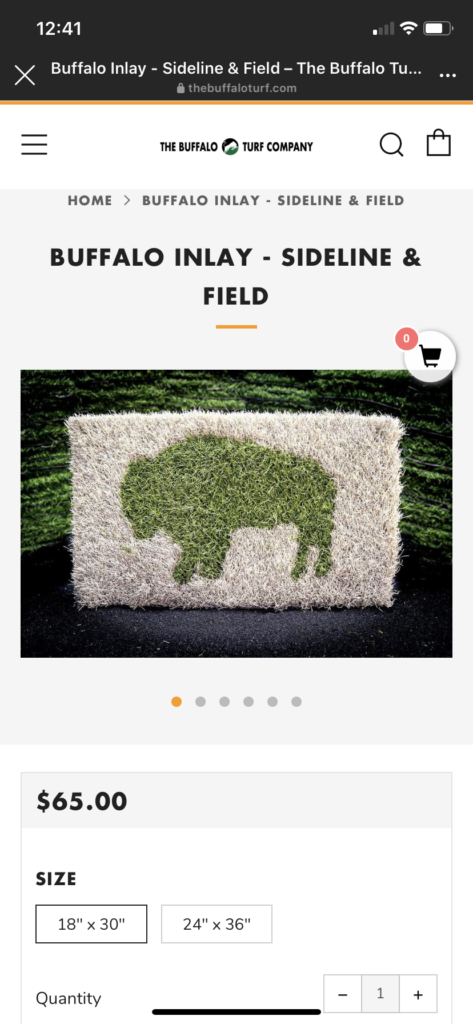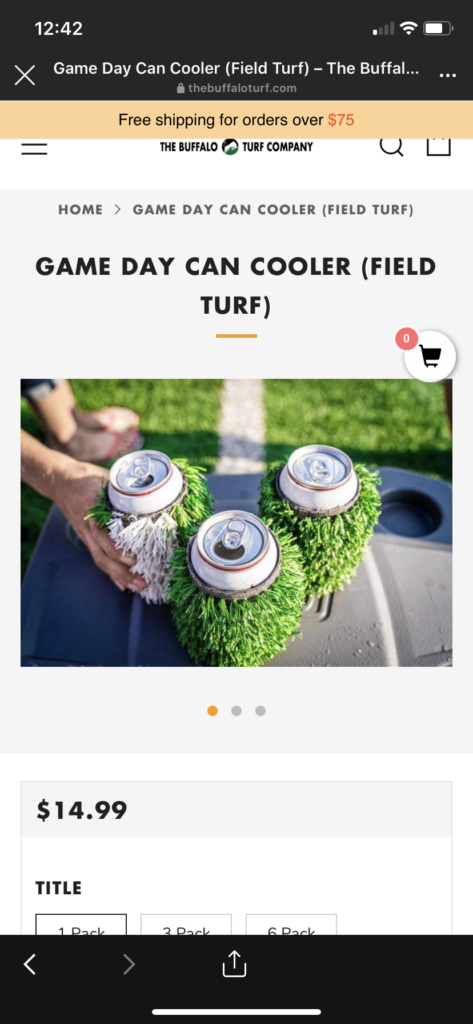 After perusing the various items for sale, including but not limited to a $65 Buffalo Inlayed welcome mat and a Game Day Can Cooler (or as I like to call it the Pom Pom Koozie) – I stared to wonder, WHO IS BUYING THIS STUFF?!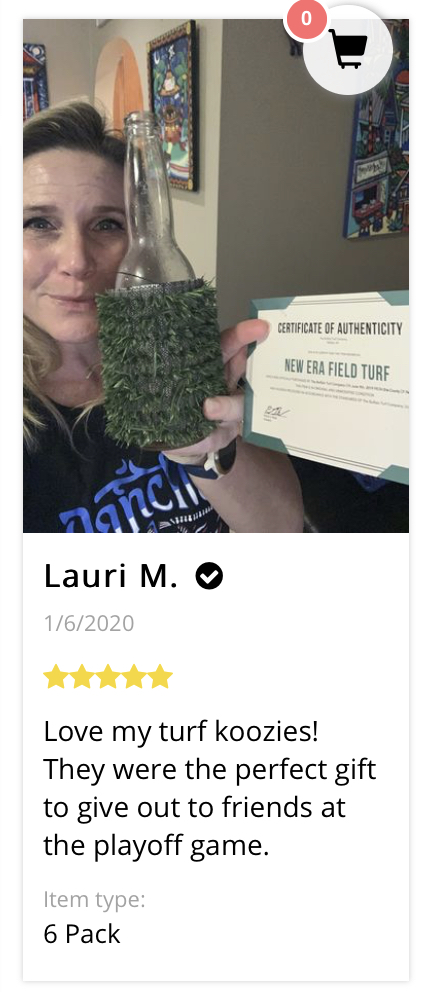 Lauri M. is buying this stuff.
Lauri M. is thrilled to have her piece of Bills' history. Not only did she give the product a full 5 out of 5 stars (WOW!), but she said they were the perfect gift for her to give out at the playoff game. The playoff game. Meaning THE ONLY PLAYOFF GAME THAT THE BILLS HAVE HAD FROM 2011-2018.
Definitely checks out that Lauri M. would have an interest in the haphazardly acquired turf that has a losing 57-71 record.
If you look up the word 'mediocre' in the dictionary, you'll find the 'Buffalo Bills from 2011-2018' listed as a synonym. "Act now to have a piece of losing history!" Lauri M. immediately picks up her Samsung Galaxy.
But hey, on the bright side, at least this turf wasn't from the 1990 to 1993 seasons in which fans saw their beloved Bills lose 4 straight Super Bowls. Yikes.
Honestly though, I'm impressed with ingenuity of turning a seemingly worthless object into something of pride. The future is bright for this franchise. There's a giant opening in the AFC East now that a certain birdie flew south to Tampa. They have a promising quarterback in Josh Allen, and the Buffalo Bills, much like @TheBuffaloTurf, seem to be building something from nothing in upstate New York.

So cheers to you Bills Mafia, you're a loud and proud bunch, and perhaps all you needed was a change of turf.
[divider][/divider]
Follow @korkedbats on Instagram