The Ladies Room: Hi My Name Is Erin
I've always wanted to be the first girl something. First girl on the moon. First girl president. First girl in the NBA. I could only imagine Scottie Pippen passing the ball to Michael Jordan. M.J. dribbles "up the lane," goes up for one of his amazing flying through the air slam dunks, but at the last minute decides to pass to who? …ME. I was tall and slow, so I was perfect to play center in any team that would let me. The hot pink band that held my new glasses securely to my face and my tendency to foul out by half time began to cause me problems, so I also took up the next best thing, the trombone. Soon the other girls were taller than me and I just kept getting better at the trombone, so it was then I decided to give up my NBA dreams and focus on becoming the nerdiest human possible.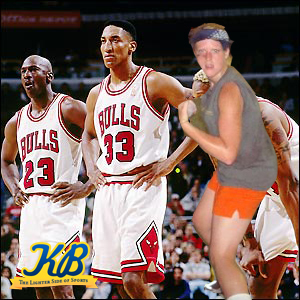 I was born and raised in the great Northwest and yes, I was the Clark College Penguin on an occasion or two. No, Penguins don't do flips. I am a PAC-10 follower and I am genetically disposed to being an OREGON DUCKS FAN. I have a few SEC shirts and I like various teams based on personal experiences that I've had with people who are their fans.
I have a few teams that I love and quite a few teams that I hate. I hate the LOS ANGELES LAKERS.
I will play you in any sport even if I know I'll lose.  And I probably will (unless you're a music major). I learn most of my sport information by eavesdropping on men's conversations and doing my best to remember the stuff that will make me look awesome to bring up in conversations with my guy friends later. It works like a charm. Obviously.
Korked Bats needs me. Let's be real. The women need a voice on Korked Bats like we needed our own basketball league and the right to vote.
So allow me to address both the ladies and gentlemen that follow this site.
Ladies: I will be here to help you know just enough information to impress people at Super Bowl parties. I will be here to make sure you know the main differences between defense and offense and most importantly, I will be here to fill you in on the pro football players who are good and bad to date.
Gentlemen: I am not trying to beat you at sports knowledge. I won't remember how many rushing yards Joe Montana ran in 1997. I will always forget how they decide what college team goes to what bowl game and I could care less about why nobody puts a salary cap on baseball.