St. John's Basketball Is Guilting You Into Liking Them
You are going to root for St. John's Men's Basketball team next year or you are going to hell. It's one or the other, no other options. ربح حقيقي من الانترنت
Meet God's Gift Achiuwa.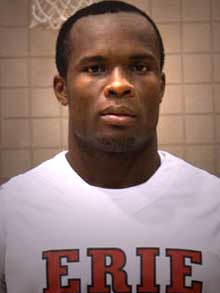 The most recent signee of St. John's head coach Steve Lavin is a 6-foot 8-inch forward from Nigeria by way of Erie Community College. His legal name is God's Gift, named by his minister father, who also toyed with naming him Jesus, Kill Satan and Root For My Son Or Burn In Hell You Sinner Achiuwa before settling on God's Gift. العاب الكازينو مجانا
And you thought Jesus Shuttlesworth was a sacrilegious name.
St. John's hopes that signing Achiuwa will bring those fans on the fence over to their side by way of guilt or fear of the fiery depths of hell. بوكر
When reached for comment, God's Gift replied with a note stating that "I'll get back to you after Easter, this isn't the best time of year for me." Sure enough, he replied three days later.