Skip Bayless Unimpressed that LeBron James Invents Time Travel
Despite LeBron James' best efforts, is seems as though nothing he does can even remotely impress ESPN First Take Scream-Machine Skip Bayless, who continues to be critical of LeBron under all circumstances. After the Miami Heat's Game 4 victory over the Indiana Pacers, where King James posted a stat-line that had not been rivaled since 1961 (LeBron dropped 40 points, 18 rebounds, 9 assists and a couple of blocks and steals), Skip Bayless babbled at a camera for a couple of hours about how he wasn't thoroughly impressed with the performance, and how Dwyane Wade's Game 4 was actually more valuable to the Heat.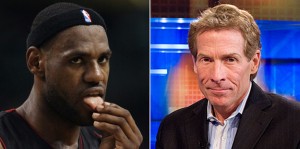 Throughout the years, LeBron has downplayed Skip's criticisms, keeping his focus on the court instead of in the media. But it appeared as though Skip's last criticism really got to James, who, in an effort to gain the fatherly gratification he so much desires from every single person, invented time travel.
Using his vast monetary and networking resources, James was able to fund a project that is able to send people up to fifteen years into the past or future. This could be used to prevent dire situations from every occurring, do more research to help cure disease, and be a fun way to spend a weekend with the kids. Skip Bayless was, still, not impressed, despite the fact that LeBron helped solve a question that had never been solved before.
"I mean LeBron sure did fine filling the stat sheet, inventing time travel and all, but if you really look at it, it wasn't all that great," Bayless moved his mouth and made sounds some more, "I'd seen time travel like this in movies before, and he's basically just ripping that off."
Bayless continued his rant, "Let me know when he can time travel more than fifteen years. I'm not sure that's even that impressive. Wade could go twenty years if he wanted to. Batman."
• • •
This post was written by Kyle. You can follow his jokes on Twitter: @kyleayers
Also, be sure to follow Korked Bats and our sports related jokes on Twitter: @korkedbats