Redskins Sign DeSean Jackson After Learning Of His Affiliation With Tribes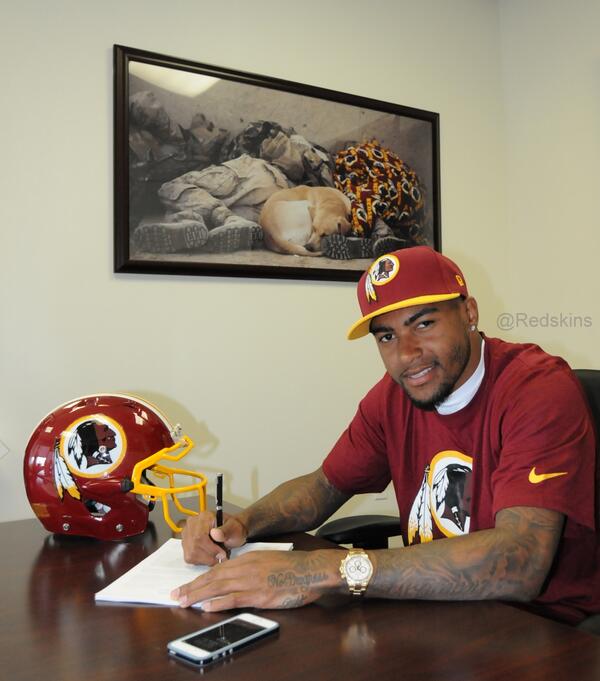 WASHINGTON D.C. — Washington Redskins have agreed to terms with former Philadelphia Eagles WR and assumed Crip, DeSean Jackson. Redskins say they were quick to work out a deal after learning about Jackson's affiliation with tribes.
"What better way to reach out to our Native American roots than to sign one of the leagues best wide receivers who just so happens to have an affiliation with tribes," Redskins Owner Dan Snyder told reporters.
When asked about joining his new team, Jackson said, "To be honest, I'm just glad I won't have to go to anymore Kenny Chesney concerts with [former teammate] Riley Cooper. That dude was so racist, especially at country music concerts."
The Redskins ownership assured Jackson there is absolutely no racism within the walls of their franchise.
"We want DeSean to feel comfortable here. There isn't even a hint of racism with this team," Snyder said. "Especially name calling. We call everyone by the name they should be called."
Snyder claimed they will take extra precaution with Jackson because, as a member of a tribe, he will help save the image of the franchise and their dispute against Native Americans.
Shortly after making these comments, one of Snyder's advisors whispered something in the ear of the Redskins' owner. "Excuse me, I have been misinformed," Snyder admitted. "It turns out DeSean Jackson was affiliated with gangs, not tribes. Now if you'll please excuse me." Snyder stood up and walked to the corner of the room.
"HOW COULD YOU MAKE THIS MISTAKE?!" Snyder shouted to his advisor. "CHECK TO SEE IF THERE IS ANY WAY WE CAN INDIAN-GIVE HIM BACK TO THE EAGLES!"
• • •
This post was created by Austin. You can follow him and his jokes on Twitter: @TheAHuff
Also, for up-to-the-minute sports jokes, follow Korked Bats on Twitter: @KorkedBats
.