Random Athlete of the Month – October 2010

Lenny Dykstra
A career .285 hitter, Lenny Dykstra is remembered as a solid lefty leadoff batter who played outfield for the New York Mets and the Philadelphia Phillies. He also appears to be a major proponent of hair gel during athletics and taking dips, really huge golf ball-esque dips with a white stripe I cant figure out what it is.
After leading the Carolina League in at-bats, runs, hits, triples, batting average, stolen bases, and pog collection, Dykstra was selected in the 13th round of the 1981 MLB Draft by the New York Mets. Lenny became a full time starter in 1986 when the team decided to cut baseball legend irrelevant left fielder George Foster. Soon fans fell in love with Dykstra, nicknaming him "Nails" for his tough-as-nails personality and fearless play. He apparently liked the name and posed for this beefcake poster. Hot.
The definitive moment in Dykstra's career also came in 1986 when he hit a leadoff home run to start Game 3 of the World Series proving to be the spark the Mets needed after falling behind in the series 0-2. The Mets eventually took the series from the Boston Red Sox. I think this play had something to do with it, too.
The Mets traded Lenny to the Philadelphia Phillies in 1989. According to teammate Keith Hernandez, Dykstra was on the "wild and crazy side", which he cites as one of the reasons the Mets decided to trade him.
His best season came in 1990 where he started in the All Star Game, led the league in hits, and finished fourth in batting average.
Then his career started to decline. In 1991 he crashed his car into a tree Tiger Woods style. Only difference is the fact that Dykstra was actually driving drunk, whereas Tiger was trying to escape being battered by his wife. He suffered fractured ribs, a broken cheekbone, and a fractured collarbone.
Continuing his obsession with running into things that have been standing immobile for years leading to a broken collarbone, Dykstra ran into the outfield wall in 1991 and, well, broke his collarbone.
Dykstra, we'll call him "The Dyke", err never mind. Scratch that. Dykstra proved to still have something in his tank in 1993 when he led the league in runs, hits, walks, at-bats, and was runner up to Barry Bonds (remember him?) in voting for the MVP of the National League.
After hurting himself far too many times, Dykstra decided to retire in 1998 at the age of 35 and did what most ex-ballplayers do upon retirement. He opened a car wash in Corona, California.
Dykstra was sued in 2005 by his former business partner who claimed Lenny used steroids and advised individuals to bet on Phillies games in 1993, when he was on the team.
Then, Lenny Dykstra became a hugely successful businessman who managed his own stock portfolio, served as the president of several of his privately held companies, including car washes, quick lube centers, gas stations, a real estate development company, and a new venture to develop several "I Sold it on eBay" stores throughout Southern California. With the money made from all of these businesses, Lenny was able to purchase Wayne Gretzky's $17 million estate (pictured below).
That was a random and highly surprising paragraph.
This is where Lenny's life started getting pretty bad. After doing a bunch of boring illegal business things I wont waste your time with, Dykstra, much like the University of Tennessee Athletic Department, became the subject of over two dozen legal actions since 2007.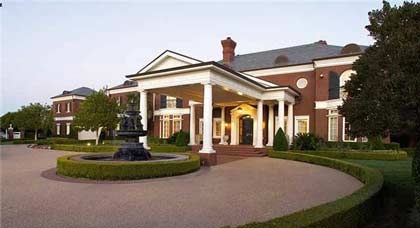 He filed for bankruptcy. He lost his Gretzky house which was said to have substantial water damage, torn up flooring, missing toilets, littered throughout with empty beer bottles, trash, dog feces and urine, and other "unmentionables". He started living out of his car and in hotel lobbies in 2009.
He was also mentioned in the Mitchell Report as a steroid user.
Wow. If I knew how depressing the story of Lenny Dykstra was going to end before I started writing this I probably would have picked someone different, like Tino Martinez.
So, uh, yea, Lenny Dykstra's life is worse than yours right now.
If you have any suggestions for a future "Random Athlete of the Month" that could possibly have an uplifting ending, please send an email to frank@korkedbats.com.