Random Athlete of the Month – January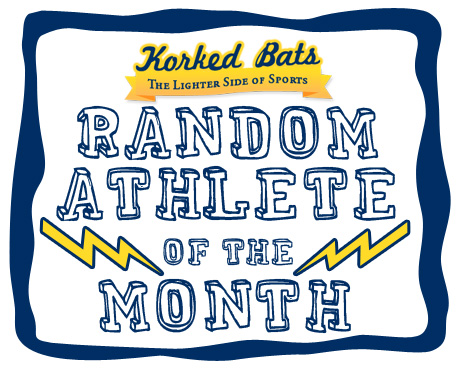 I'm going to break the rules a little for this post by naming a group of athletes instead of just one, because let's be honest, it's not like we even name a random athlete each month (we skipped September and December off the top of my head). I don't even know why we call it "of the month" anymore. But we do. We barely even got it posted before the month ended. Anyway, without further ado, let's take a look at January's Korked Bats Random Athlete(s) of the Month:
The 1996 U.S. Olympic
Women's Gymnastics Team
Aptly referred to as the "Magnificent Seven", the '96 U.S. Women's Gymnastics Team won the United States their first ever Gold Medal in Women's Team Competition in the 1996 Atlanta Olympics.
Go Amurrrica!
If you're like me and most other people I knew back in those days, you had your favorite member. Mine was Dominique Dawes. Chip's was Kerry Strug (I'm not sure about this one. I didn't know Chip back then), and Austin's sister's was Dominique Moceanu. While we may disagree on which one was the best, we should all be able to agree on the fact that aside from the most recent Olympics in 2008, 1996 was the only time in our lives where women's gymnastics was not only relevant, but actually enjoyable to follow. Take notes
WNBA
.
Let's take a nostalgic look back at the seven members of the team that captured the hearts and televisions of millions of people across this great country of ours and check in on what they are up to these days:
Shannon Miller
Arguably the the greatest gymnist the United States has ever produced, Shannon Miller racked up a total of 16 World Championships and Olympic Medals between 1991 and 1996. Interestingly that's almost as much as I had accomplished by the time I turned 19.
Quick Facts
Born in Missouri
Accused of infidelity with a married male athlete and divorced in 2006
Recently founded the Shannon Miller Foundation dedicated to fighting childhood obesity. Unfortunately, Mark Mangino didn't fall below the age limit.
Currently a lawyer.
Dominique Moceanu
Early in her career, Moceanu's hallmarks were daring tricks on the balance beam and spunky, inspired presentations on the floor. She evolved into a more elegant and mature style later in her career. How do I know this? Wikipedia. I have no idea what I'm talking about.
Quick Facts
Born in Hollywood, California
Sued her parents over earnings (awkward)
Married to a doctor and has 2 kids
Wrote an autobiography that reached seventh on the NY Times' Best Sellers List
Probably suffers from chronic headaches
Currently coaches gymnastics (shocker)
Dominique Dawes
Considered by many (or just me) to be the Jackie Robinson of gymnastics, Dominique was the first black person of any nationality to win an individual or team gold medal in gymnastics. She won both. Dawes was also the only member of the '96 team to have all eight of her scores count towards the total. She's not only the Jackie Robinson of the sport, she's apparently the Bo Jackson too. The girl does it all!
Quick Facts
Born in Maryland
Appeared in Prince's music video "Betcha By Golly Wow" and Missy Elliott's "We Run This". Two of my all time favorites
Served as President of the Women's Sports Federation from 2004-2006
Currently a motivational speaker and serves on the Advisory Board of Sesame Workshop's "Healthy Habits for Life". I have no idea what that is but it sounds much too boring to waste time looking up.
Also models bath towels
Kerri Strug
How could we ever forget the heart and determination of Kerri Strug during the '96 Olympics. After seriously injuring her ankle, Kerri was able to perform the vault with grace helping the U.S. clinch the Gold Medal. Her efforts definitely did not go unrecognized by the country as she became a hero across the land. After her performance in the Olympics, Strug met Bill Clinton (what female didn't in the 90's?), appeared on just about every talk show, made the cover of Sports Illustrated, was mocked on Saturday Night Live, and coolest of all, appeared in a SportsCenter commercial.
Quick Facts
Born in Arizona
Worked as an elementary school teacher
Currently a presidential appointee in the Justice Department's Office of Juvenile Justice and Delinquency Prevention. I always thought this guy was in charge of that.
Sounds like a mouse
Still loves America
Amy Chow
I'm not positive, but I'm pretty sure Amy Chow hypnotized the entire world in to believing she was supposed to be on the United States team when really she was supposed to be competing for China. Hey, I'll take it. She was so good they named two moves after her, "Chow/Khorkina" & "Chow II". Those are among my favorite moves in all of gymnastics.
Quick Facts
Born in California (or so she says)
Oozes with style
An accomplished pianist
Currently a licensed physician and surgeon
Other than that she hasn't really been very successful
Amanda Borden
I really don't remember this girl being on the team. Therefore I don't feel the need to reminisce about her contributions.

Jaycie Phelps
See "Amanda Borden".