Random Athlete Of The Month – August 2010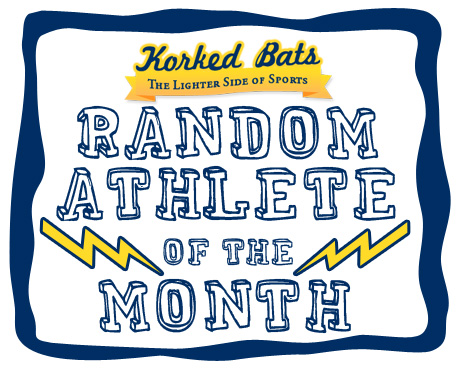 Lavonya Quintelle "Quincy" Carter
I'm going to be honest. This is our first Random Athlete Of The Month who's first name is Lavonya. In fact, that might possibly be the first time I have ever typed those letters in that order. I've never even heard this name before. Of course, I'm not bashing it. I think it's a great first name. I'm sure it goes over great with the ladies.
Lavonya: "What's good, miss? I'm Love On Ya!"
Random Girl At Bar: "I'm sorry, what?"
Lavonya: "I said, my name is Lavonya. What's your number?"
Random Girl At Bar: "Oh. Wow. It's 555-……."
BOOM! Touchdown Quincy!
Of course we all remember Quincy for his quarterbacking days in the early part of this past decade. He played football for the Georgia Bulldogs before being drafted in the second round of the 2001 NFL Draft by the Dallas Cowboys. He played three years with the Cowboys before being released. He was then picked up by the New York Jets. He played with the Jets for one season before being let go in the off-season of the next year.
Of course, I can't figure out for the life of me why Lavonya would be released? I mean he had 32 touchdowns and only 37 interceptions in his short career. He posted 6,337 passing yards in his four year career and an awesome 71.7 quarterback rating. Those are some good Brad Johnson type numbers. So it couldn't have been his MVP-esque stand-out statistics. I guess he got released because of his drug relapse during the 2004 playoffs.
Actually, the more I think about it, the more I believe it was his drug relapse that got him cut. Yeah, because he then had to go to drug rehab and was even diagnosed with bipolar disorder. For those of you who don't know what bipolar disorder is, it's when a polar bear likes other polar bears of the opposite gender and the same gender. Bipolar.
Of course, who wants to hear about Quincy Carter's depressing life since the NFL? You know the short stints in the Embarrassing Canadian Football League, the Arena Football League and the Arena Football League 2. We don't want to know that Quincy was cut from Canada's Montreal Alouettes for his "serious marijuana problem" according to a CFL club official. Or how he was suspended indefitely from the Bossier-Shreveport Battle Wings of Arena League 2 for missing team meetings. Or how he had a short term with the Kansas City Brigade of the Arena Football League before being cut. And we definitely don't want to hear about Quincy's most recent football stint in the new Indoor Football League playing for the Abilene Ruff Riders. Apparently Quincy took his team's name seriously as he was arrested by Abilene police for an outstanding warrant, related to a DWI arrest. Carter was then arrested later that year for failing to pay his bondsman after that previous arrest. He then later didn't show up to the Ruff Riders game on July 4th of last year which got him cut from the team.
Yeah, we don't want to talk about that.
We want to focus on Lavonya's high school career. You know, when he played quarterback for the Southwest DeKalb High School Panthers and when him and the boys took 4-A state in 1995! PANTHER PRIDE!
Alright fine. There's just not enough to talk about with Quincy Carter, other than his 1998 SEC Freshman Of The Year Award, without mentioning his law trouble. So with that in mind, let's go through a quick photo gallery of Quincy Carter mugshots.
• • •
If you have a suggestion for next month's Random Athlete, leave a comment below. You could potentially choose our next Random Athlete of the Month.