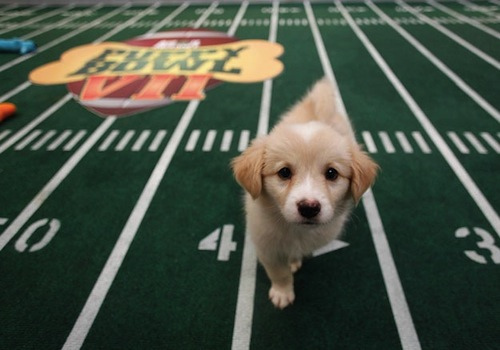 As we enter the dog days of winter, another Puppy Bowl has come and passed. It seems like only yesterday when the season started.
The best of the best puppies competed yesterday in what is claimed to be one of the most memorable Puppy Bowls of all time. Mainly because no one pooped on the field.
Despite all the rambunctious puppy tackles, the slobber flinging and chew toy biting, Puppy Bowl VII will be remembered for something so much more. A story of redemption.
In this league, it seems every week a different puppy is getting in trouble for different things. One week a puppy will test positive for DGH (doggy growth hormone). Another week, a different puppy will be charged with illegal possession of kibble. And it seems just about every week we are hearing about puppies getting in trouble for drinking… out of the toilet.
Commissioner Greyhound has seemed to have his hands full during the whole season with his players getting into trouble. So lately, it's no surprise that he has brought down the woof with his punishments. He's not dogging around anymore.
Bulldog has been a well respected player in the league ever since his rookie year. He was a big pup and has always been looked at as a winner. Although, his reputation came crashing down before this past season.
Bulldog has always been known as a wild dog. A few seasons he crashed on his owner's skateboard without even wearing a helmet. Bulldog received a lot of flack for this. People claimed he didn't care and was very irresponsible. Not to mention, Bulldog was always messing around with young poodles and constantly drinking out of the toilet.
Before the start of the season, a young poodle puppy came forward and issued a statement that did not bode well for Bulldog, his reputation, or his Puppy Bowl career. Bulldog was accused of sniffing this poodle's butt.
Commissioner Greyhound was not going to let this slide. He immediately suspended Bulldog for four games, or 28 in doggy games.
Some critics felt that this punishment was too lenient. It was just a year ago that Pitbull got caught with under-the-table training, fighting and killing of humans. This landed Pitbull in the pound for a little over a year. Pitbull was also suspended on top of that. Many people felt that Commissioner Geryhound was tougher on Pitbull because he was a black dog. Those people feel that if Pitbull was white or spotted, that his punishment would have been less severe. Nevertheless, if you mess up in this league, Commissioner Greyhound is going to put you in the doghouse.
However, Bulldog not only returned from the suspension, but he was able to lead his team into the Puppy Bowl. Redemption was the word used most for the week leading up to the big game. Analysts were claiming that if Bulldog won this game, he would be back. He would be listed with the greats, like Lassie, Rin Tin Tin, Ole Yeller, and Amanda Seyfried.
Unfortunately, Bulldog found it hard to overcome the opposing team's relentless defense, led by the long haired and rarely groomed Afghan Hound. The pressure he forced on Bulldog was just too much. It appeared Bulldog had gone barking up the wrong tree. Afghan Hound's outstanding play and his ability to not get scared whenever the vaccuum is running is what landed Afghan Hound the award of Defensive Puppy of the Year.
Bulldog ultimately was unable to win yesterday's Puppy Bowl, but he did help his cause for one day making it into the Puppy Hall of Fame in Canine, Ohio. He left the stadium yesterday with his tail between his legs but his nose still wet. Wet for the future of this young puppy's career.
This year's Puppy Bowl possibly the last we may see for a while as the puppies' Collective Barkaning Agreement runs out in March. Experts say that negotiations won't be a walk in the park. Looks like next year's season will be put on paws until it gets worked out.