PICTURE: Alabama T-Shirt Fails At Wheel of Fortune
God love Alabama Crimson Tide fans, they try so hard. If only they were as good at being fans as their team was at football. But I guess we can't have everything.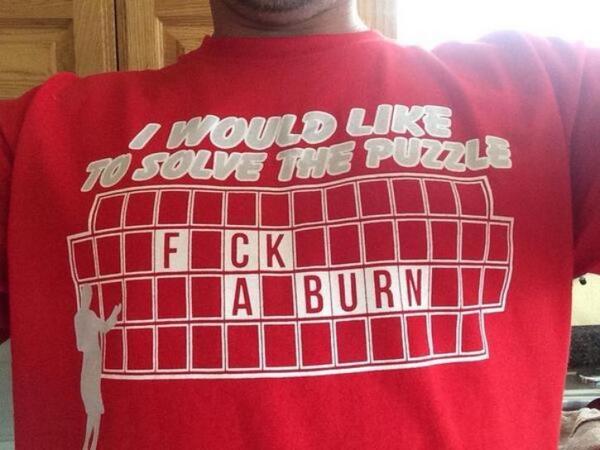 Alabama contestant: "Um yes, Pat. I'd like to buy a U."
Pat Sajak: "Oh, I'm sorry. The U is already on the board."
Next contestant: [solves puzzle by guessing "FICK A BURN"]
Maybe Alabama fans should've taken a second to proof this shirt before printing it.
(Did you see what I did there? LOL! That's a joke that's not overused much!)
• • •
• • •
This post was created by Austin. You can follow him and his jokes on Twitter: @TheAHuff
Also, for up-to-the-minute sports jokes, follow Korked Bats on Twitter: @KorkedBats