Padres Are Going All In This Year & It'll Work Out Because Things Always Do For The Padres
Raise your hand if you were traded to the Padres this weekend.
The Padres acquired anyone who's ever put on a baseball glove this weekend. And I say that only half joking. Check this inventory:
The Friars are going all in.
Remember the last time they decided to go all in?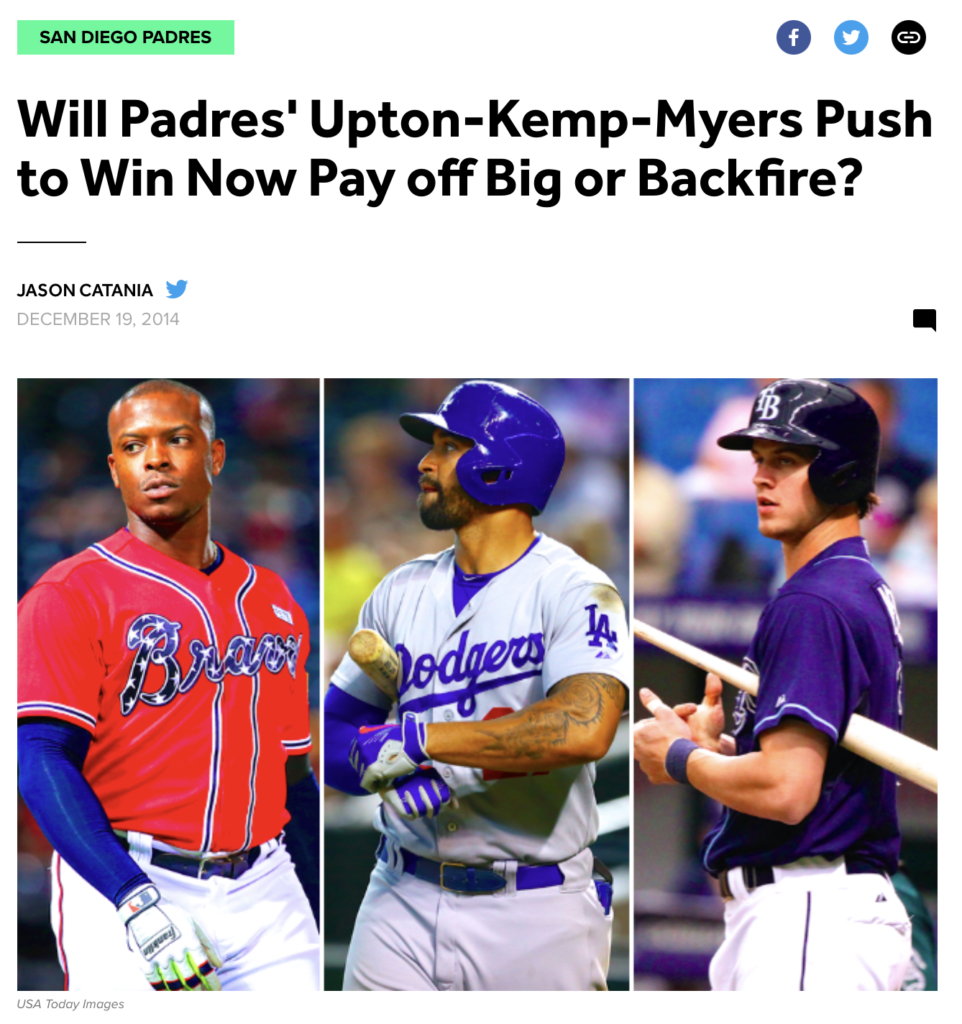 Spoiler: it backfired.
In December 2014, the Padres used the MLB Winter Meetings like Supermarket Sweep. They brought in Matt Kemp, the Upton brothers, Wil Myers, James Shields… Want me to go on? Ok. Derrick Norris, Will Middlebrooks, Brandon Marrow, Clint Barmes, and Craig Kimbrel. That squad produced 74 wins, many more headaches, and 1 giant hole in their wallet. They finished second….to last in the NL West.
In fact, the Padres haven't finished higher than 3rd in over a decade. The same year iPad was introduced. And they haven't made the postseason since 2006, the year before the iPhone was introduced. Basically the Padres haven't been worth a damn in the era of modern technology. You've only been able to look up two winning Padres teams (2007 & 2010) on touch screens.
I'm not saying this year's team can't make the postseason. In fact, the way they've been rolling (and hitting grand slams), they probably will. And the biggest difference between those Friars teams of past is this year's team is Must See TV. They're fun as hell to watch. And if they make the playoffs for the first time in 13 years (which it's looking like they're going to – especially with the expanded playoffs this year), then clear my calendar. I want to watch every single Fernando Tatis Jr. postseason at bat. Give me Manny Machado on the hot corner. Give me Jayce Tingler (first ballot hall of fame name) on the top step. And I even love Jake Cronenworth. Plus, hopefully by some point in October, Tommy Pham will be back.
Can this team win the West? Lol, probably not. Especially considering they're 5 games back of a Dodgers team that is more fully loaded than Herbie in that Lindsay Lohan movie and/or Lindsay Lohan.
All I'm saying is, it's cool to see this team go all in, but just remember we've been here before with this franchise. So take it all with a grain of sea salt.
UPDATE: The Padres have also traded for Mike Clevinger from the Indians, so well… they're continuing to go all in.
Might want to double check to make sure you weren't traded to the Padres. today.