So, the other night I get this text message from Austin, that's all like, "Erin, Did you want to write about something that girls like that has nothing to do with sports? Just an idea. Oh, and the Miss USA pageant is on channel 45.  Okay bye."  Well, Austin.  You are right. If there was one thing this girl didn't need to know, it was what channel the Miss USA pageant was on.  If there is one thing that I like more than watching the WNBA, it's watching pageants.
So, against my better judgement, I will now talk about pageants.
As you can see, pageants are just like sports.
I can't think of one thing that is different.
In this sport there is one starter for each state.  50 starters.  They each need to be introduced.  This is very important because similar to March Madness, this eleven seconds of fame might be the only face time these ladies see.  From these 50 ladies, they are cut down to the sweet sixteen.  Then down to the elite eight and then down to the final four.  At some point these lades, like in most other sports, go put on their bathing suits. This is important because to see how athletic or how healthy they are, it is very important to see all of their spray tanned glory.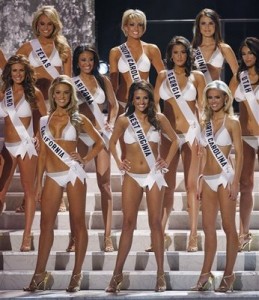 Then after they make sure they have shown off their best, it's then time to make sure that people see what they look like in their street clothes. If their street clothes were very sparkly floor-length gowns. I think if more sports had people show off what they look like at special events, there would be more people watching sports.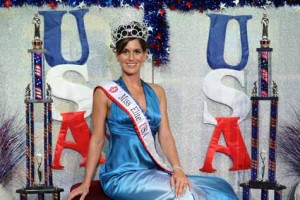 The best news for this country is not that Miss California took it home for 2011. Nope. In fact, eat your heart out blonde's of America.  A red head won. It is also important to know that Wikipedia told me that Miss California is not a natural redhead, but changed her naturally blonde hair color to red. Who knows exactly why she thought that red would be her ticket to Miss. USA town, but my license plate cover explains to never underestimate the power of a redhead and I think this is my point and case.  Thanks Miss California, for helping a girl out.  We had been struggling.
So, thank you Miss California for representing us red heads well.
So, as you can see, pageants are just like sports. Red heads always win it all. Just ask Brian Scalabrine.  I will probably not follow this sport closely, but listen in to all of my friends' conversations about pageants.  I have a lot of friends that talk about them, so it won't be difficult for me.  Don't worry.