Mike Trout Hoping To Be Voted Onto This Year's A.L. All-Royal Team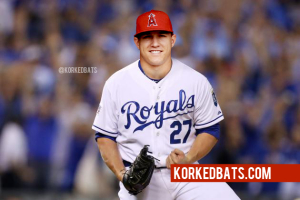 ANAHEIM — Last year's American League MVP and current Angels outfielder Mike Trout is really hoping to be voted onto this year's American League All-Royal team.
Trout could potentially be the first non-Kansas City Royals player to make the 2015 A.L. All-Royal Team, formerly known as the A.L. All-Star Team.
"I'm honored just to be considered among some of the great Royals of this season," Trout said. "I mean to hear your name in the same sentence as guys like Salvador Perez and Omar Infante… It's something every little boy dreams of."
The All-Royal Team is scheduled to take on the N.L. All-Stars on July 14th in the 2015 MLB All-Star Game, to determine who will have home field advantage in the World Series – the National League or the Royals.
Whether or not Trout makes it onto the team is decided solely up to the voters, or in this year's case, Royals fans, who many believe are making a mockery of the All-Star game voting process. However, Major League Baseball is going to let it slide, because they made a mockery of Kansas City baseball for the past three decades.
If Trout gets voted onto the former A.L. All-Star Team, it will be nothing new for the slugger. He is used to playing for teams that change their name, as he currently roams the outfield for the former California Angels and Anaheim Angels, and current Los Angeles Angels of Anaheim in Orange County, California located just south of Los Angeles County and in the same city as Disneyland.