Miguel Olivo's Restaurant Chain To Begin Serving New Dish Called Alex GuerrEARo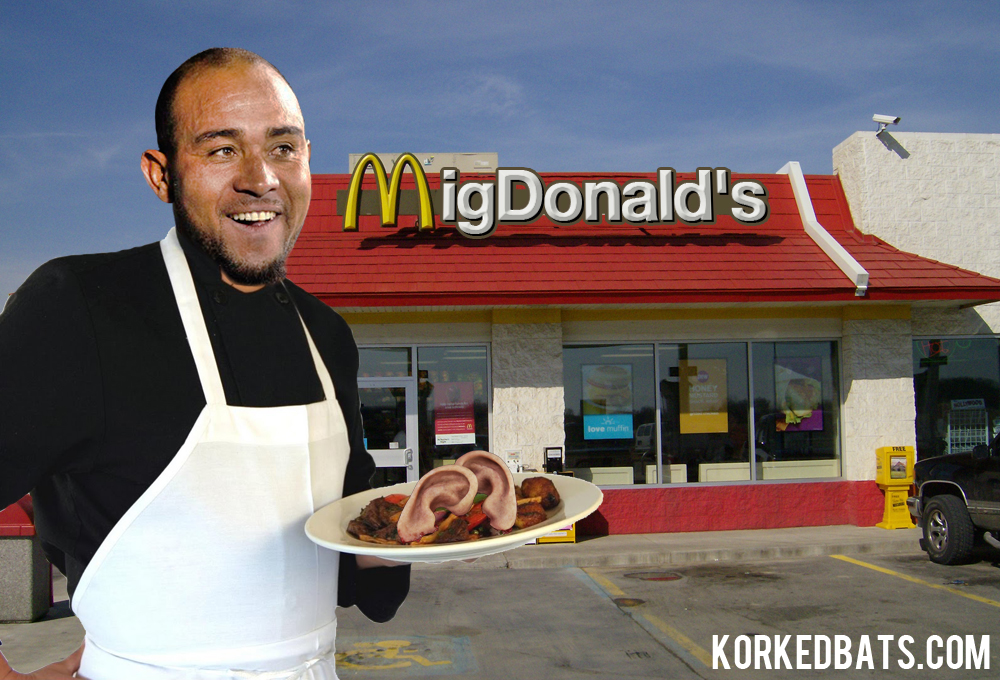 ALBUQUERQUE — Former Los Angeles Dodgers minor league catcher Miguel Olivo announced today that his small chain of restaurants will be adding a new dish to their menu.
Olivo's restaurant chain, MigDonald's, will begin serving a new dish called Alex GuerrEARo, which runs at $12.99 and comes with two side items.
"It's delicious," Olivo said. "I tried it for the first time the other day, and let me tell you, it's good enough to make me want to get released from my current team."
Guerrero's Ears is a new authentic Cuban dish made of real human ears, dipped in a succulent pine tar, sprinkled with hopes of making it to the big leagues one day. Olivo says it's 100% human meat, unlike Taco Bell's meat, which is only 68% human meat. Olivo also says he's gotten some buzz from notable food critics around the area. John Durham, the Albuquerque Journal's food critic wrote, "The new dish, Alex GuerrEARo, is a lot like the Los Angeles Dodgers' team every year. You'd think it would be a lot better than it is."
Olivo, who looks like the kind of guy who enjoys eating more than working out, got into the restaurant business a few years ago. "I figured my baseball career was going semi-well enough to blow all my money on a chain of restaurants that I'll eventually close down in a year and half due to financial reasons."
MigDonald's, whose slogan is 'Fight For A Bite!', currently has three locations in the greater Albuquerque area with the chain's most popular restaurant in the nearly run-down Twin Springs strip mall, right in between Mr. Miatishi's Dry Cleaning and a guy who always loiters in the parking lot and looks really sketchy. Many believe he sells drugs.
Miguel Olivo says he plans to really regret ever opening this chain of restaurants after he's selling autographs for $15 or best offer at Albuequerque Dan's Sports Collectibles in a year or so.
• • •
This post was created by Austin. You can follow him and his jokes on Twitter: @TheAHuff
And also, for up-to-the-minute sports jokes, follow Korked Bats on Twitter: @KorkedBats