Mason-Griffin Wants To Leave Sooner Than Expected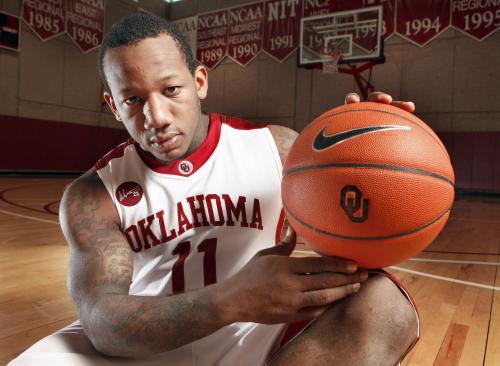 This just in…
5'11" freshman point guard Tommy Mason-Griffin is leaving Oklahoma.
This also just in…
He is not an English major.
Thank you Mark Zuckerberg, for allowing everyone a medium to express their thoughts (whether correctly spelled or not).
Last night, Tommy Mason-Griffin made it Facebook official. He is not returning for not only his sophomore season, but for the remainder of his freshman school year as well.
And judging by these posts, I don't think he would have finished even if he stayed.
The news is devastating to all of Sooner Nation. Not only head coach, Jeff Capel, but the entire administration for how poorly that kid's spelling was in his Facebook posts. كازينو عربي Goodness gracious!
That writing is more embarrassing than getting pulled over by a motorcycle cop.
Now, I ain't won 2 judje bout pore gramatikal skillz, but dat boi Tommy ain't 2 sik wit it wen it comz to rightin.
Are you kidding me? You are a student athlete. being a student is part of your name. I'm not getting on him for leaving. That's his choice. That's totally fine, just ask John Wall. And at least he went to school for at least a year. That's more than LeBron James, Darius Miles, Moses Malone, and Calvin Cambridge went to school for, combined.
But enough making fun of him for his lack of grammatical skills. Not everyone can be a good writer.
I'm not going to criticize him for that. I'm a better person that that. (Not to mention, I have about six more years of college than he does and I was probably that bad with spelling and grammar my freshman year.) I'm above that.
What I am here to do is to make fun of him for wanting to enter the NBA. Jim Carey accepting the role as The Cable Guy was a better choice than this.
This past season, his freshman year, TM-G earned 3rd team All-Big 12 honors. Yes, I said THIRD team. And yes, I said All-Big 12, not All-American. Does he think the NBA is like the Salvation Army? They'll just accept anything thrown their way?
This is like a high school football player, who was All-County Honorable Mention, going to a Division 1 football team and walking on. الربح الحقيقي And then putting a lot of water in his hair before taking the team photo. What was the kid thinking? And TM-G can't even blame his lack of stellar statistics on his coach not giving him enough carries in high school or having to split carries with someone with less talent. Tangent over. Let's continue.
The same question lies for Tommy Mason-Griffin. What is this kid thinking? He was mediocre, at best, in college. (If you are reading this, Tommy, mediocre means average.) 14 points per game and 5 assists while leading your team to it's first losing season (13-18) in 29 years doesn't scream a must have to NBA franchises. Except for maybe New Jersey. Not to mention, with the way he is handling this situation and also all the trouble he got into with his team this season doesn't speak a lot for his character.
Then again, I think all that proves evident from his Facebook profile.
P.S. What's up with his name? Not only is it hyphenated, but it's like a combination of cartoons. Tommy. And Mason-Griffin. That'll never fly in the NBA. Maybe the D League.