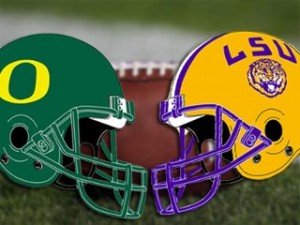 So college football started. And yes, I am still talking about this game. And I would be lying if I didn't tell you that I wore a green dress and sat in my living room and yelled as LSU won a ridiculous game against my Oregon Ducks. I probably lost a few Twitter followers due to my excessive tweeting, but it had to be done. I learned a few things from myself and from people from the south during this opening game that I feel as though needs to be brought to light.
1.  Southerners have really good tea and pie.
2.  Southerners are SORE WINNERS. I can't wait for the Ducks to finally beat an SEC team and then I am going to gloat my heart out.*
3.  Southerners do have the best looking gentlemen. Even though they can be the most rude.
4.  Southerners stick together when they are winning. Whether it's in a war or in football.
5.  Erin Andrews has a pretty distinct accent that is very reminiscent of the mom from Bobby's World.
6.  LSU fans really like to spell GO with an EAUX when they are winning.
7.  LSU fans think that if they are winning, yelling "who dat" is less ridiculous sounding.
8.  LSU fans also like to talk about gumbo when they are winning. Or losing.
9.  Southerners really do take their dental hygiene seriously.  People that grew up in the south take that for granted. Head up north and you will see exactly what I am talking about.
10.  It is really hard for me to stay friends with people when their team is winning and mine is losing. This is why I had to buy one of my roommates a really good wedding present today.
Okay.  I think that's all I have in the bitter department for now.  Oregon won't encounter another SEC team until the BCS Championship Game, so my run-in's with southerners should hit an all-time low.
In other news.  I joined a fantasy football league.  My team name is unimportant, but I do feel like I will need some help picking some really good players. So, if you can think of someone other than a Titans player, since I'm from Nashville and obviously know all of them (personally), that I should pick for my championship winning team, please let me know.
* – I can totally hear you SEC fans and it can and will happen.
• • •
Erin is Korked Bats' only female and writes the bi-weekly The Ladies Room posts. She is [obviously] extremely bias towards the Oregon Ducks. Follow her on Twitter as she delivers hilarious sports commentary from a woman who knows little about sports. Her personal Twitter account is: @ErinMcGown and her Korked Bats account is: @LadiesRoomKB
And as always, follow Korked Bats on Twitter for up-to-the-minutes sports jokes: @KorkedBats