Grading Cris Collinsworth's Performance With A Game Of 'Good Collinsworth, Bad Collinsworth'
Last Thursday's season-opening matchup between the Texans and the Chiefs marked the return of NBC's broadcasting A-Team: Al Michaels, Cris Collinsworth, and Michele Tafoya. As with many threesomes—and that list—the key to success lies in the middle, and our goose-necked friend was raring to dish out another season's worth of both insightful perspective and, moreso, facepalm-worthy quips.
The purpose of this article is to evaluate Collinsworth's more interesting comments during Thursday night's broadcast, as well as those uttered during the Sunday game between the Cowboys and Rams. Each moment will be rated as Good Collinsworth, Bad Collinsworth, or somewhere in between.
Thursday Night
Although the ever-memeable "Collinsworth Slide" was not present, the two men in the booth delivered in typical fashion—quite literally. Michaels, whose hair continually resembles that of a Bosley hair treatment "after" photo, was at the top of his play-by-play game, and Collinsworth, who thinks that having the longest head in sports means it must be made longer by taller hair, was, well, Collinsworth.
Pregame
The pregame events went off without a hitch, as players stood in solidarity, linking arms for a moment of unity. Then came Collinsworth's first moment of glory. While stating that he was in 100% agreement with what the players stand for, he managed to look flustered as if we were expecting him to be our voice on all pertinent social issues. "I'm going to do my job. I'm going to announce this game," he said pointedly, "So let's just get that out of the way."
That's what we expect from you, Collinsworth, and we thank you for doing your job.
Moment Rating: Good Collinsworth
LOL
Shortly into the NFL's season opener, Texans quarterback Deshaun Watson and Chiefs quarterback Patrick Mahomes were back to their usual selves, dancing around and making impressive plays (Mahomes far moreso than Watson, as expected). It was at this juncture that Collinsworth stated, "Both of the quarterbacks are going to do things that make you laugh out loud."
A "whoa" or a "did you see that?!" would be more common here. Rarely do we laugh like a crazed asylum patient, as Collinsworth sometimes does, when Mahomes throws an across-the-body first down. It's just a nice play.
Moment Rating: Chill, Collinsworth
Spoke Too Soon
The first touchdown of the game was delivered via the legs of newly acquired and healthy David Johnson. It was a solid run that showcased the back's vision and speed to the corner, which naturally sparked discussion on the offseason trade that sent receiver DeAndre Hopkins to Arizona and landed Johnson in Houston. Collinsworth used this as an opportunity to silence the Johnson naysayers: "There were a lot of people talking very loudly about the trade that brought Johnson here, and now that's down to a murmur."
Although his argument could be somewhat justified in the moment, the rest of the game proved that the trade was criticized for good reason. Watson had trouble finding open receivers all game, and Hopkins went on to secure a career-high 14 catches and 151 yards in the Cardinals' road victory against reigning the NFC champs.
Moment Rating: Rooting-for-the-Husband-That-You-Find-Out-Did-Kill-His-Wife-on-That-Episode-of-Forensic-Files Collinsworth
Fact Check Needed
On that note, continuing to talk about Hopkins later on, Collinsworth spoke to the production that Hopkins took with him to Arizona: "150 catches versus about 75 for the next guy."
In what year did Hopkins break the NFL record for catches that was set last year? There was no clarification on the timeframe here, making the stat completely unreliable. What's the source here?
Moment Rating: Bad Collinsworth
Slip of the Tongue
Although we could include some other gaffs in this piece, the final Collinsworth gem from Thursday night was the mispronunciation of Sammy Watkins' last name. In classic garbled fashion, Collinsworth called the receiver Sammy "WatSKINS."
There are a few ways to take this. Either the old namesake of Washington Football Team was on Collinsworth's mind, or he had, well, skin on his mind. If Watkins drops a pass, does he get the hose again?
Moment Rating: Buffalo Bill Collinsworth
Sunday Night
Settled into his comfort zone after one game, Collinsworth and the crew rolled out yet another performance on Sunday night. Now, Thursday had more to offer, but Collinsworth once again delivered a few noteworthy comments.
Daddy Issues
This might be Collinsworth's most epic yet disturbing calls of the game. When discussing a the ways parents choose to motivate their children, he said, "My dad was the high school principal. He wore me out all the time. No breaks. … He wore a lot of other people out, too."
Out of context, this sounds like Collinsworth had somewhat of a consensual non-consensual relationship with his father. Now, we know that's highly unlikely, but damn, Cris. Let's keep it a bit lighter on primetime—for your sake and all the others your father "wore out."
Moment Rating: Inner-Demons Collinsworth
'Bone Issues'
After uttering a very guttural grunt late in the third quarter, Michaels and Collinsworth discussed Cowboys quarterback Dak Prescott's recent interviews on battling mental health, in light of his mother's death and brother's suicide in April. Collinsworth seemed to have fumbled his words here when referring to Prescott's "own issues," he seemingly said, "bone issues."
We can likely chalk this one up to early-season jitters for Collinsworth. From "WatSKINS" to "bone issues," he's got some articulation to work on. Or he's constantly got some sort of sexual burden plaguing his limbic system.
Moment Rating: Too Much OnlyFans, Collinsworth
In Summation
We're back to football in 2020, and Collinsworth is in the broadcasting driver's seat. He did not disappoint with flummoxing rhetoric in Week 1, and we expect much of the same throughout the rest of the season. Even if he calms down and leads us to believe we'll just get a bunch of "Here's a guy" and "I'll tell you" comment starters from here on out, you'll surely be delighted by the influx of hilarious, disturbing, and questionable words that leave this man's mouth.
From good Collinsworth to bad, and everything in between, we should all be happy to have such a consistently goofy bastard delivering breathtaking calls each and every gameday.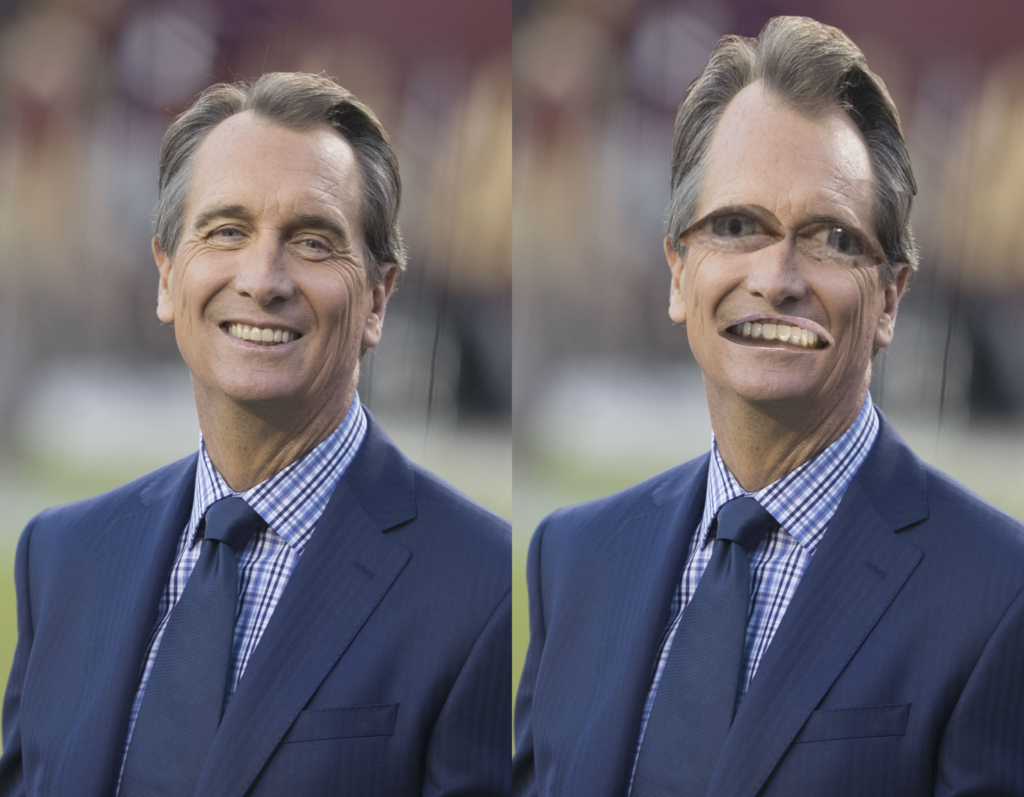 This post was written by Sam. Follow him on Instagram: @chad_b_foxxx