Fake Interviews With Real Athletes: Richard Sherman
Here at Korked Bats, we like to think of ourselves as sports journalists. And by sports journalists, I mean just a couple of folks with the domain rights to KorkedBats.com who can't land big interviews for your reading pleasure.
So instead, we make up big interviews for your reading pleasure.
Recently, we had a chance to sit down (kinda) with Seattle Seahawks cornerback Richard Sherman (not really) to talk about his team's big NFC Championship Win. It was an exclusive one on one with the superstar. Here is that interview.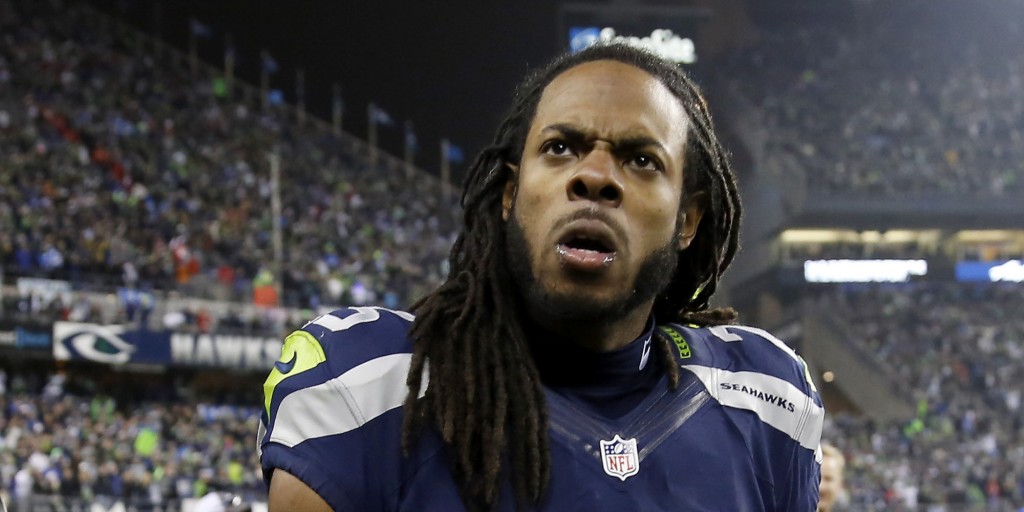 (RS will represent Richard Sherman and KB will represent Korked Bats)
Korked Bats: Thank you for taking the time to join us, Richard.
Richard Sherman: [yelling] I'M THE BEST CORNER IN THE GAME! WHEN YOU TRY ME WITH A SORRY RECEIVER LIKE CRABTREE, THAT'S THE RESULTS YOU GONNA GET! DON'T YOU EVER TALK ABOUT ME! FEE FI FO FUM! WE'RE ON TO THE CHAMPIONSHIP! I'M GOING TO WIN THE BELT! I'M GOING TO TAKE DOWN STING AND MACHO MAN RANDY SAVAGE AT WRESTLEMANIA THIS SUMMER! كيف تربح المال من الإنترنت I'M COMING FOR YOU BOTH!
KB: I'm sorry. What? You are…
RS: [interrupts, still yelling] DON'T YOU EVER TALK ABOUT ME!
KB: Who was talking about you? I'm the only one in the room.
RS: TRIPLE H! DON'T YOU OPEN YOUR MOUTH ABOUT THE BEST!
KB: I'm confused. Are you mad at Michael Crabtree or old professional wrestlers? I was kind of hoping we could talk about the NFL Playoffs.
RS: PLAYOFFS?! PLAYOFFS?! YOU WANNA TALK ABOUT PLAYOFFS?! PLAYOFFS?!
KB: No? Alright. How about the NFC Championship game? You want to talk about that?
RS: NOT A GAME… NOT A GAME… PRACTICE!
KB: So… you want to talk about practice?
RS: LET'S TALK ABOUT SEX, BABY! LET'S TALK ABOUT YOU AND ME! المراهنات
KB: Ok, that's a song lyric.
RS: I CAN'T BELIEVE IT'S NOT BUTTER! GET OFF MY PLANE! NOW, THAT'S WHAT I CALL MUSIC!
KB: Ok that's a margarin spread, a movie quote, and a popular CD of various artists.
RS: I'M THE BEST OF ALL TIME! NO, ONE CAN STOP ME! YOU MAY THINK YOU CAN TAKE MY LIFE, BUT YOU'LL NEVER TAKE MY FREEDOM! I'M A HUSTLER, BABY! I JUST WANT YOU TO KNOW! I'MA BAKE YOU A CAKE AS FAST AS I CAN, HO!
KB: [interrupting] Do you have Tourette's?
RS: GET OFF ME! IF YOU CAN'T RUN WITH THE BIG DOGS, STAY ON THE PORCH! WOOF WOOF WOOF! GET OFF THE TRACKS WHEN THE TRAIN IS COMING THROUGH! CHOO CHOO! BEEP BEEP! WOOT WOOT! I AIN'T PLAYIN' AROUND! MAKE ONE FALSE MOVE AND I'LL TAKE YOU DOWN! GET BACK, GET BACK! YOU DON'T KNOW ME LIKE THAT! KAAAAHHHHHNNN!!!
KB: Does anyone have a horse tranquilizer?
RS: YOU SHALLLL NOTTT PAAAASSSS! ESPECIALLY ON ME! I'M THE BEST CORNER IN THE LEAGUE! KIND OF LIKE HOW BEYONCÉ HAD THE BEST MUSIC VIDEO OF ALL TIME!
KB: Should I be worried? I'm starting to get worried.
RS: SO YOU LISTEN UP, CRABTREE! I DON'T MAKE MONKEYS! I JUST TRAIN 'EM! YOU TELL THEM LARGE MARGE SENT YOU! I WILL GRIND YOU DOWN TO A PULP! THEN I'LL SPIT YOU OUT BECAUSE I HATE PULP! I ALWAYS GET NO PULP WHEN I BUY ORANGE JUICE! SO IT MAKES SENSE THAT I WOULD CRUSH YOU INTO PULP BECAUSE I HATE YOU TOO! YOU BETTER SHUT YOUR MOUTH OR I'MA SHUT IT FOR YOU REAL QUICK!
KB: Can you even hear me right now? Am I just talking to myself?
RS: I GOT A FEVER! AND THE ONLY PRESCRIPTION IS SHUTTIN' YOU UP, CRABTREE! SO THAT'S EXACTLY WHAT I'MA DO! I FLOAT LIKE A BUTTERFLY AND STING LIKE A BEE! I'M THE GREATEST! I'M A ROLL BY YOU LIKE A LITTLE ROLLER UP ALONG FIRST, BEHIND THE BAG! IT GETS THROUGH BUCKNER! HERE COMES KNIGHT AND THE METS WIN IT! I WILL PULVERIZE YOU! STRAIGHT UP SMASH YOU!
KB: Ok. I'm just going to leave. Are you cool to lock up?
RS: SNAKES ON A PLANE?! I'VE HAD IT WITH THESE SNAKES ON THIS MOTHER…
KB: [leaves]
• • •
This post was created by Austin. You can follow him and his jokes on Twitter: @TheAHuff
Also, for up-to-the-minute sports jokes, follow Korked Bats on Twitter: @KorkedBats