Fake Interviews With Real Athletes: David Eckstein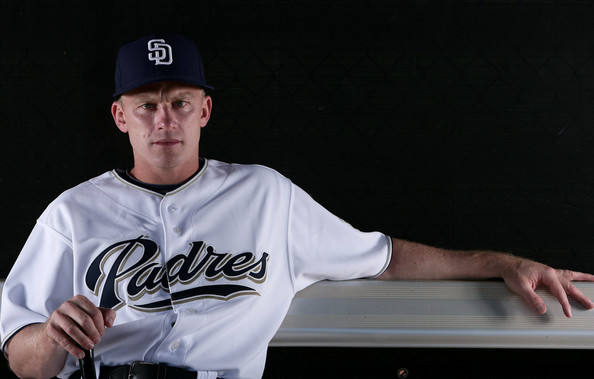 Here at Korked Bats we like to think of ourselves as sports journalists. And by sports journalists, I mean just a couple of guys with the domain rights to KorkedBats.com. We can't land big interviews for your reading pleasure. We just don't have the resources. But resources shmee-sources is what I always said during my 5+ years of school at one of the finest journalism schools in the country. When you don't have the right interview for your piece, make it up! And for that I have the right resource… My imagination. So join with me now as I make-believed sat down with free agent second baseman David Eckstein.
DE will represent David Eckstein and KB will represent Korked Bats
Korked Bats: Uh, hi, David. It was very nice of you to join us.
David Eckstein: Not a problem at all. It's my pleasure. Where should I sit?
KB: Just go ahead and sit right there.
DE: That's a child's tea set table.
KB: Yeah, we specially ordered it just for you. You know, so you wouldn't look like a regular person sitting on the world's largest rocking chair. Although, it's comical, we wanted to take this interview very seriously.

DE: You know what, it's fine. I'll just stand.
KB: Well, we have a high chair in the back, if that will work better?
DE: No it's fine. Let's just start this interview. I have somewhere I have to be.
KB: The Lollipop Guild?
DE: Wow, clever. That's not the first time I've heard that joke before.
KB: Yeah, but this probably is the first time you've been interviewed by any sports news medium.
DE: Bro, I've been in the Major Leagues since 2001. I've got two World Series rings and a World Series MVP trophy at home.
KB: Little League World Series?
DE: Are you done yet?
KB: Actually, yeah. I've used all the short jokes that I've written down that I wanted to get to.

DE: Do you actually have any questions for me?
KB: Yeah. I think so. (::shuffles through papers::) Um. Have you seen Inception?

DE: Yeah. I saw it on an off day during the season.
KB: It was so good, wasn't it?
DE: Uh… Yeah… I liked it.
KB: That's cool.

DE: (::awkwardly silent::)
KB: When you played for San Diego, did you ever go to the San Diego Zoo?
DE: Yeah, a couple times.
KB: They have a lot of flamingos there.
DE: Yeah… Do you actually have any baseball questions for me?
KB: Uhh.. Not really.
DE: Seriously?
KB: No. Instead of researching you're baseball career, I just Googled "funny short jokes."

DE: Awesome. So we have nothing relevant to talk about?
KB: Well, we could talk about your nerdy wife.
DE: (angrily) Excuse me?
KB: Yeah, she made a clothing line for female Star Wars fan.

DE: How does that make her nerdy?
KB: Dude… Chicks who are that into Star Wars are pretty nerdy… Excuse me, they're probably not pretty… Just nerdy.

DE: That's my wife you're talking about.
KB: I know. Aren't you embarrassed?
DE: I can't believe we have nothing about my baseball career to talk about. I'm wasting my time here. This is so frustrating.
KB: Frustrating for you? This is frustrating for me!
DE: Excuse me?
KB: Dude, no offense, but this is a fake interview. It's made up. We have the power to interview any athlete, excuse me, scratch that, any human being and the best athlete we can book is free agent David Eckstein? You're not even on a Major League roster right now. You're as big as my six year old cousin. You have to crow-hop a throw from shortstop. Your wife makes Yoda tank tops for women who shouldn't be wearing tank tops. You're the best athlete we could book?
DE: Wow. (sarcastically) Well, thanks man. That means a lot, jerk.
KB: Dude, I said "no offense".
DE: Alright, well, I'm leaving.
KB: Wait, wait, I'm sorry. One last question.
DE: (sigh) Fine. What?
KB: Did your parents name you David because everyone else is like Goliath compared to you?
DE: (::leaves::)
KB: Wow. That was a "short" interview.