EXCLUSIVE: A Night With The St. Louis Blues' Towel Man
All across sports, there are famous diehard fans who ingrain themselves into the fabric of their favorite team's franchise becoming synonymous with the team. From the Green Men with the Canucks, to Clipper Darryl with the, well, Clippers, to the one guy in a Darth Vader mask (who I'm pretty sure just stabbed a guy) with the Raiders. These fans attend every game and, for some, they make themselves a part of the game day presentation. Like Fireman Ed in New York leading the "J-E-T-S, JETS, JETS, JETS!" chant or that one Phillies fan with the Phanatic tattoo on his belly button leading the crowd in the battery hurling at opposing players. However, you can argue that no one has made themselves more a part of the gameday tradition as Ron Baechle.
You're probably asking, "Who the hell is Ron Baechle?"
Sorry, my bad.
You know him as Towel Man, and outside of maybe Jon Hamm, he's the most well-known St. Louis Blues fan. He's the guy who leads 18,000 screaming fans in counting the number of goals the Blues have scored.
They have the octopus in Detroit, the cannon in Columbus, the catfish in Nashville, and Towel Man in St. Louis. But when he's not waving towels or counting goals, the 61-year-old is a graphic designer by trade. He's also been in a band for 36 years, and for 30 of those years, he's thrown fine linens into raucous crowds at hockey games. He has become synonymous with the franchise. The way Disney has Mickey Mouse, the St. Louis Blues have Towel Man.
Towel Man isn't just a fan. He's a tradition.
I got a phone call on the morning of February 8th, 2020. It was Ron. This was a bit out of the blue, but not entirely. Through my work in sports talk radio in St. Louis, we had gotten to know each other as I booked him on multiple shows and podcasts during the Blues' Stanley Cup run. Ron was chipper as always and explained that during select games throughout the season, he'll bring a special guest to accompany him throughout the night. ربح مال حقيقي من النت Most of the time, this honor will go to kids, teens, or other diehard Blues fans. Very rarely does it go to random bloggers. So I was honored that he even thought of me, and I immediately said yes. (Even without checking with my wife first. Sorry, babe.)
"Meet me at Sybergs on Market Street at 5:30p," he said.
I arrived a few minutes early, and the place was packed. Literally every seat and table was taken. Ahh, the simpler times before global pandemics. A lot of people had just finished watching the Battlehawks (RIP in peace), one guy was watching the Mizzou Tigers basketball game (I have no idea why either), but a majority of the people were in Blues gear, probably grabbing a bite before either making the short walk from the Pear Tree Inn to Enterprise Center or taking the courtesy shuttle to the arena that Syberg's provides before every game.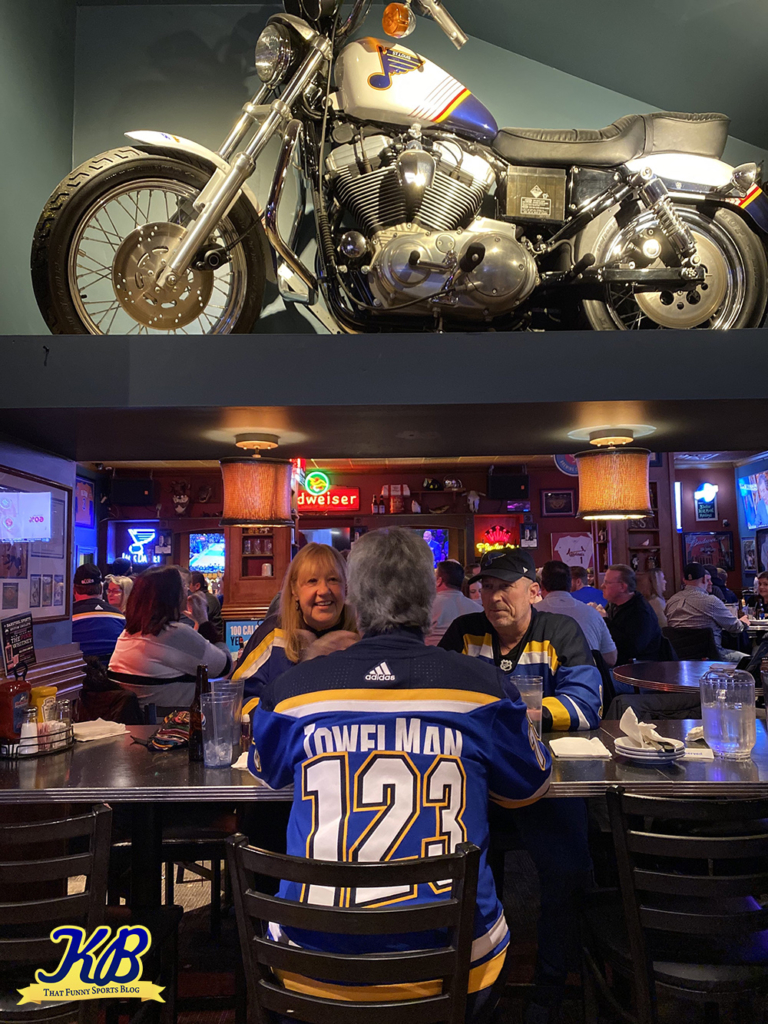 Ron arrived a minute or two after me and walked in as if he owned the place. And honestly, he might as well have. He goes to this Syberg's before all 41 Blues home games each season. He has reserved seats waiting for him in the center of the bar (arguably the best table in the house), and he even gets a credit towards his meal each week. If I didn't know any better, I'd swear this guy was the head of the St. Louis mafia. Except he gets this king's treatment because Syberg's is one of the sponsors on his towels. More on that in a bit.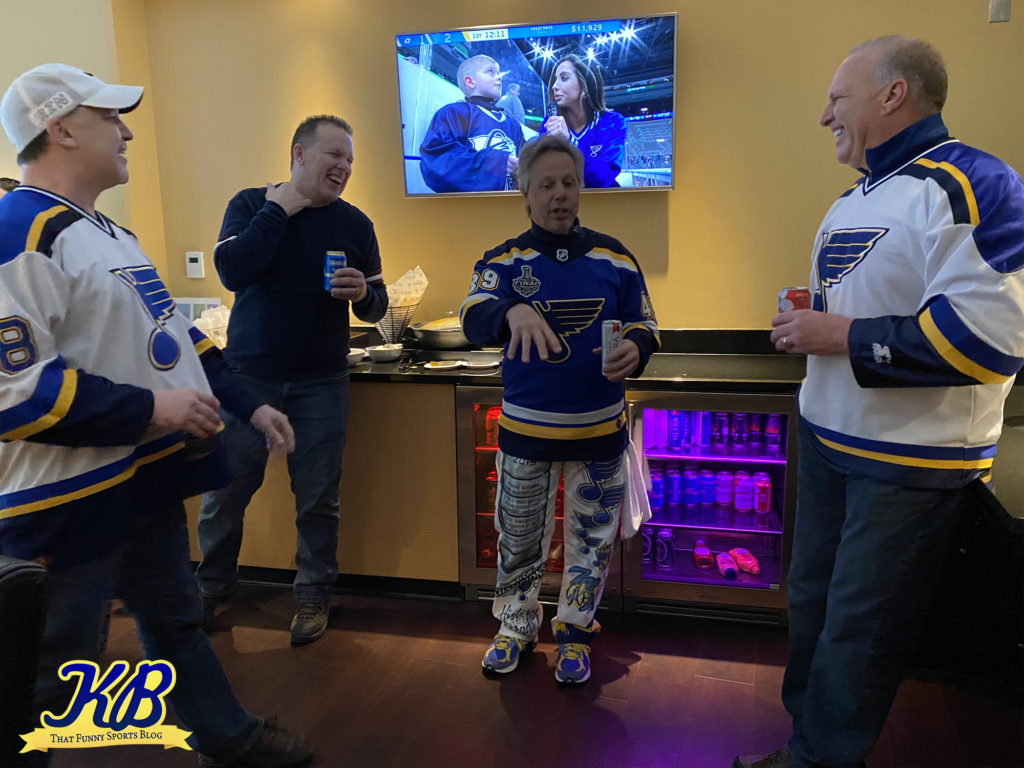 If I could describe Ron in one word, it's joyful. He's constantly smiling and constantly – and I cannot stress this enough – cracking jokes. When he saw someone in a Cubs shirt, he mentioned, "Your shirt has the c-word on it!" When he sees a Bruins fan, he says, "If you gave more effort, maybe your shirt would have an A." And when he talks about his brothers, "We're stupid, but we're good at it."
The joy Ron exudes isn't just because the Blues are the reigning Stanley Cup champions. I knew Ron when the Blues were in their 52nd year of misery without a Cup, and yet, that unbreakable joy was still present, radiating off his smile, his laugh, and his passion for his favorite hockey team.
If there are 206 bones in the human body, not a single one of Ron's is negative. Even the ribbing of other teams is playful banter. العاب كازينو اون لاين Opposing teams' fans don't bother him, because "all hockey fans, in my book, are ok. Your team is just not the team I like on the night we play you." Although, he wouldn't be a true St. Louisan if he didn't carry disdain in his heart for the Windy City, "Out of 31 teams, there's only three teams I can't stand, and Chicago's all three of them."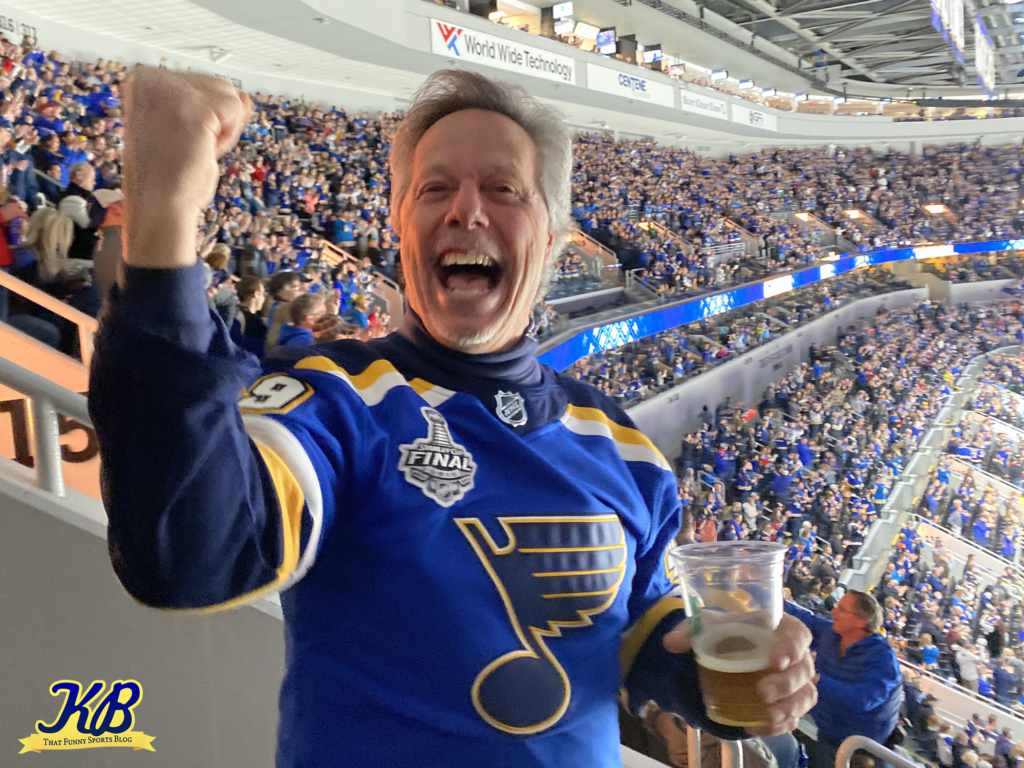 We arrived to our seats 17 minutes before puck drop, where I got to witness Towel Man go through his pregame ritual. Just like a hockey player taping his stick or listening to his favorite death metal band (why do all hockey guys love death metal?), Ron proceeds to go through his routine. He starts by pulling out the first few towels out of the clear plastic tote bag he brings to games.
Each towel is autographed and folded tightly into a paper football shape in preparation to be launched into the crowd if and hopefully when the Blues score. The towels are slightly larger than golf towels and feature an image of Towel Man and all of his sponsors.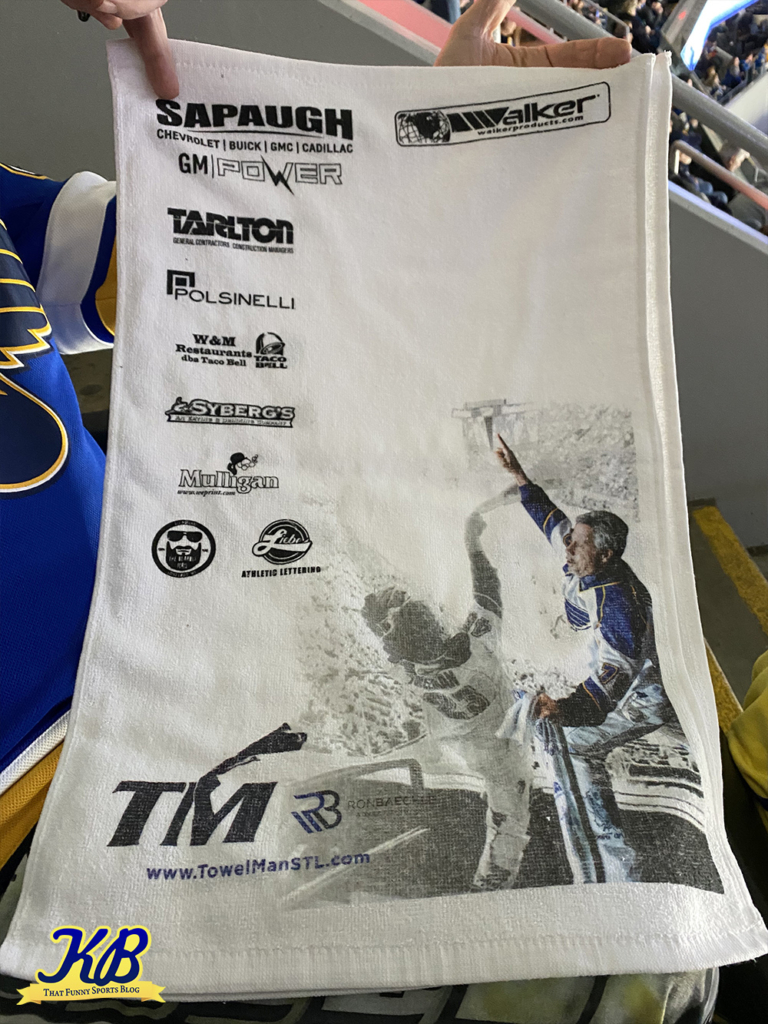 However, you won't find a St. Louis Blues logo anywhere on the towel.
The way I would describe the relationship between the Blues and Towel Man is that of a distant family member or maybe a healthy divorced couple. They're amicable, sure, but don't interact much. Despite the fact that Towel Man has become as much a part of the game day experience as Louie not wearing pants, there is not a lot of communication or collaboration between the two parties. The Blues do not provide Towel Man with season tickets, a parking spot, or really any perks. Nor did they provide him a spot on any of their floats for the Stanley Cup parade. Fortunately, Ron was able to make it into the parade, but only through his relationship with the Blues Special Hockey team, whom he walked the route with.
That is the primary reason Ron has sponsors to begin with. The money he earns through those partnerships goes towards the expenses of being a diehard fan: buying season tickets, parking, and oh yeah, funding enough towels for every goal scored at home each season. A cost you would think the Blues would be able to (and want to) cover in an effort to capitalize on the tradition. But they don't.
Think about that for a second. One of the best post-goal traditions in all of hockey gets no acknowledgement from the team outside of a 10-second flashing spotlight and jumbotron appearance after every goal. And yet still, Ron carries no ill-will towards the Blues franchise. Like I said, there's not a negative bone in his body. He's the perfect man for the job.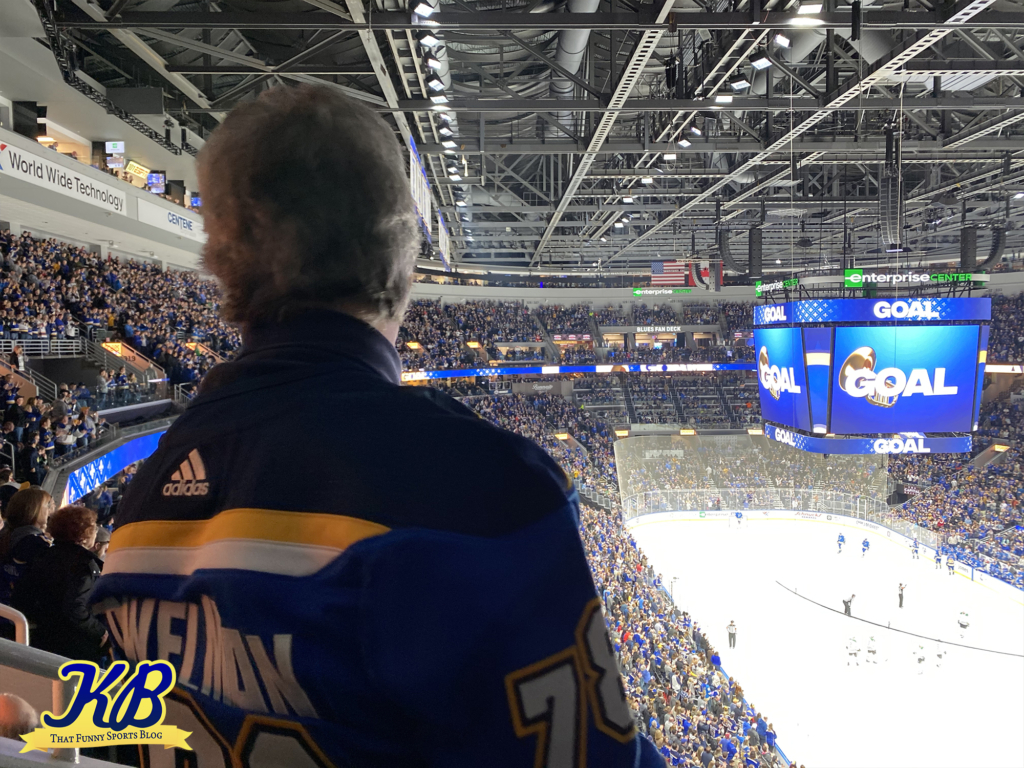 During the game, I asked Ron dozens of questions. Many of which you can see in the video above. What is his all-time favorite Blues game he's been to in person? What happens if he runs out of towels? Has he ever torn a rotator cuff? لعبة قمار اون لاين Ron answered every question with a smile. And a lot of times, a joke.
As the jumbotron flashed some Blues fans in costumes, Ron turned to me and said, "I can't believe how many people dress up, and do things to get attention at a sporting event," before giving me a side eye and flashing a grin, proving his self-awareness.
The people who sit around Ron at every home game are all season ticket holders. Aside from throwing cotton at strangers, their passion for their hockey team is on par with Ron's. But they don't only match Ron in passion. They also match his sense of humor. Sitting amongst them felt like I was on the set of Fever Pitch, and Ron was Jimmy Fallon. Which I guess made me Drew Barrymore for the evening? The way the entire section all knew each other – and not just on a surface level – told me that they were more than fans. They were family. Only rather than sharing a name on the back of their sweaters, they shared the name on the front.
Ron noted that the woman in the row behind him named Dee (aka Towel Gal) will cover for him by throwing towels, if he ever has to miss a game. Something that doesn't happen very much as Ron hasn't missed a game in the last six years. He's an Iron Man. The Cal Ripken Jr. of towel throwing.
The Blues scored 2 goals that night, but unfortunately fell in overtime to the Dallas Stars. After the game, Ron was disappointed sure, but his attitude remained unfazed. Maybe partly because the Blues still had a strong grip on first place, but mostly because that's who Ron is as a person.
Full disclosure: we had originally planned to drop this video and blog in April ahead of the Stanley Cup Playoffs. Not sure if you heard or not, however, but a global pandemic kind of suspended those plans. When this evening took place, no one could've guessed or even imagined what was ahead of us. In fact, the only concern in the building on this night was fending off the Stars for the Central Division crown. Little did we know what was ahead, or – in terms of sports – what wasn't.
2020 has been a year full of uncertainty, but through it all, one thing remains certain. When the puck drops for the Stanley Cup Qualifiers on August 1st, Towel Man will be watching, and after every goal, he will be counting, which is fitting, because Blues fans count on him.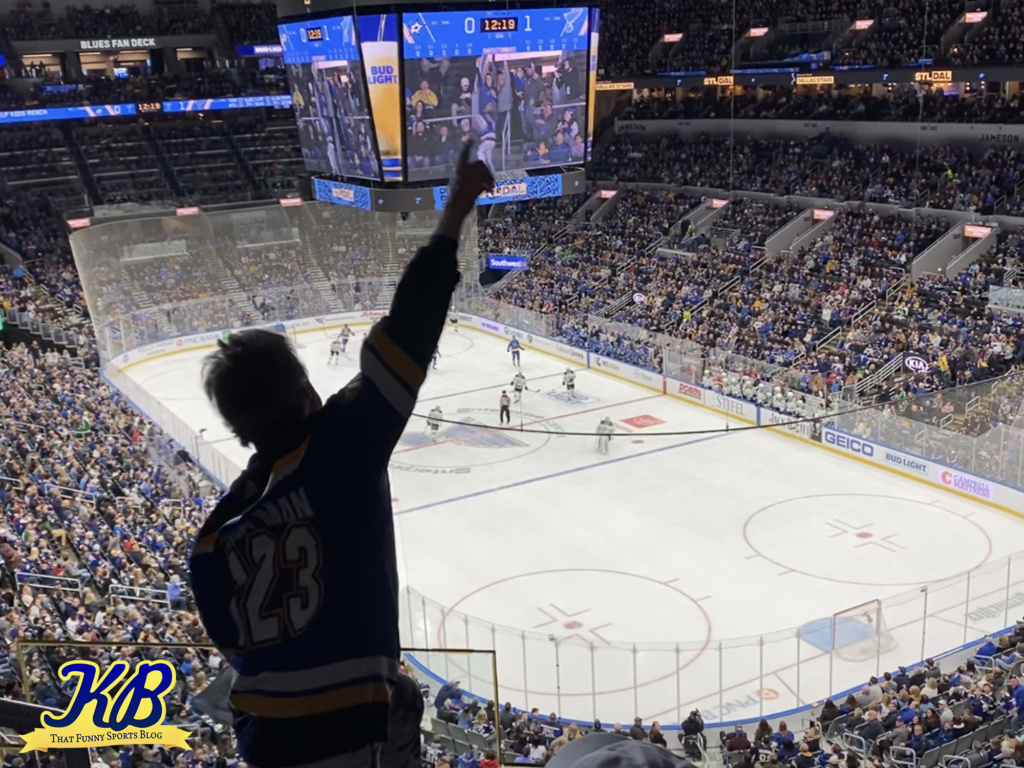 Special thanks to Ron "Towel Man" Baechle for the invite to be his special guest. If you're a Blues fan – or really just a hockey fan – like his page on Facebook: St. Louis Towel Man or visit his website: TowelManSTL.com