Embrace Debate: Hubble or James Webb Telescope – Who Is The GOAT?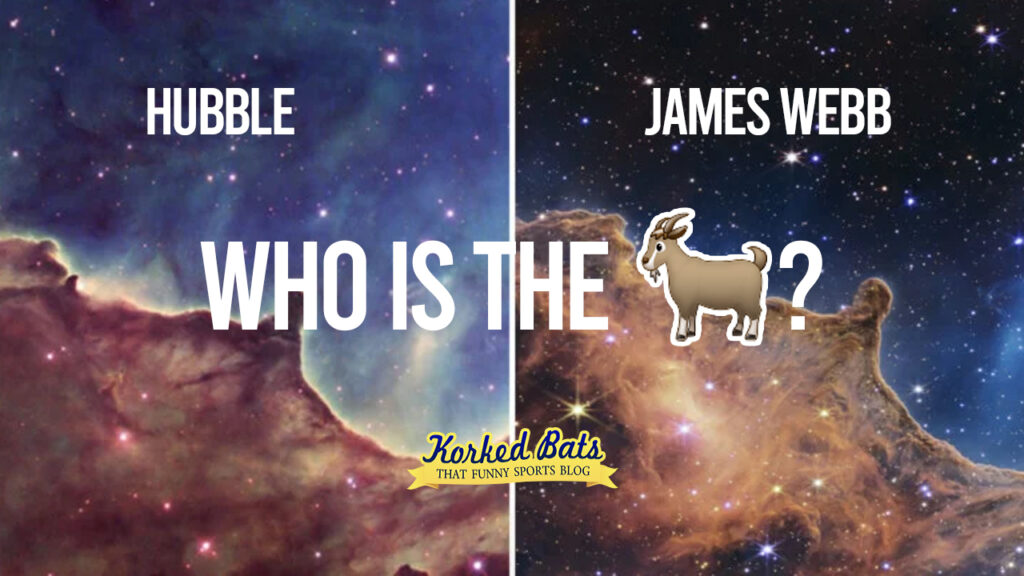 It's been a huge week for telescopes. Dare I say it's been the biggest week for telescopes. It's all anyone has been talking about, aside from Zach Wilson new "Got Milf?" campaign.
NASA hit us with some new desktop wallpapers that are just mind-blowingly stunning and will leave you feeling like a pale blue dot. I don't know if we're alone in the universe, but it certainly feels like if you took that Fresh Prince meme of Will Smith standing in an empty room, but the made the room the size of an Amazon warehouse.
But with the rise of telescope talk, it's brought up the age-old debate of which telescope is the GOAT (greatest of all telescopes).
Now a guy like Skip Bayless will probably vehemently argue that the Hubble is the GOAT (greatest of all telescopes), because of its longevity. For decades, Hubble was the one everyone in NASA turned to. He changed the game. They've made documentaries all about Hubble and it's greatness. Sure, Hubble had a wealth of talent around him to get to where it's at (which is millions of miles away),
But more modern telescope fans probably believe James Webb is the greatest. Is it recency bias? Maybe a little. But the J-Dub is just built differently than any other telescope we've seen in history. It can travel further than any other scope. It's high def. Not to mention, it's the best in an era where all technology around it is so much better. And speaking of technology, it's lightyears ahead of where it was in Hubble's day. However, naysayers will say it hasn't produced nearly as much in its career as Hubble has. The images are only slightly more clear.
But the J-Dub stans will ask what did Hubble have to compete against in terms of technology? A few rotary phones, Victrolas, and radios? If you stuck Hubble's photography in today's game, it wouldn't even compare. It would be cooked by today's tech. Hell, iPhones provide better cameras in everyone's pocket than Hubble has orbiting the earth. Not to mention, the Jimmy W. was groomed at a young age to ultimately be the greatest.
But then again, Hubble did more in an era where not as much tech was readily available and completely changed the 'scope game. Jimmy Webb wouldn't even be here today had it not been for the Hubbs.
Look, will we ever reach a conclusion to this debate? No. Of course not. The truth is not out there. But it's an easy hypothetical for talk radio hosts to debate endlessly during the dog days of summer.