Did We Figure Out If It Was A Fork Or Scissors On The Raiders Field, And Oh Yeah, WHY IT WAS OUT THERE?!
It's been a couple of days and we still have no idea for sure what was found on the field during the Sunday night Raiders-Chiefs game. And yet, no one seems to care. Why?! There was either a fork or a pair of medical scissors foung in the middle of the field and we've all just moved on with our lives as if that's normal?! WTF?! Why??
I know Vegas is the least surprising place to find something random on the ground, but whatever Quinton Jefferson picked up from the grass wasn't just some female escort trading card. It was something metal. Either used for eating or used for cutting someone's ankle spatting off their foot. Honestly, the most baffling thing about this is that we don't know which. The scissors would make sense because trainers are constantly running onto the field, so a pair of their scissors could have easily dropped out of their pocket. And the fork makes sense because Andy Reid.
So how will we ever know what it is for sure? I zoomed in on the video. It appears to be scissors, but looks can be deceiving. I mean, the Chiefs appear to be back, but we just don't know.
And if you search for it, it does you no help.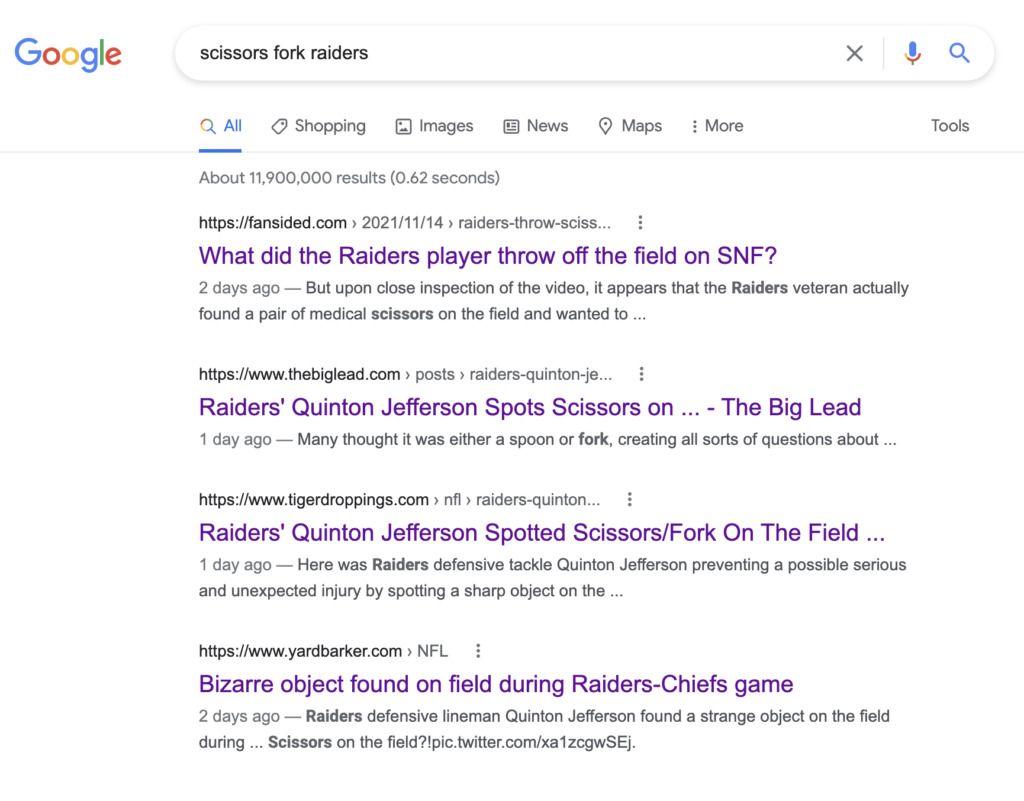 Some say scissors, some say fork, and some cover all their bases by just saying scissors/fork. And don't miss Yardbarker down there with "bizarre object."
Maybe this is all just one giant tactic for the Raiders home-field advantage. Just like how Notre Dame used to grow their grass real tall ahead of USC week to try and slow down USC (when they were good and fast), maybe the Raiders are littering their field with medical waste. When the Bengals come to town this Sunday, don't be surprised to see Joe Burrow hold up a used syringe or soggy medical gloves. I know if I was an opponent, I'd hate to play in that kind of environment.
All I'm saying is we seemed to move on real quickly from the fact that there were either scissors or silverware on the field without ever getting to the bottom of it. I know we're all used to the Raiders being a mess off the field but never expected that mess to make its way onto the field.