Alright Alamo, we used an exterior shot this time. We're out here trying to build up your brand awareness. All we ask for is sponsorship in return.
Well yoohoo ding-dongs! It's been awhile since we've previewed some movies together. How we doing? Everyone have a good Thanksgiving? We know we did. Now that we're closing the curtain on November, it's time to take a look at what will be hitting theaters and streaming this #SantaSZN. Is that a thing? If not let's make it one.
WEST SIDE STORY- In Theaters December 10th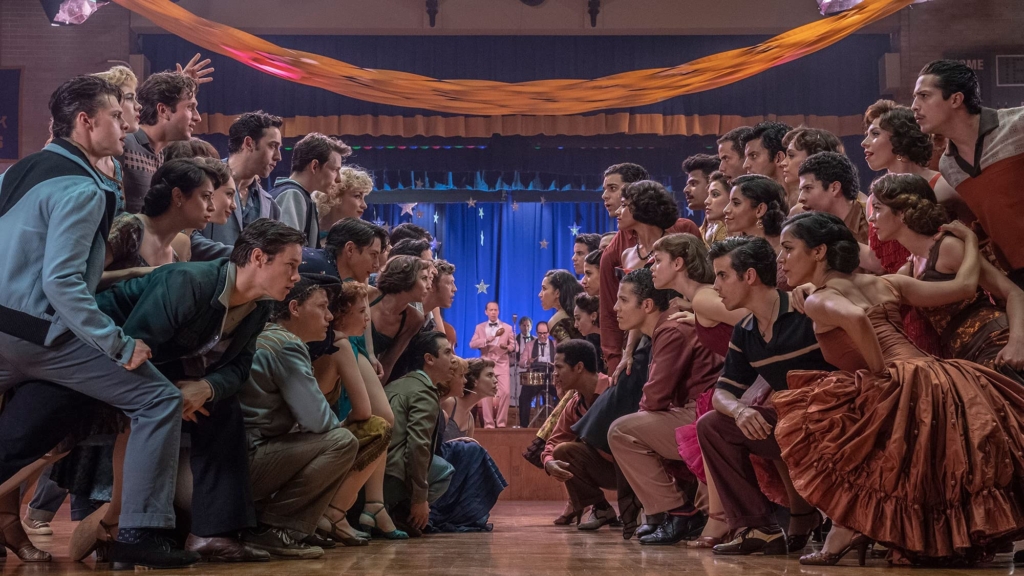 FINALLY. It's the remake that we all have been clamoring for. It could be the movie to finally mend the deep division in our country. Thank you, Steven Spielberg, for bringing this to us when we most desperately needed it!
Alright, maybe not. The best thing that I can honestly say about this one is that it doesn't look bad. Other than that, we haven't seen a ton of interest for this film. Movie Musicals from the mid-century don't seem like the most in need of updating. They really are quite timeless…just ask Kevin and Tom.
Perhaps the most concerning aspect of this re-make is that it re-affirms that nothing is sacred. It's only a matter of time before we start seeing other classic musicals begin to get re-made. Can you imagine a remake of something like SOUND OF MUSIC or MY FAIR LADY? Actually we'd be all for it if we can get Chris Hemsworth as Captain VonTrapp or Danny Devito as Henry Higgins.
DON'T LOOK UP- In Theaters December 10th; On Netflix December 24th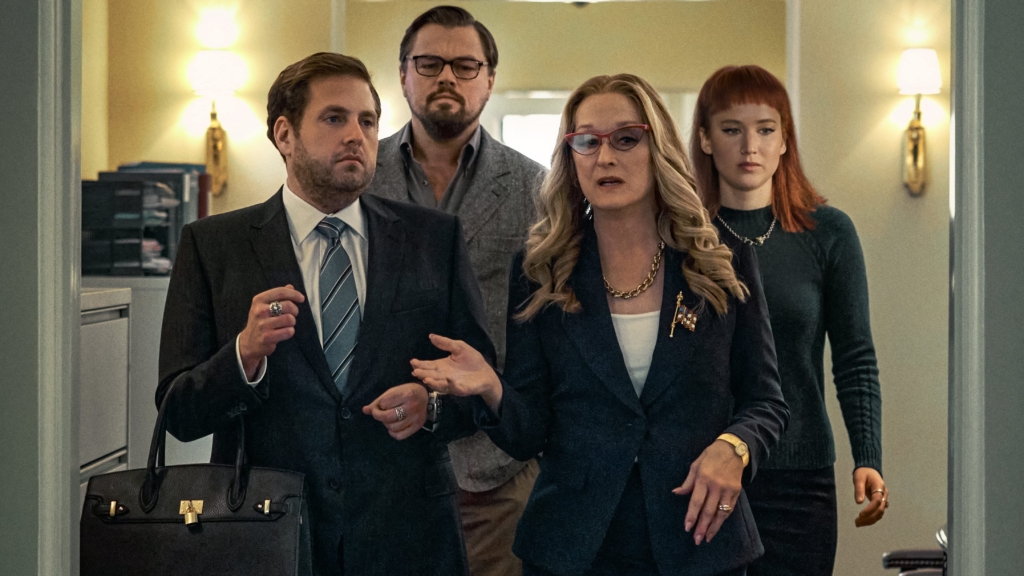 This looks like another banger from ol' Adam McKay. It also stars pretty much every elite actor on the planet. Leo, J-Law, Jonah Hill, Meryl Streep, Timothee Chalamet, Kid Cudi, Tyler Perry, Cate Blanchett…shall I go on? I'll stop there before I also mention Mark Rylance is also in it–angering all of us who believe he robbed Stallone of his Oscar in 2016
This one will be free to watch on Netflix Christmas Eve, but being the McKay stans that we are we might catch this one in theaters a few weeks early. It looks to be a dark comedy about the end of the world. Perfect timing we'd say.
NIGHTMARE ALLEY–In Theaters December 17th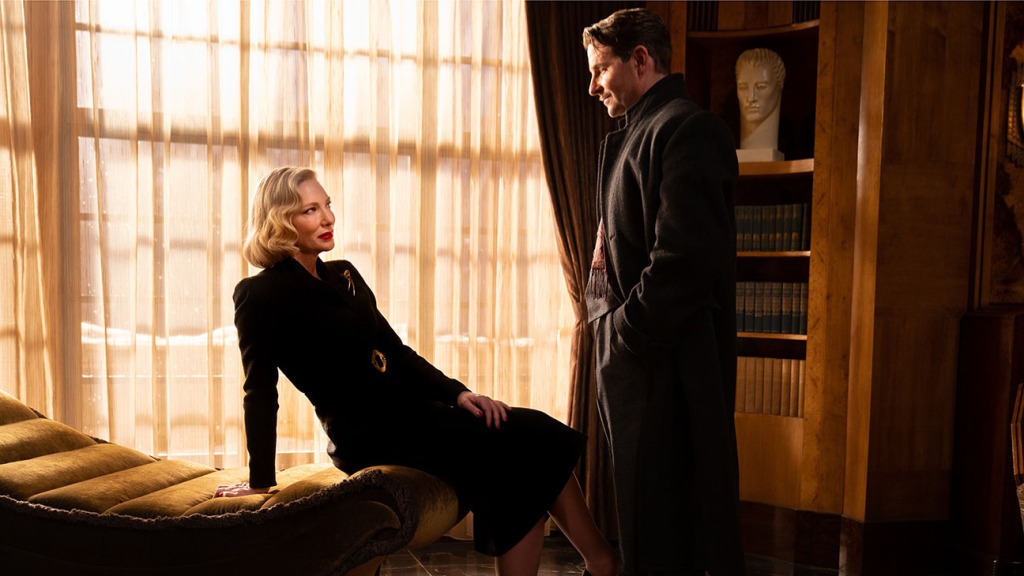 Not sure how we're feeling about this one. Tom has mentioned his enthusiasm for this, and we know that SHAPE of WATER won Best Picture, but we can't deny that it left a bad taste in our mouths personally. This being Guillermo Del Toro's follow-up to Grinding Nemo, we're entering into it with tempered expectations.
What we know for sure it has going for it is it's cast. Just another banger. Bradley Cooper, Cate Blanchett, Willem Defoe, Rooney Mara…the list goes on. This will be Bradley's follow-up to STAR IS BORN as well, which 3 of us loved and Kevin found to be "just fine".
We're also not 100% sure what this one is going to be about. We do know it's a remake and given Del Toro's proclivity for fairy tales we can assume that there will be some monsters in it. Other than that, we get to go into this one blind and that could be a very good thing.
SPIDER-MAN: NO WAY HOME–In Theaters December 17th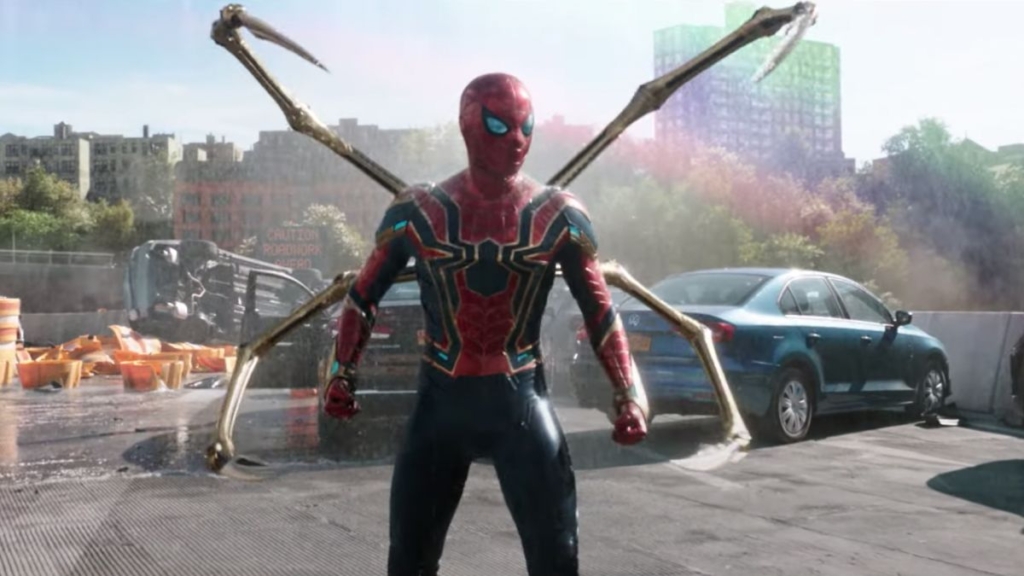 If you follow us on The CineBoiz Podcast or through our social accounts, you know we probably talk about this movie a bit TOO much. In our defense, so does the rest of the damn internet. The pre-sale tickets for this movie have been off the charts as well. Scalpers are attempting to re-sell opening night IMAX tickets for nearly $1000. The hype for this movie is absolutely bonkers.
The biggest reason for the hype is the confluence of previous Spider-Man baddies showing up and the RUMOR that Andrew Garfield and Tobey Maguire will be reprising their roles from their respective Spidey-Universes. We've taken it upon ourselves to temper everyone's expectations and we are doubling-down on our opinion that they will not be in it. Starting arguments on the internet is the best way to build a brand in our opinion.
That being said, we couldn't be more hyped for this movie. Easily our most anticipated release of December. However, don't spoil the first two MCU Spidey-Movies for To as he has not seen them yet.
The Matrix Resurrections–In Theaters and on HBO Max December 22nd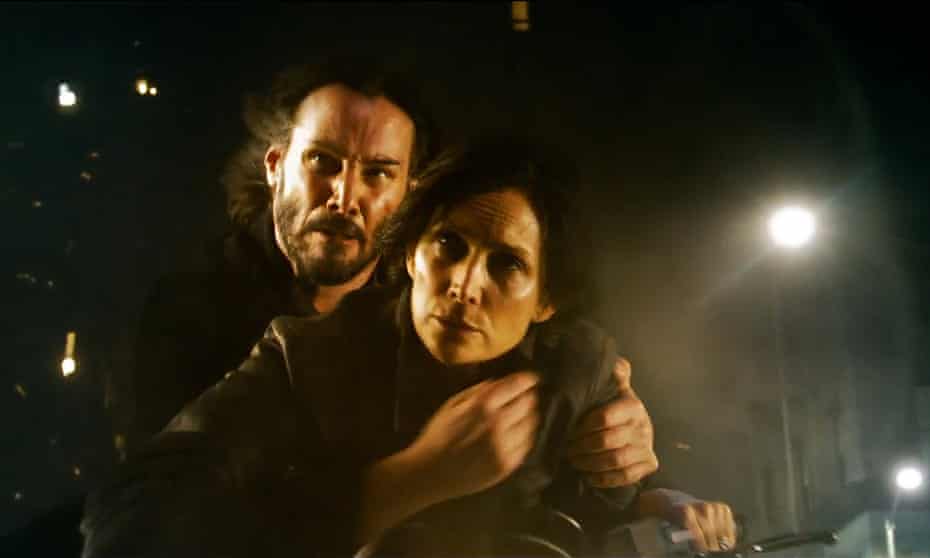 Pretty hyped for this one, even though Matrix 2 & 3 are what we would call "duds". Hopefully 18 years of no Matrix movies has refreshed our palate enough to where this will seem ground-breaking. We're also not quite sure HOW there is another sequel given how the original trilogy ended, but hey, who are we to judge?
The trailer for this movie is an absolute STUNNER. If you haven't watched it, you can check it out on the CineBoiz Instagram page. What made the first Matrix so special was the reliance on practical camera effects, and it seems like this could be a return to that. We don't need 5 minutes-too-long CGI fights like in Reloaded and Revolutions.
We also know Mob's biggest complaint with the original trilogy has been "Not enough Neil Patrick Harris" and thankfully Lana Wachowski has remedied that.
What a month to look forward to! Which movies are you most excited to see? Be sure to let us know on Twitter and Instagram @TheCineboiz and subscribe to the CineBoiz Podcast wherever podcasts are sold!