As Great As The Chiefs Bills Divisional Playoff Game Was, Here's How It Could Have Been Better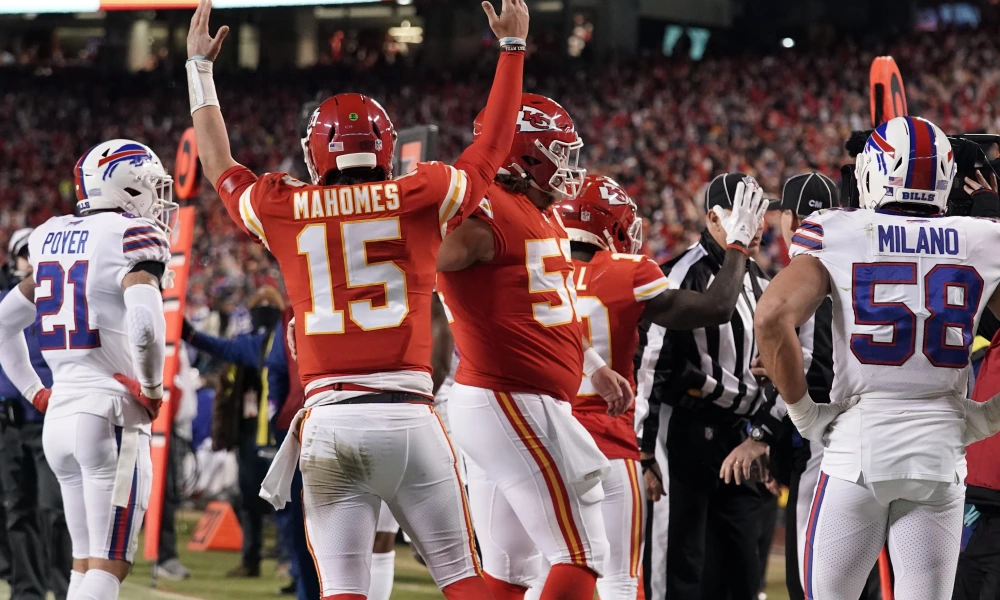 Look. As a rabid Chiefs fan, I believe I was declared medically dead at least once during this game. Was it the best game I've seen? Probably. How many times do you see three lead changes in the last 2 minutes of the game? It was the first time my eyes had seen it. So this game was undeniably a classic. Even still. I'm here to tell you that it could have been better. Just like the lead changes during the two minute drill, I have three specific moments/scenarios that, had they happened, would have would have been the cherry on the top of an adrenaline shot of a game.
What if the Bills had moved Stefon Diggs to Safety?
In most scenarios, a fan running on the field would have been the most talked about event at the end of the game. Since network TV doesn't show it, these types of events are constantly blown out of proportion after the game. But with Mahomes and Allen playing Rocky Balboa and Apollo Creed duking it out, Diggs' tackle is getting lost in the shuffle. His WR stat line of 3 receptions for 7 yards didn't add anything to the Bills offensive output. Why not try him at safety? He had, bar none, the biggest hit of the game. He might be the second best defender in the family, behind Aaiden, known defender of his favorite QB Patrick Mahomes.
What if Willie Gay Jr. actually made the biggest hit of the game?
What if Stefon Diggs' hit wasn't the biggest hit of the game? What if that prize had been awarded to Willie Gay Jr.? Why does this even matter? Because then I would have gotten to fire off the low hanging fruit tweet of "Man. Willie Gay just beat [INSERT BILLS PLAYER NAME HERE] like he was a Dyson." I KNOW I'm not the only guy who preloaded that tweet into my drafts prior to the start of the game. Thanks for depriving me of that glory, Willie.
What if we got to see the Cheetah Celly?
PATRICK. WHY? You let your brother repeatedly do the same dance over and over again (even on a memorial), but you stop the guy who consistently does backflips as celebrations from doing a self proclaimed "crazy touchdown celebration"? I need this. I need to see what Tyreek had planned. I feel robbed. Release the Cheetah Cut.
Final Thoughts
I know it sounds crazy to ask for more like I'm Kylo Ren from a game that saw my heart rate maintain a 94-120 BPM through the last hour of the game. But do you know who else is crazy. KYLO REN. Never settle. Always ask for more, right? Isn't that the American Way? Who am I kidding. This game was perfect, outside of the silly overtime rules, of course. But I'll leave that for Skip and Shannon to yell and scream about.