When it comes to making racially and stereotypically insensitive nicknames, we Americans are the best in the biz.
However, occasionally people will speak out against it.
Like take Kansas City Royals closer Joakim Soria for example. He spoke out about his nickname today saying he doesn't want anyone to call him by it anymore.
"What is his nickname?" you ask.
The Mexicutioner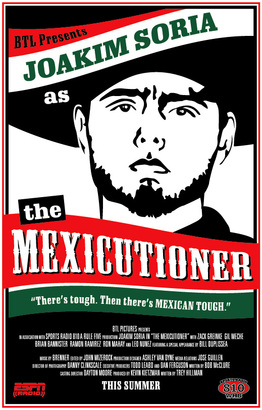 A nickname that would make even Don Imus's jaw drop.
Now many of you probably haven't heard of his nickname because quite honestly, you haven't heard anything about baseball in Kansas City since 1985. The nickname started in 2008 when t-shirts were sold to celebrate Soria's saving 42 games. However, with the increased violence in Mexico, Soria has asked for people to stop using the nickname.
Soria was quoted as saying:
"Quit all this Mexicutioner [expletive]. I'm [expletive] tired of it. All you mother [expletive] can go [expletive] execute yourselves. [expletive] off!"
Or at least that's what we think he said, we don't speak Spanish.
Although, following the invention of the internet has come translation websites, thus allowing us to translate what he said. So with the website we used, we have determined that Joakim Soria has actually said:
"It's been really bad in Mexico right now. There are a lot of guns in Mexico. It's out of control right now. If I can change the mindset of the people, change the nickname or just take it out. It's not a big deal. I think it's a smart move. I think about my people."
Or he said:
"Has been very evil in Mexico at this time. There is a large quantity of weapons in Mexico. Is outside of control at this time. If I can change the mentality of the people, to change the nickname or simply to remove it. Is not much. I believe that is an intelligent decision. I think about my town."
Or finally, he might have said:
"She has been very bad in Mexico at this moment. There is a great amount of arms in Mexico. It is outside control at this moment. If I can change the mentality of people, change the nickname or simply to remove it. It is not great thing. I believe that it is an intelligent decision. Fodder in my town."
So take that as you will.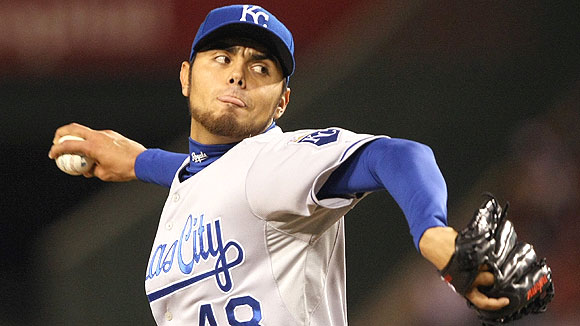 One thing is for sure, Joakim Soria doesn't want us to call him The Mexicutioner anymore. So before Kansas Citians get into a frenzy, we've decided to come up with a list of new nicknames for Joakim Soria.
The Mexit Strategy
When the Royals have a lead late in the game, they need to implement their Mexit Strategy.
The Mexicancer
The opposing batter's horoscope is: Looks like you will strikeout today. And your love life is on the rocks.
Peter Span-ish
Soria and Pan have a lot of similarities. They're both young (Soria: 26 Pan: 14), they are both from another country (Soria: Mexico, Pan: Neverland), and they both save the day.
The Amigo
This one may not be intimidating, but it is definitely more family friendly and less offensive than his current nickname.
El Ni-N0-No
He's like a storm… that pitches no-hit innings.
The Only Decent Pitcher In Kansas City's Bullpen
This nickname speaks for itself.
Mexcitement
The 9th inning is always a FIESTA!
The Construction Worker
Well, he's probably the only Mexican that's not one.
The Cari-Beaner
Slightly racist. But then again, so is The Mexicutioner.