2009-2010 NBA Preseason Awards
The NBA Regular Season kicks off tonight with the LA Lakers playing the North Mexico Clippers, a game where some of the biggest stars (Kobe, Pau, Bynum) will probably be driven to the game by some of their opponents, looking to make an extra buck or two as a chauffeur.
Since I haven't been here for a while, I thought I'd give you guys some insights into who is going to take down all of the major NBA Awards.
For a team by team preview, check out our other blog at ESPN.com, where we all post under pseudonym to avoid detection. So without further ado, your 2009-10 NBA Award Winners:
(Note: To make the voting more fair, I voted twenty-four times in my head and tabulated the votes, that way it wasn't a complete crapshoot).
6th Man of the Year

Rasheed Wallace – Celtics
Sheed is going to add depth and length to a team that, if they stay healthy, didn't need it. He is why, along with the Spurs, the Celtics had one of the best off-seasons. (Wallace 13 votes, Lamar Odom 5 votes, Manu Ginobili 5 votes, Marlon Wayans 1 vote)
Someone has to score for the Clippers. I'm going to say Blake Griffin. Even with missing the first six weeks of the season. Elton Brand will be quadruple teamed, leaving Griffin with a nice one-on-one option to post up some points. Which is worse? Starting your career with bad knees or starting your career with the Clippers? (Griffin 12 votes, Griffin's knee caps 6 votes, Thomas Ian Nicholas 4 votes, Tyreke Evans 2 votes, Greg Oden 1 vote)
Defensive Player of the Year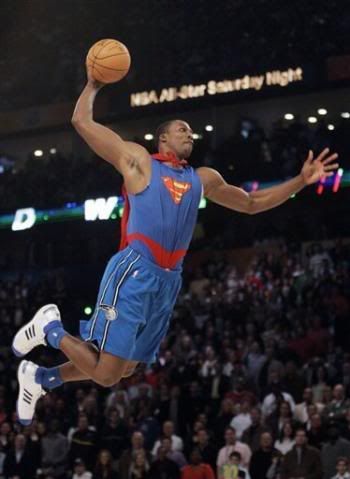 Dwight Howard – Orlando Magic
With Penny Hardaway at the point, this should take the pressure off Howard offensively, allowing him to open up his defensive game. Hopefully the other teams don't run down the court, or this might screw my pick. (Howard 18 votes, That Girl Who Cockblocked Me At the Bar Last Weekend 6 votes).
Most Valuable Player

Kobe Bryant – Los Angeles Lakers
I have Kobe winning Most Improved Player as well; I project something in the range of 49 points, 18 rebounds and 13 assists per game this year. Let's just say he's going to have consensual relations with the other teams, especially those from Colorado. (Kobe 11 votes, LeBron James 7 votes, Derrick Rose 4 votes, Bill Murray 2 votes)
Lakers over Celtics in 7 games in the finals. Ron Artest is NBA Finals MVP. I'm not even going to justify why.
-Kyle