1 Weekend. 2 Fantastic Movies. SPOILER- FREE Mini Reviews
Now granted, as much of a TMNT stan that I am, I honestly did not think this was going to be much of movie weekend for me.
Luckily I was proven wrong!
Ended up making, not one, but two trips to the greatest theater chain in the history of North America (still waiting on that sponsorship, Alamo Drafthouse). The first trip was planned while the latter was a last-minute decision that turned out to be 100% worth it. So here you go, here are two quick movie reviews for films that you should definitely check out if you get a chance!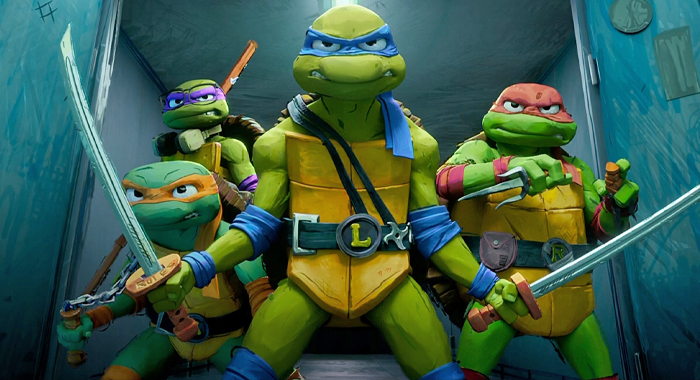 Teenage Mutant Ninja Turtles: Mutant Mayhem–In Theaters Now
It's not hyperbole to say it. I've waited my whole life for this movie and didn't even know it. I thought the 1990 live-action turtle outing would be the definitive one, but this blew that out of the water. It takes some creative liberties, and the story isn't the most engaging, but it's tremendously funny. Not to mention heart-felt and super fun. For the first time, we get to see the turtles as actual teenagers. All previous iterations have loosely used the moniker and cast all adults in the VO roles. This interpretation just feels so fresh and original. It's not a stretch to say that this is the definitive version of the Teenage Mutant Ninja Turtles to date. Special shout-out to Seth Rogen for producing and the fantastic voice-cast from top to bottom.
VERDICT:

4.5/5 Swedish Fish
Theater Camp—In Theaters Now
In only took 7 months, but the best comedy of 2023 has finally arrived. Based on a short-film of the same name, 'Theater Camp' is a mockumentary the likes of 'Spinal Tap' or 'Best in Show'. It perfectly captures the climate of musical theater that highlights the absurdity, but doesn't poke fun at it. The cast includes Jimmy Tatro, Ben Platt, Ayo Edebiri, Molly Gordon and the great Amy Sedaris. Nearly every moment feels authentic to what 'Theater Camp' is, and packs in a lot great surprises and high moments. Not to mention a climactic final performance by the campers that is so insanely funny but also unexpectedly triumphant.
VERDICT:

4/5 Swedish Fish
So what do you think? Be sure to holler at us on Twitter (@korkedbats; @thecineboiz) and Instagram (@korkedbats; @thecineboiz)
Also, be sure to follow Korked Bats on YouTube and subscribe to The CineBoiz Podcast wherever podcasts are found!
For more of a dive into 'Mission: Impossible – Dead Reckoning, Part 1' check out the latest episode of the the 3 BIG THINGS Podcast on YouTub