Yasiel Puig Still Celebrating NLCS Game 3 Triple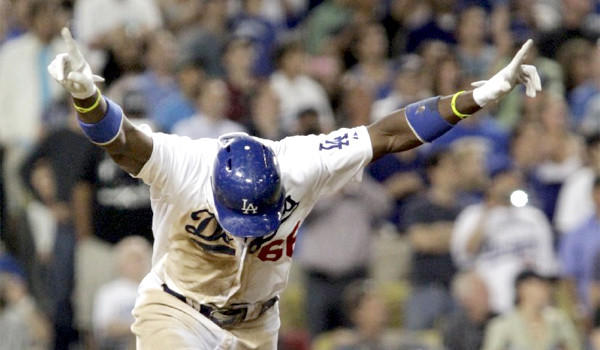 LOS ANGELES- Although the Los Angeles Dodgers lost to the St. Louis Cardinals in the National League Championship Series last week, Dodgers rookie outfielder Yasiel Puig is still celebrating his Game 3 triple.
After hitting a deep fly ball to right field, the young Cuban raised his hands to the sky to celebrate what he thought was a home run. لعبة القمار ورق And apparently, he just never stopped. ربح المال من الانترنت مجانا
"We thought he would at least stop celebrating by Game 5," Dodgers Manager Don Mattingly said. "It's just something we'll have to teach him. Add it to the list with hitting your cutoff man, proper defensive alignment, and for the fancy team hotels we stay at on road trips, how to properly use a bidet."
"The kid is full of spirit. He just likes to have fun with everything," Dodgers General Manager Ned Colletti said. "He'll celebrate anything. He once missed a week of games because he was home celebrating the fact that his fun size pack of Starburst had two pinks and no yellow."
Puig actually didn't make the trip with the team to St. Louis for Game 6, as he was still at Dodger Stadium celebrating. العاب قمار مجانا Many wonder if Clayton Kershaw was also celebrating with Puig, as he clearly didn't show up either.
In fact, upon further video review of Game 6, the Dodgers set up cardboard cutouts and mannequins of their starting lineup, rigged with strings and train sets, like Macaulay Culkin in Home Alone, to make it look like there were actual people playing in the field. Thus explaining the Dodgers getting blownout, 9-0, in a series clinching game.
Talks of restructuring Puig's contract have stalled as Dodgers officials are scared he would miss most of next season celebrating a new deal.
• • •
This post was created by Austin. You can follow him and his jokes on Twitter: @TheAHuff
Also, for up-to-the-minute sports jokes, follow Korked Bats on Twitter: @KorkedBats