Yasiel Puig Left Off Dodgers' NLDS Roster, Still Celebrating 2013 NLCS Game 3 Triple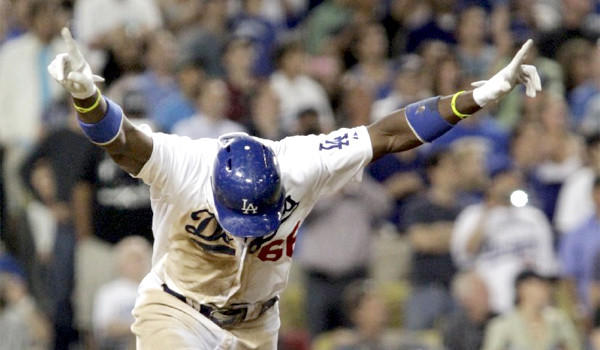 LOS ANGELES — The Los Angeles Dodgers recently submitted their NLDS roster and one notable name was left off the list. Young superstar outfielder Yasiel Puig will not be playing in the National League Divisional Series against the St. Louis Cardinals with reports of "still celebrating."
After hitting a deep fly ball to right field in Game 3 of the 2013 NLCS against the Cardinals, Puig raised his hands to the sky to celebrate what he thought was a home run, but turned out to just be a stand-up triple. And apparently, he just never stopped.
"We were really hoping he'd be done celebrating his triple by the start of spring training," Dodgers Manager Don Mattingly said. "But if anything he just celebrated more."
"He's grown up a lot in his almost two years in the league. I mean, we've taught him to hit his cutoff man, proper defensive alignment, and for the fancy team hotels we stay in on road trips, we even taught him how to properly use a bidet," Mattingly continued.
"The kid is full of spirit. He just likes to have fun with everything," Dodgers General Manager Ned Colletti said. "He'll celebrate anything. He once missed a week of games because he was home celebrating the fact that his fun size pack of Starburst had two pink ones and no yellow ones."
The Dodgers equipment staff has even showed a little frustration, as they mention that after they put the team's bats and helmets into their proper cubbies in the dugout, Puig will run in and flip every bat and toss every helmet as far as he can. "It's really pretty frustrating," Dodgers equipment manager Mitch Poole said.
Talks of restructuring Puig's contract have stalled as Dodgers officials are scared he would miss most of next season celebrating a new deal.
• • •
This post was created by Austin. You can follow him and his jokes on Twitter: @TheAHuff
Also, for up-to-the-minute sports jokes, follow Korked Bats on Twitter: @KorkedBats