WikiLeaks Reveals Hillary Clinton Once Blew A 3-1 Lead
The most damaging leak comes only days before the election.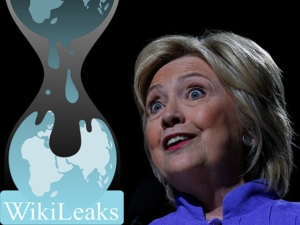 WASHINGTON D.C. — New information from WikiLeaks reveals Democratic presidential nominee Hillary Clinton once blew a 3-1 lead, adding her to the ranks of the Golden State Warriors and Cleveland Indians.
"The 33,000 deleted emails were nothing compared to this," CNN political adviser David Axelrod admitted. "The fact that a presidential candidate once blew a 3-1 lead is worse than lying about emails, Benghazi, the FBI investigations, and bragging about grabbing women by their vaginas all in one."
According to many political insiders, Hillary covered up the fact that she once blew a lead because "did you see how much crap the Warriors took for it?" Sources say people within the Clinton camp are just hoping she doesn't get the Crying Jordan face treatment after all of this, with one Clinton staffer adding, "Getting Crying Jordaned would be more damaging to Mrs. Clinton's ego than losing to Trump."
Speaking of Trump, the Republican nominee initially declined to comment when we reached out to him, but later added, "Just kidding. I'm totally going to comment on this. Only a total loser would blow a 3-1 lead. I would never blow a 3-1 lead because I am a winner. Lying Hillary is a loser. It's sad."
Trump also added, "Folks, the Warriors and Indians are close, personal friends of mine, and trust me, Hillary blowing a 3-1 lead is much much worse than the 3-1 leads they blew." Trump then made that face where it looks like he just sucked on a Sour Lemon WarHead.
There's no way to tell if the Clinton campaign will be able to rebound from this before election day. Especially considering "Hillary Blew A 3-1 Lead" has been trending #1 on Twitter since the news broke.
Libertarian Party nominee Gary Johnson tried gaining momentum from the leak by assuring confused voters that he would've handed the ball to Marshawn on the 1-yard-line.