Why Your Favorite MLB Team Will Win The World Series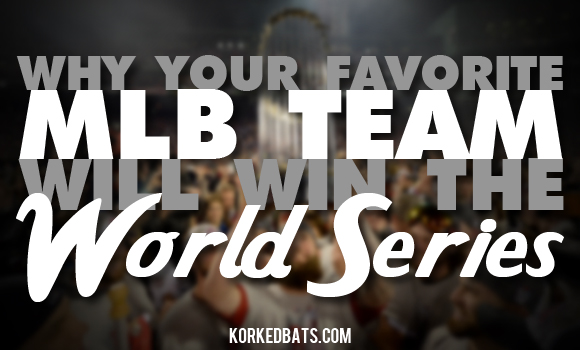 With the beginning of each new MLB season, baseball fans across the country have so much hope that this will be their team's year. However, there are 29 MLB teams (30, if you count the Cubs), and only one of those teams can win the World Series. مراهنات على كرة القدم If your team ends up winning it all in October, the reason below is why.
Your favorite MLB team will win the World Series because…
Nationals: Their team doctor finally learned the Heimlich.
Angels: Money.
Yankees: More money.
Dodgers: Most money.
Athletics: Moneyball.
Red Sox: They haven't won a World Series since they traded Jonathan Johnson "Jonny" Gomes. This is the year they break "The Curse of The Great John-bino."
Cardinals: Their fans are the best in baseball and they deserve it, according to their fans.
Marlins: At first it was cute, but if it keeps up, it'll get creepy fast. Marlins Man really needs a valid excuse for going to every World Series game. bwin
Reds: Their players have a lot of money riding on them winning it all this season.
Mariners: Even they would give it to Marshawn Lynch on the goal line.
White Sox: Pitching.
Tigers: More pitching.
Braves: Pitching by default, because it won't be because of that lineup.
Giants: Considering his dominant 2014 Postseason run, the Giants will have Madison Bumgarner pitch every inning in 2015.
Royals: That's what speed do.* (*-it barely gets you into the Postseason, but then sweeps you into the World Series)
Rockies: They don't have Peyton Manning on their roster to screw things up in the playoffs.
Diamondbacks: They finally want to be the ones throwing a pool party in their pool.
Brewers: Milwaukee is an Indian name and is actually pronounced "mill-e-wah-que" which is Algonquin for "the good land."
Twins: Some say hell would have to freeze over for the Twins to win the World Series, but if any city's climate could freeze hell, it's Minneapolis'.
Blue Jays: Hockey season should be over by October, eh.
Mets: If Bartolo Colon can start on Opening Day, literally ANYTHING is possible.
Rays: They want to answer the age old question of, "If the Rays win the World Series, but nobody is there to see it? Does it actually count?"
Padres: They made some key offseason moves by signing Matt Kemp, Wil Myers, BJ Upton, James Shields, Hamilton "Ham" Porter, Air Bud, Crash Davis, Chet "The Rocket" Steadman, Steve Nebraska, Ed, and a partridge in a pear tree.
Pirates: Winning is fun! "Wish someone would've told us about this earlier! لربح المال "
Orioles: Crab cakes and baseball, that's what Maryland does!
Astros: Every other team will go on strike.
Indians: They have an owner who wants to move the team to Miami, but the city won't give up on the lease if the attendance dips below a certain number. Thus the players rally together to win it all to not only prevent a move, but to slowly undress the cardboard cutout of their sexy female owner after each victory.
Rangers: They want to know what it's like to be the winning team in a World Series.
Cubs: Back to the Future II.
Phillies: They won't.
• • •
This post was created by Austin. You can follow him and his jokes on Twitter: @TheAHuff
Also, for up-to-the-minute sports jokes, follow Korked Bats on Twitter: @KorkedBats