Why Your Favorite MLB Team Will Win The World Series This Year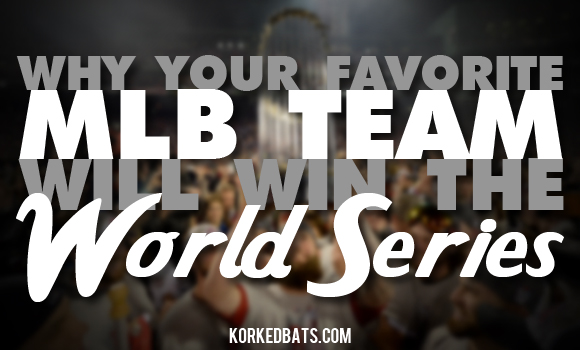 With the beginning of each new MLB season, baseball fans across the country have so much hope that this will be their team's year. However, there are 29 MLB teams (30, if you count the Astros), and only one of those teams can win the World Series. If your team ends up winning it all in October, the reasons below are why. Your favorite MLB team will win the World Series because…
Angels: Money.
Yankees: More money.
Dodgers: Most money.
Athletics: Moneyball.
Braves: Their team doctor finally learned the Heimlich.
Red Sox: Another Big Papi motivational speech.
Cardinals: Their fans, according to their fans.
Marlins: They're planning to blow up this team in the offseason.
Nationals: They finally have the pieces that are required to put together a deep run into the playoffs. (Read: They won't shut down Stephen Strasburg early.)
Reds: They have a lot of money riding on them winning it all this season.
Mariners: Robinson Cano and Felix Hernandez (Read: We don't know anyone else on the team.)
Mets: David Wright (Read: We don't know anyone else on the team.)
White Sox: Someone (Read: We don't anyone on the team.)
Royals: By now, Don Deckinger probably has a son who is also a Major League umpire.
Rockies: They finally got rid of that attention hog Todd Helton.
Diamondbacks: They finally want to be the ones throwing a pool party in their pool.
Brewers: Ryan Braun is back, which means their drug supplier is back.
Giants: It's been two years since their last one, which was two years since their one before that.
Twins: They completely forgot last year was the 25th Anniversary of the beloved Arnold Scwarzenegger and Danny DeVito film with the same name, and they totally forgot to commemorate it, so they're going to win the World Series to make up for it.
Blue Jays: Hockey season will be over by October.
Rays: They want to answer the age old question of, "If the Rays win the World Series, but nobody is there to see it? Does it actually count?"
Padres: I don't know? Young talent, maybe?
Phillies: After that Crip, DeSean Jackson, left town, Philadelphia's team in red will prosper.
Pirates: Winning is fun! "Wish someone would've told us about this earlier!"
Orioles: Crab cakes and baseball, that's what Maryland does!
Astros: Every other team will go on strike.
Indians: They have an owner who wants to move the team to Miami, but the city won't give up on the lease if the attendance dips below a certain number. Thus the players rally together to win it all to not only prevent a move, but to slowly undress the cardboard cutout of their owner after each victory.
Rangers: They want to know what it's like to be the winning team in a World Series.
Tigers: Detroit needs this, you guys.
Cubs: They won't.
• • •
This post was created by Austin. You can follow him and his jokes on Twitter: @TheAHuff
Also, for up-to-the-minute sports jokes, follow Korked Bats on Twitter: @KorkedBats