Who Will Win The CineBoiz Oscar Nominee Draft?!
Can you feel it? Things are starting to ramp up. We're less than 4 days way from the 95th Annual Academy Awards!
As you by no doubt have seen on our social media, this one of the biggest nights of the year for The CineBoiz and Korked Bats. We get to hang out live, with you, on Twitch and enjoy the festivities together. All of you who joined us last year got to live the Will Smith slap-debacle with us in real time. In all honesty, we're still a bit shook.
To make things a bit more interesting for this year, we've created a fun competition amongst us CineBoiz for the night-of. If you listened to our podcast a few weeks back we had ourselves an Oscar Nominee Draft. Essentially we each made seven picks among the acting and best picture categories. Here were our results: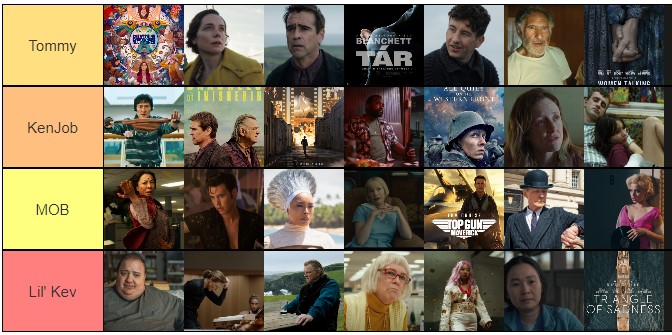 For every category one of our nominees wins, that CineBoi will get 2 points. The CineBoi with the most accurate Oscar Ballot will receive an additional 5 points. Whoever has the most points will be declared "King of All Boiz".
Be sure to tune in this Sunday to the CineBoiz Twitch Page at 6:45 PM CST to keep track and find out who wins.
You can also join in on the fun by entering our Korked Bats/CineBoiz Oscar Pick 'Em group! It's absolutely FREE and the winner will receive a $25 Gift Card to Amazon!
You can also check out our OSCAR NOMINATION DRAFT here: