Nearly every year since 1998, ESPN the Magazine has published an issue called "NEXT."  The point of the issue is to highlight the next generation of superstar athletes.  There are a handful of athletes mentioned each year, but usually just one of those athletes makes the cover.  At one point in their lives, athletes like Kobe, LeBron, Randy Moss, and Adrian Peterson were all next athletes.  For a complete list of cover athletes, see the list at the end of this post.
Every year I find it helpful when ESPN tells me who the next great star will be.  So we've decided to take a look at the "NEXT" great individuals in other walks of life.   Ladies and Gentlemen, I present to you:
Next Great Fad- iPad 2
If you thought people were nuts about the first iPad, just wait.  You will see people working iPads into movies, television, music videos, or any social situation you can imagine.  You know that guy that has the latest technology and brings it out every chance he gets?  Like the guy in 2007 that used his Garmin to drive down the street?  Prepare to deal with a lot more of those people.  Don't get me wrong, iPad 2 is NEXT for a reason.  Apple took a product with 90% market share and made it better- the attention is warranted.  I just want you to be prepared to be bombarded by so many tablets… more tablets than even Moses can handle.
Next Great Musician- Lil PNut
Anyone who has seen this budding superstar on the Ellen show knows why he's NEXT. Not that I watch the Ellen show or anything. Let's take a peek at some of the mind-blowing lyrics this 7-year old prodigy spits on a daily basis:
You can be my study buddy,
You can teach me social studies,
And we done workin
We can go outside and get muddy
I don't think I even need to explain to you why he's NEXT anymore; the lyrics say it all. It's only a matter of time before he and Luda get together for this remake: "Back seat, windows up, that's the way I like to…. ride to soccer practice."
Next Great Movie- The Hangover 2: Charlie Sheen's Relapse
You'll be blown away by how fast Sheen recovers.  I mean, he heals really really fast.  But he also crashes really hard.  This movie is one of those crashes.  But seriously, if this movie lives up to the legend the first Hangover created, we're in for the NEXT treat.
Next Great TV Show- Parenthood (Tuesdays on NBC)
Disclaimer: Ever since LOST went off the air, I think the average American has been looking for a show to dive into.  But I don't mean just checking in once a week to see where the plot goes.  I mean another one of those shows where every time you see the actor on another show, you can only think of the character they played on the show that changed it all for them.  For this reason, I rarely call Matthew Fox by his real name; he will always be Dr. Jack Shepherd, the spinal surgeon with a drinking problem.  That being said, the NEXT great TV show will be Parenthood.  This isn't a joke, this show is about a large family that deals with issues that families deal with every day.  There is solid acting (Craig T. Nelson and Peter Krause), an actor who makes the switch from crappy comedies to serious television (Dax Shepard), and real chemistry between the characters.  All joking aside, I highly recommend this show. So watch it. Or your grounded.
Next Great Comedic Sports Website- Korked Bats
With all the ridiculous comments about sports made on the statuses on your news feed, Facebook took a close second.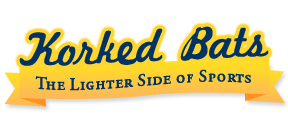 Keep in mind, there is a chance we could be wrong.  After all, at one point Kordell Stewart, Keith Van Horn, Kaz Matsui, and Joba Chamberlin were all ESPN "NEXT" athletes.
Past ESPN the Magazine NEXT Cover Athletes
1998                 Kobe Bryant
Alex Rodriguez
Kordell Stewart
Eric Lindros
1999                 Vince Carter
2000                 Yao Ming
2001                 Brian Urlacher
2002                 LeBron James
2003                 Kazuo Matsui
2005                 Adrian Peterson
2006                 Reggie Bush
Vince Young
2007                 Dwight Howard
Joba Chamberlin
2008                 Matt Ryan
2009                 Kevin Durant
2010                 Buster Posey