What Johnny Manziel Needs To Do To Start For The Cleveland Browns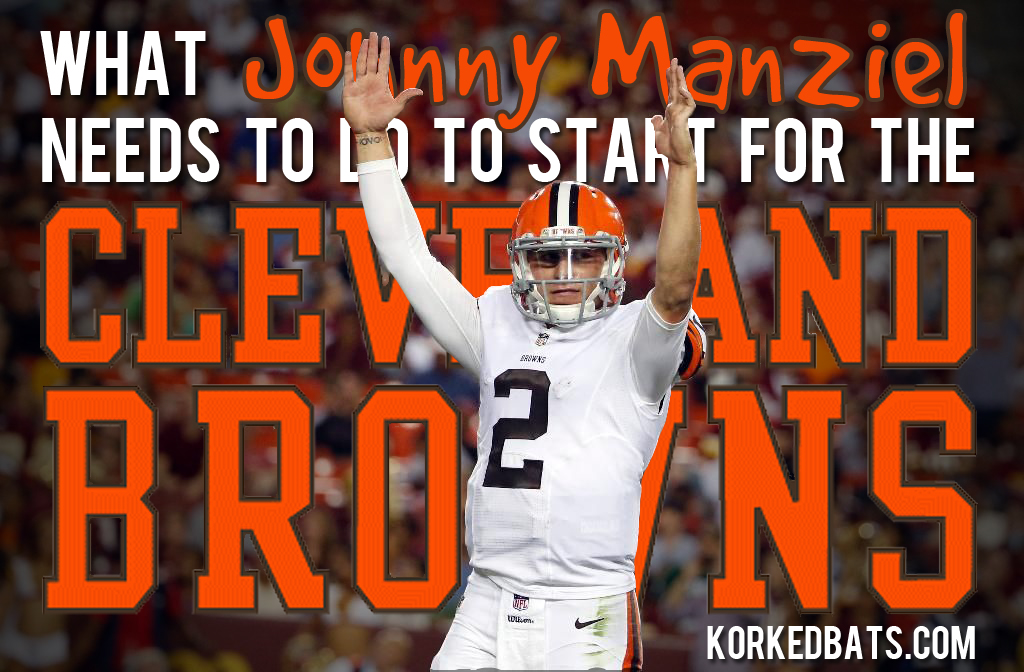 Johnny Manziel… You are now an NFL quarterback. Congratulations! But with the Cleveland Browns. Our condolences.
Unfortunately (or fortunately, depending on how you look at it), the Browns have named Brian Hoyer their starting quarterback, which means you will be their backup. Now, since you're new to the NFL and to the Cleveland Browns, we figured we'd offer you some advice on how to win over the job and become the next starting quarterback to be cut from for the Cleveland Browns.
Throw Interceptions, Lots of Them
If there's one thing we know about the Cleveland Browns, it's that they HATE being on offense. I mean, how else are they going to show off their Pro Bowl cornerback Joe Haden and the other great stars on their defense like… Did I say Joe Haden already? So, Johnny, you need to throw as many interceptions as possible. Throw one on first down if possible. If the offensive coordinator decides to run the ball on first down, then throw an interception on 2nd and 13. Point being, throw an interception. If you think throwing an interception will hurt your chances of being in the NFL for a lengthy career, just look at Tony Romo!
When Scrambling, Run Out of Bounds 3 Yards BEHIND the Line of Scrimmage WITHOUT Throwing the Ball Away
When under pressure, consider tucking the ball and running around the edge for a few yards (which should be no problem for you, Johnny), but as you notice defenders pursuing you fast, run more of a b-line straight to the sidelines. Most quarterbacks would throw it away here, but only the best of the best hold on to the football for a 2 or 3 yard loss. Fans will be yelling, "What the [expletive] are you doing?!" or "Throw the [expletive] ball away!" or "I take the aggression I have from my family life at home out on the players who play for my favorite professional football team! العاب استراتيجية اون لاين " Don't worry about that. Those are nothing but terms of endearment. Fans, especially Browns fans, will love it if you do this. In fact, they'll probably be highly confused if you did anything but that.
Get Sacked
Who do you play for? The Browns. What color is the mud on the field? Brown. It only makes sense. Get tackled in the backfield so that brown mud will be all over your Browns jersey. Fans will get a kick out of it! And if you can, get some of the brown mud on your helmet too, because your helmet is orange and that doesn't make sense. You don't play for the Cleveland Oranges.
Celebrate After Touchdown(s)
Most pros will say, "Act like you've been there before." However, playing for the Browns, you will not have been there before. Trust me. I want you to celebrate like you did in college. You will get flagged, but use that towards your celebration. Use the flag as a prop. Maybe blow your nose with it. Classic. Or wipe your butt with it. Double classic! Or pull out a lawn chair, a table, and a margarita, and use the flag as a coaster on the table underneath said marg. Classic on the rocks! You may get fined, but don't worry, that's just Roger Goodell saying, "Your celebration was so great, I'm demanding 10%" like an agent or something.
Party All the Time
If there is one thing we've learned about coaches in the NFL, it's that they love a good partying quarterback. Prove to them that you like to have fun. But don't party in Cleveland. There is nowhere to party there. Fly to Las Vegas. Party out there. Maybe roll up a few dollar bills in Las Vegas night club bathroom. You already did that? Great! Do it again! Only this time, take MORE photos! "Won't that be a distraction?" you ask? No, of course not. It's not like you're Michael Sam or something.
Flip Off Everyone
You've already proved you can flip off the opposing team with ease. Now, do it with everyone. The guys in your huddle. Your head coach. The cops that bust you in Las Vegas nightclub bathrooms. Flip them all off! What was once seen as an obscene gesture is now considered hilarious. I mean, just take it from Mr. Bean, and everyone loves Mr. Bean. So if you started flipping everyone off, everyone would LOVE Johnny Football. Or as they'll soon be calling you, Johnny Flipbird.
Maybe Break Your Leg in the Final Regular Season Game Before the Playoffs
This is a classic Cleveland Browns quarterback move, especially for Cleveland Browns quarterbacks who were drafted in the first round and have a lot of upside. (That's you, Johnny!) Sure, the team will have to play Kelly Holcomb in your place against the Steelers in the Wild Card round of the playoffs, but trust me, they'll never forget it. لعبة البوكر مجانا
Quit Football Altogether
Either do this now or a couple games in, but be sure to do so early enough in your career for Cleveland Browns fans to wonder "what could've been" with your career. They'll talk about you for years, every Sunday at the bar while they drink their sorrows away following each Cleveland Browns loss. Plus, by quitting football early, you'll be able to get a jump-start on selling insurance for your new career. مواقع روليت
• • •
This post was created by Austin. You can follow him and his jokes on Twitter: @TheAHuff
Also, for up-to-the-minute sports jokes, follow Korked Bats on Twitter: @KorkedBats