What Exactly Was In The "Envelope" Mike Tomlin Gave To James Harrison?
James Harrison set the NFL world (or at least what's left of it – thanks, COVID) on fire with a comment he made as a guest on the Going Deep podcast. Harrison made a statement regarding an interaction with his former head coach, Mike Tomlin. And much like the Joker leaving Gotham General Hospital, James Harrison lit a (hypothetical) fuse that caused an explosion of conversations nationwide, including a personal response by the Steelers' Owner Art Rooney II.
This is what he said in response to the biggest fine he ever got:
"The G-est thing Mike Tomlin ever did, he handed me an envelope after that. I ain't going to say what, but he handed me an envelope after that."
The "that" Harrison is referring to is the hit that occurred during the 2010 Steelers-Browns game, which resulted in a 28-10 Steelers win. Late in the 2nd quarter, the revolving door that is the Browns quarterback, Colt McCoy threw a pass across the middle to Mohammed Massaquoi, only to be met forcefully by James Harrison. While the play was not flagged on the field, Harrison received a hefty fine of $75,000 (which was later reduced to $50,000) from the league. It was this fine that allegedly led to Coach Tomlin "handing" Harrison an envelope.
Regardless of the validity of James Harrison's story, we started to wonder what MAY have been in this alleged envelope.
two tickets to paradise

That hit was so vicious that Coach Tomlin wanted to make sure Harrison could get out of the country, if necessary.
Box Tops for Education

Coach Tomlin, like every great coach, is always looking out for his players' families. Harrison's kids were able to raise a whopping $22 for education from 220 Box Tops!
The whereabouts of Tupac Shakur

We all know he's not dead.
The answer to who killed Kennedy

One of life's greatest mysteries but Coach Tomlin had the answer and felt like he just had to share it.
The 2011 Oscar Winners

Coach Tomlin, a known movie buff, got the inside info on Best Picture winner The King's Speech and couldn't keep the secret to himself. Fortunately, it was the correct envelope.
Stamps

Coach Tomlin, an avid stamp collector, gifted Harrison a portion of his stamp collection. What good is an envelope without some stamps?
The two tickets Harrison left for his dad at Will Call

Tomlin: "He just never showed up, James… I'm sorry."
An invoice from Goodell

The league acted fast after the hit and had the fine handed down from the HQ immediately after the game. Coach Tomlin was simply the liaison.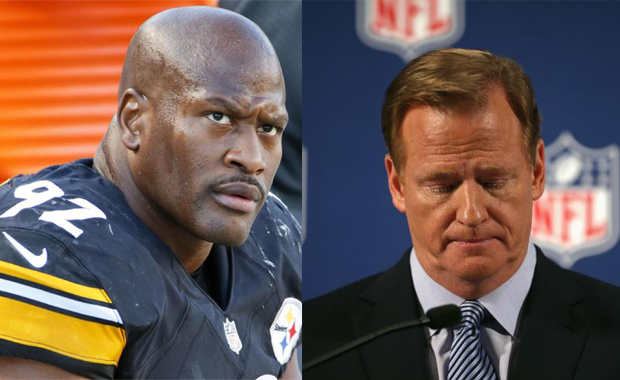 Don't worry, though. James Harrison has since defended Coach Tomlin against… ummm… his own claims?
Wow y'all really comparing what I said to BOUNTYGATE?!? Mike T. Has NEVER paid me for hurting someone or TRYING to hurt someone or put a bounty on ANYBODY! If you knew the full story of what happened back then you'd know that BS fine for a Legal Play wasn't even penalized during the game. The league was getting pressure because the first concussion lawsuits were starting and they had to look like they cared about player safety all of a sudden. Before that they had been SELLING a photo of THAT SAME PLAY FOR $55 on the NFL website with other videos of the NFL'S GREATEST HITS that the league Profited On back then. When the league had to start pretending like they cared about player safety they took all those things down off their website and they started fining guys ridiculous amounts for the same plays they used to profit off of. EVERYBODY knew it – even these same media people and all the fans that were sending money to me and the team to cover the fine. AGAIN AT NO TIME did Mike T. EVER suggest anybody hurt anybody or that they'd be rewarded for anything like that. GTFOH with that BS!!!
So, um, sorry, Mr. Harrison, but one quick follow up… what WAS in the envelope?