We Had Our First XFL Stadium Engagement And Congrats To The Soon-To-Be Broken Up Couple!
I went to an XFL game the other day, not to brag. The Seattle Dragons visited the St. Louis Battlehawks, and much to my enjoyment, the XFL game felt very much like any NFL or college football game I've been to. There were big hits, chants from the crowd, and even in-stadium proposals.
Wow. An XFL stadium proposal? When Vince McMahon promised x-treme football, he wasn't kidding. This wasn't just a stadium proposal. This wasn't just an XFL stadium proposal. This was an XFL stadium proposal after the jumbotron shell game.
The St. Louis Battlehawks are known for many firsts. They're the first team to run the awkwardly lined-up kickoffs back for a touchdown.
They're the first to try and recreate the Bills Mafia tailgates before their own games. And they're the first to have an in-game proposal. *sigh
You can break down this beautiful and equally tragic moment down into four moments…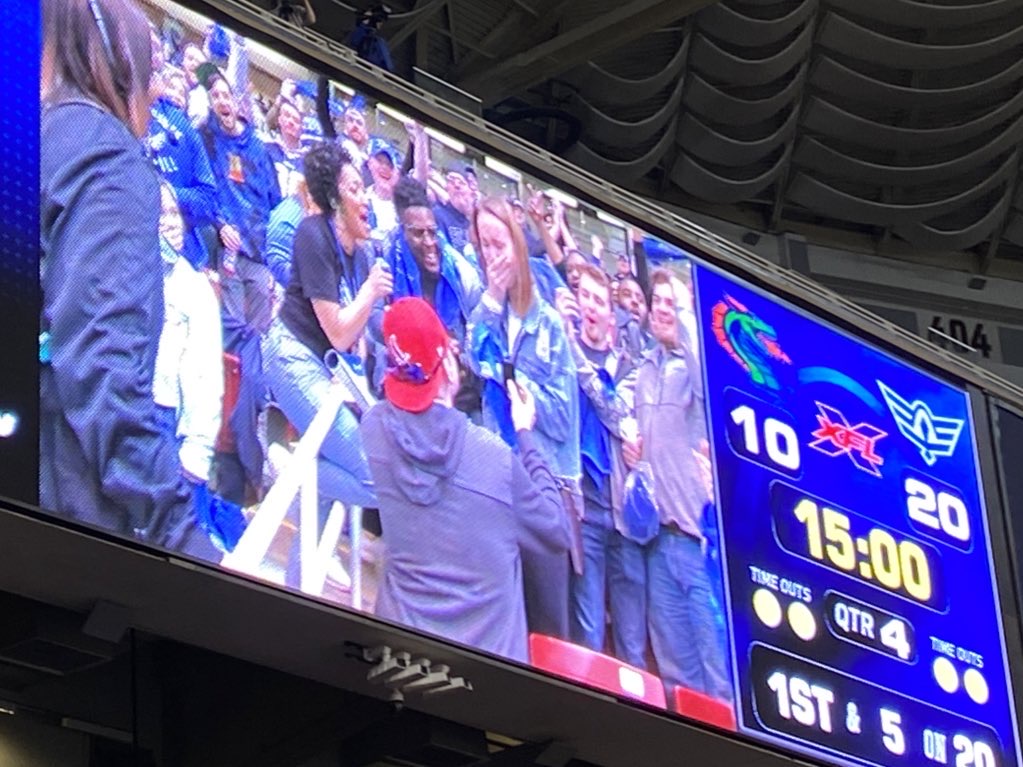 The guy gets to finally implement the engagement he had been planning for weeks. And no, that's not a typo, because there's not a chance this dude thought up this plan for longer than that. In fact, he was probably watching the opening week of the XFL with his bros and thought aloud, "You know, I think I'm gonna ask my girl (let's call her Amber) to be my wife at the Battlehawks game in a few weeks." To which the other bro's said, "DO IT, DUDE!" as they cheers'd their Natty Lights.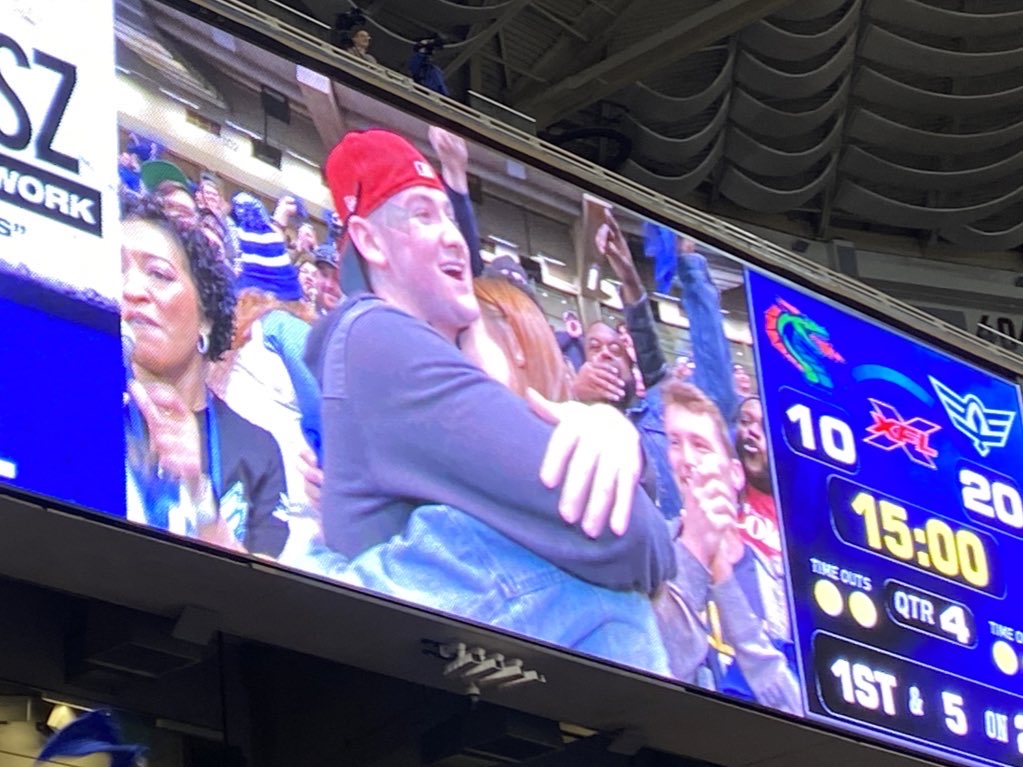 The girl, Amber, nuzzles her face into his chest to hide the sheer terror look in her face. "I hope this doesn't make it onto the TV broadcast," she thinks to herself.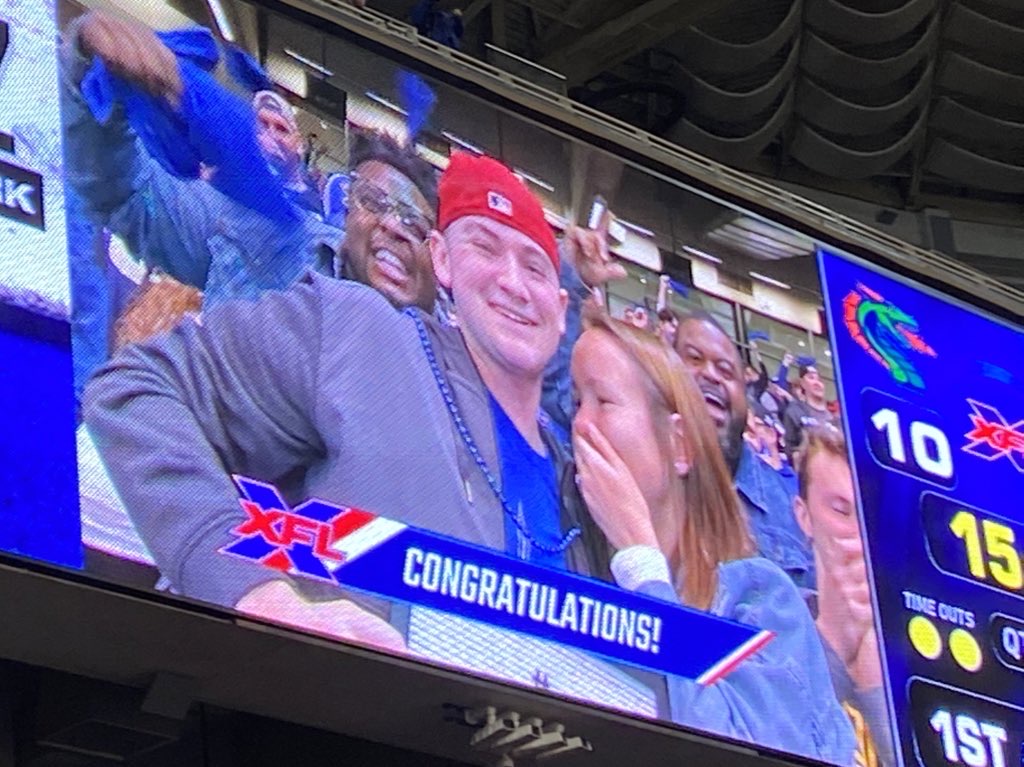 While those may seem to be tears of joy, they're actually just legitimate tears, because she just got proposed to at a freaking XFL game. Now she has to think of a lie about how she got engaged to tell for the rest of her life, because there is no humanly possible way she can make "in between the third and fourth quarters on the jumbotron at the Battlehawks-Dragons game" sound romantic. Hell, this wasn't even the FIRST Battlehawks home game. It was the second.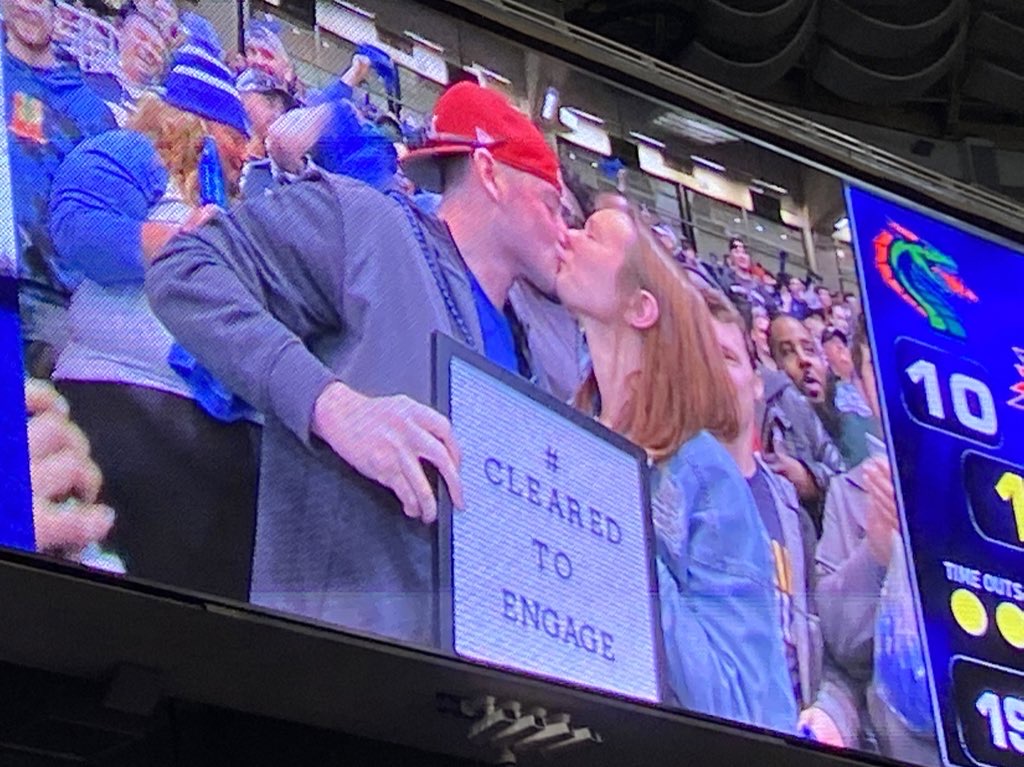 But hey, at least they got to hold up this punny sign playing off of the Battlehawks' official team hashtag: #ClearedToEngage. Look, I have an unhealthy obsession with puns and yet this still makes me cringe.
Why?
It's not that a majority of women don't like stadium proposals. It's that they DESPISE them. I thought this was supposed to be universally known for all men, kind of like how you never pee in a urinal directly next to another man unless you absolutely have to.
Women dream of two things since the moment they slide out of their mama's womb: 1. their wedding day, and 2. how they get proposed to. I can assure you of the 4.5 billion women (rough estimate) on planet earth right now, not a single one of them dreamt of being asked to marry the love of their life at a Seattle Dragons-St. Louis Battlehawks XFL game.
I mean, could you even imagine?
One day after 1st grade, Samantha, Bridgette, and Dana are having a tea party (or whatever young girls do) in their room when the topic of getting engaged comes up. Samantha says she hopes to get engaged in a hot air balloon made of flowers, Bridgette says she hopes to get engaged on a cruise ship made of flowers, and Dana says she hopes to get engaged at a Battlehawks-Dragons game. "What even is that?" the other girls ask. "It's the XFL, an extreme football league that will start in 2000, last only one season, end, then be revived twenty years later." The other girls will then choose to go home and ask their parents to never set up a playdate with Dana ever again.
Let's take this hypothetical even further.
How in the hell will these two explain this to their children one day? Like I'd rather have the birds and the bee's talk with my kids than try to explain what the XFL was and how mommy and daddy got engaged at one of their games.
In the power rankings of places women want to get engaged, it goes:
1. in front of The Eiffel Tower
2. top of the Empire State Building (thank Sleepless in Seattle for this one)
3. the Grand Canyon
4. on a secluded island in the Caribbean
5. literally anywhere else
…and now, here are the bottom five:
996. a Wal-Mart parking lot
997. in the movie theater after seeing Requiem For A Dream
998. over FaceTime while you're at Coachella and she's in the hospital having her gall bladder removed
999. your ex's house
1,000. an XFL game, right after the jumbotron shell game
So if you're a D.C. Defenders or Tampa Bay Vipers fan in a steady relationship that's ready to take it to the next level, maybe leave that ringbox at home and opt for the hot air balloon or cruise ship made of flowers.