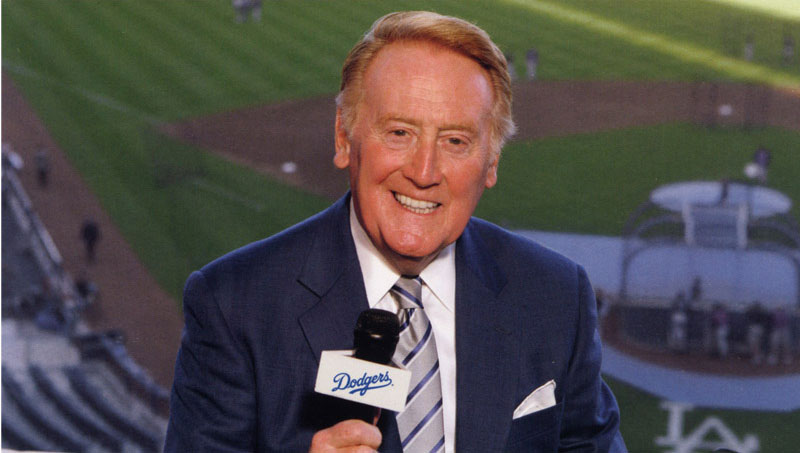 Future Hall of Fame Dodgers announcer Vin Scully announced today that he will return in 2011 for his 62nd season as the team's broadcaster. The 82-year-old Scully has the record for the longest broadcasting tenure with any sing club in professional sports history. Having been around the game for so long, Scully has become extremely intelligent about the game and witnessed a lot of things. He'll give you random info on every single player throughout each of his broadcasts as he does each game by himself.
However, Vin doesn't know what a mullet is.
That's right. The made-famous-by-rednecks hairstyle is unknown by the great Dodger broadcaster. He just learned about via his "computer" last week when the Rockies were in Los Angeles.
Vin Scully was talking about Rockies shortstop Troy Tulowitzki and his famous mullet. However, that's all that Vin could say because he wasn't quite sure exactly what it was.
It's ok, Vin. I didn't know what a mullet was… in 1994.
Obviously Vin forgot the days of Mike Piazza. Of course, he probably never refferred to Mikey's hair as a mullet. He probably just referred to it as utterly horrendous and disgusting to look at. So, no blame there.
Listen to the audio here, courtesy of Deadspin.com:
Here is the dialogue courtesy of Deadspin courtesy of MLB.tv:
Vin
…made an off-balance throw and he got Blake at first base and, in reading the Colorado paper about the game, they said his throw was just a little bit longer than the mullet that he wears.

And I remember reading that and I thought 'Mullet? Mullet's a fish!' So, we went on the computer and it's both! It's a hairdo and a fish. But there's nothing fishy about this kid – he can really play. Troy batting .321.

Hiroki Kuroda made 90 pitches in the first five innings, so you know he's on thin ice. And down in the bullpen George Sherrill begins to loosen up.

0-2 to Tulo with three left handers in a row to follow him. That would be Smith, Helton and Stewart.

Is the mullet another word for like a ponytail? I mean, I'm trying to look at it. Where's the mullet? it's not a ponytail

Tulowitzki strikes out swinging.

Oh! We'll watch him go back to the dugout.




Can you tell anything about that now? When he takes his hat off maybe…

It'd be my luck, he won't take the helmet off, right? We just talked about it…




Ah… alright now… so it's just a lot of hair, the mullet?