Vin Scully Reveals Everyone's Personal Secrets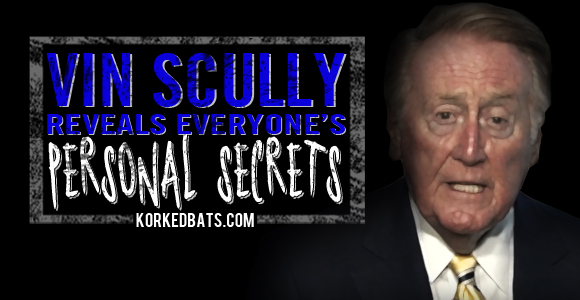 Much-loved, Hall-of-Fame Sportscaster, Vin Scully, has been with the Dodgers since Brooklyn. His voice has accompanied the biggest moments in baseball: Hank Aaron's 715th home run, Kirk Gibson's limp around the base path in the 1988 World Series and now, Torii Hunter's crack-pipe hardships as a child. Please watch:
Using a mobile phone? Click here to watch the video.
After a little digging, it has become clear, that while Scully has been there for baseballs' best moments, he's also shared some of the player's worst.
1976
Scully: "Here comes Mike Schmidt, batting from the right side of the plate. Some may not know this, but Mike would be the first to tell you, he had a fairly rough upbringing. Came from the area of Dayton, Ohio. His father, a world-class stunt pilot, took Schmidt up in the plane one day and did what you'd call an up-side-down maneuver. Schmidt fell out and landed on his head in the middle of a field. He stares at a ball low and outside. Schmidt's parents then abandoned him. And well… you get the idea."
1987
Scully: "Jose Canseco sure brings some pop. I'm not sure he wants me sharing his trade secrets. Hershiser with the fastball. It's a ball outside. But Jose told me that he gets his edge from a low-carb diet. Haha! Well, cat's out of the bag now! I'm sure we'll see plenty of players following suit soon. Sorry, Jose."
1993
Scully: "And up comes the Big Hurt, Frank Thomas. A load of a man. Grew up working the salt mines with his mother. Thomas shoots a liner out to left. What a catch by the well-positioned Eric Davis! Frank said the mine collapsed one day, and his mother told him to get the heck out of there before they all died. And that concludes the inning."
2006
Scully: "Huston Street has retired the last two batters in fine order, getting Ethier and Garciaparra with off-speed stuff. Here's the delivery to Kent. Fouled off and out of play. I was able to chat with Street's wife before the game, and I'm sure she wouldn't mind me saying this. Street throws a circle change in the dirt. She plans on divorcing Huston at the All-Star break. She said he didn't respect her, and that he threw her cat, Jasper, in front of a Mazda. Hahaha. I'd hate to be a pet in that house. Here's the 1-0 pitch."
2009
Scully: "I tell you what, this Jay Bruce is truly one of these 'up-and-comers.' Really a talented youngster with a lot of promise. Bruce takes a strike high and inside. 22-years-old with big-league power, some might think his life has always been easy. Well, as he would tell you, that's not always been the case. At his senior prom, he and some of his friends, one of them being Gil Patterson, rented a few hotel rooms for an after party. He was prom king by the way. As the night went on, his friends were murdered one after the other by a homicidal teacher. Bruce takes strike two. Apparently, the murderer had a vendetta with one of the girls in Bruce's group. And well…. you get the idea."
Other Broadcaster: "Ummm, Vin… I believe that's the plot to the movie 'Prom Night.'"
• • •
This guest post was created by Matt Drochelman.
Be sure to follow Matt and all of his jokes on Twitter: @gluteusmattimus