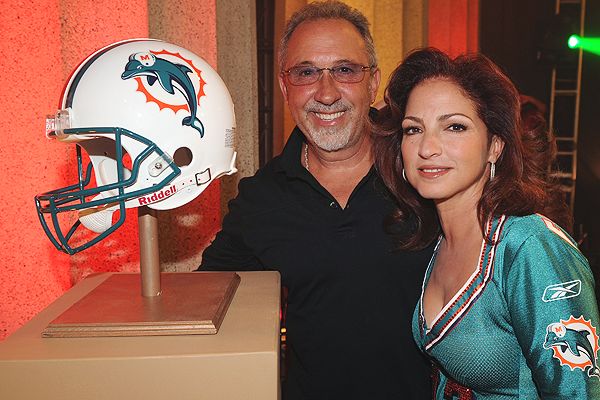 Who is worst dressed in this picture? Sweet ratty polo, Mr. Estefan. And I can't help but compliment Gloria on her sexy wannabe cheerleader outfit.
I promise you, I can't make this stuff up.
Last week, Gloria Estefan and her husband, Emilio, were officially named minority owners of the Miami Dolphins. It has not and will not be released of how much stake the Estefans purchased in the team. Gloria claims that no matter how much ownership they have, it's a dream come true. Estefan claims to have been a hardcore fan of her hometown team since the team's undefeated season in 1972. (Bandwagon fan, anyone?)
With this move by the Dolphins franchise, it begs the question, what other multi-platinum recording divas are interested in buying a share of NFL franchises?
Celine Dion wanted to buy a stake in the Seattle Seahawks franchise just so she could coin the nickname, Celine Deion Branch.
Whitney Houston wants to buy a share of the Houston Texans. I don't think there needs to be an explanation as to why.
Tina Turner wanted to buy a piece of the New York Jets franchise a few years back.
After hearing about his wife's purchase of the New York Jets, Ike Turner bought a portion of the New England Patriots so he could beat her every year.
Madonna ought to buy a share of the Philadelphia Eagles since they have David Akers, one of the greatest kickers in the league right now. Because when
Madonna smiles
, you don't know whether to smile back, or kick a field goal!
Cher was looking into purchasing the Arizona Cardinals. When asked about it she said, "IF I COULD TURN BACK TIME, we woulda' won the Super Bowl!"
Mariah Carey has been rumored to buy the New England Patriots because she loves their statring quarterback. According to her, "He WILL ALWAYS BE MY BRADY! Doodoo doo doh, doodoo doodoodoodoo doh!"
If any of these rumors come true, like the Estefan's purchasing a share of the Dolphins, then it would save each team lots of money from having to book a halftime performer at each game. I know Titans fans would like to see a celebrity purchase their team and perform at halftime so they won't have to see the Jazzercize Club of Middle Tennessee perform at halftime anymore. Hundreds of out of shape middle aged women dancing to remixes of old Jock Jams songs. Yikes.
Photo Courtesy: Rick Diamond/Getty Images