It was reported last week that Tom Brady's wife, Gisele Bundchen, was caught cheating on him with some pony-tailed chick.
No.
Wait.
That was Tom Brady.
The Rapunzel of quarterbacks has been growing his hair out for as long as Tom Selleck has had a mustache. His hair is close to as long as Gisele's. The two were seen in public together not too long ago. Let's just say that Tom's feminist side has spawned from his hair into his everyday mannerisms. See for yourself: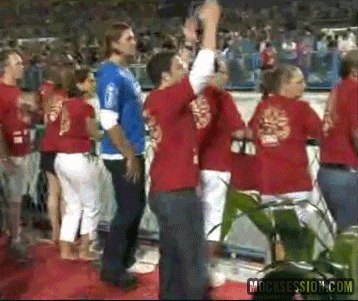 The only logical explanation to this movement that Brady is conveying would be that he had something that he needed to keep in between his knees thus not allowing him to separate them. However, for those of you who want to automatically make fun of Tom Brady for his dancing that even Elaine Benes would be embarrassed of, you have no room to. "Why?" you ask. Well, let's take a quick look at his resume. It will quickly show you that Tom Brady is no diva.
Tom Brady's Obnoxiously Cool Resume
That Proves He Is No Diva
1997 NCAA Division 1 National Champion

6-time Pro Bowler
2-time All-Pro selection
3 Super Bowl rings
2 Super Bowl MVP trophies
Sports Illustrated's Sportsman of the Year
2-time NFL MVP
Career QB Rating of 95.2
Named to the NFL's All-Decade Team for the 2000s
Watches Ellen religiously*

Is married to and has a kid with a world-famous supermodel
Is a world famous supermodel
Owns and poops on a 24 carat gold toilet*

Been the cover model numerous times for Esquire, GQ, Details, and many other magazines
Had his long hair compared to Justin Bieber's
Pees sitting down on his 24 carat gold toilet

* – Not confirmed.
Ok, so maybe those last few items on his resume have not helped his case very much. In fact, the more I think about it, the more I think we may be witnessing the evolution of the first female to ever play in the NFL. Korked Bats will keep you updated every step along the way with our very own Tom Lady Watch. When Tom Brady begins painting his finger nails, you'll know with what color here first. When Tom Brady takes a mirror picture of his outfit right before going "out with the girlz," we'll have those pictures here first. When Tom Brady fills up his TiVo with America's Next Top Model reruns, you'll know about it here first. When Tom Brady starts appearing in tampon commercials, you'll see them here first. When Tom Brady cries while watching the end scene of 27 Dresses, we'll break the news here first. We will become your one-stop-shop for all Tom Brady becoming Tom Lady news. You're welcome.